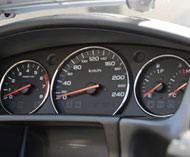 What do you do if you pull up at the fuel bowser and there is nothing but E10 available? Or what do you if you don't ride your bike too often and risk having stale fuel? Yamalube Fuel Stabiliser and Conditioner Plus (distributed by Yamaha) is the answer.
The fuel in your bike starts to lose its quality pretty much as soon as it's pumped into the tank. After a couple of weeks, the light ends (stuff that gives you power and ease of starting) of the fuel start to go away and as more and more time goes by the fuel pretty much loses all of what makes your engine start and run, then after even more time can become a gummy, jelly-like substance.
E10 can be particularly nasty in most motorcycles as it absorbs water, which is very bad for your bike's fuel system and engine. It can even go to the extent of forming a gummy substance (similar to old fuel) in the system as it basically melts the fuel components and will make your bike nearly impossible to start and/or require an expensive replacement of parts.
So to protect your fuel system from the damaging effects of oxidation and phase separation for both of these conditions, Yamalube has its Fuel Stabiliser and Conditioner Plus, an inexpensive solution that protects motorcycles from the costly affects caused by bad fuel and E10.
Yamalube Fuel Stabiliser and Conditioner Plus is specially formulated to help protect your engine's fuel system from the harmful effects of ethanol-enriched fuels. It's a proprietary formulation that will keep fuel fresh, potent and free from gum and varnish. Metal filmers in this exclusive formula protect your motorcycle engine from not only the effects of E10 fuel but also the destructive sulfate salts that corrode metal components in the fuel system and clog fuel filters.
While we haven't done any controlled testing, we have used E10 in a couple of bikes, adding the Yamalube Fuel Stabiliser and Conditioner Plus (as recommended) with no adverse side-effects on the bikes. They performed as per normal, so it must be doing its job perfectly.
Yamalube Fuel Stabiliser and Conditioner Plus is available at Yamaha dealers and costs $10.48 for a 335ml bottle. The recommended mix (converted from packaging) is 30ml (1oz) of Fuel Stabiliser and Conditioner Plus to every 11 litres (3gal) of fuel. For more information check out www.yamaha-motor.com.au or go to your local Yamaha dealer.
SW
Watch your back
So what's your favourite body part? You may be forgiven for mentioning several others before the spine but it really should be pretty high on the list. Like the highway that links the small suburban streets near your home with the equally diverse side streets once you get into the city, your spine takes care of the heavy traffic.
And just as a bridge on a highway signals severe problems, so a damaged spine means big trouble for your body.
You would think, then, that motorcycle jackets would protect the spine with at least as much care as they lavish on relatively marginal body parts such as elbows and shoulders. I'll bet that even if the spine wasn't in your top five favourites, your elbows and shoulders weren't either! And yet they tend to get highly sophisticated and effective CE protectors in (better) jackets, where the spine might get a foam rubber pad bonded to something a little tougher.
Sure, it's far less likely that you will receive spinal damage in the average step-off but the results are scary enough, so they should encourage you to look for some additional protection. They've done just that for me. I've gone to the trouble of having a back protector sewn into my favourite leather jacket and I'm now upgrading my textile jackets as well.
Fortunately it is relatively simple to find high-quality gear. Even more fortunately I haven't had to buy separate back protectors for each of my jackets. I've just invested in a Wave G2 back protector from Dainese. The fact that Valentino Rossi rides in Dainese might not have been a major consideration for me but it did help – and the obvious quality of the hard-shell protector was enough to convince me that it was what I wanted. There are several removable protectors in the Dainese range. If your local bike shop has trouble finding them for you, point them at Monza Imports, (03) 8327 8888.
The Wave G2 fits three of my textile jackets, including one from Dainese (as you'd expect) and one from Triumph. It doesn't fit either the Ixon or the BMW jacket but that's okay – they have high-spec back protectors anyway.
So I'm a happy Bear – my back is covered. The Wave G2 costs $149.95 and I reckon it's worth every cent. I haven't actually tried it in a crash, of course, and I hope I never do but if the occasion arises, I know I'll be very glad I have it on.
PT
Hi, impact!
The name HighImpact Bikergear is a relatively new one to the Australian market and the company offers a wide range of riding gear in a wide range of colours and designs, from Cordura jackets and pants to leather jackets and pants and leather suits. It also has leather sissy bar bags, saddle bags and tool and shield bags.
The jacket we received was the SH2143 Cordura touring jacket in a very stylish black and red, made in Pakistan. It retails for an amazing $212; yes, you read that right, two hundred and twelve dollars!
For this you get a 100 per cent guaranteed waterproof Cordura outer shell, high storm-proof collar, CE approved soft armour for the back, shoulders and elbows, armour retaining straps, adjustable forearms and biceps, zip and velcro adjustable wrists, adjustable waist, reflective piping, two outer snap closure pockets, glove/hand pockets, zip out thermal lining (with pocket) and original YKK zippers.
These features make it a whole lot of jacket for not a lot of dollars. I found the sizing to be more generous than most, so if you normally take a 4XL, like me, you might find a 3XL is a better fit. Talking of sizing, all of the gear available comes in sizes up to 6XL. You would have to be a man mountain to look at this size but it is great to have a retailer offering sizes for us bigger blokes.
The SH2143 is definitely a jacket for the colder months. Even with the thermal lining out, I was quite warm on a 23 degree day and with the lining in, I was toasting. There is nothing better than being warm on the bike when it gets cold and I'm glad I've got this jacket to keep me dry and warm.
The HighImpact Bikergear website was just about up and running at the time of writing but in the meantime, you can address all enquiries to (and ask for catalogues from) Brian at bikergear@hotmail.com.
SW
Read the instructions
We got a small parcel and a letter from Carolyn and Phil Callahan of mi-tshirt.com a while back.
"We enjoy your two magazines," they wrote, "and read with interest the item on pillions. Just in case 'bike-fright' erases all pillion RAM and ROM as the rider accelerates happily, we thought this instructional T-shirt" might help passengers on their early rides."
And sure enough, the parcel contained a T-shirt with detailed instructions silk screened on the back. You can see it in the photo. We think it's both funny and effective.
If you want something like this, we suspect Carolyn and Phil will be only too pleased to supply it. Get in touch with them at mitshirt@gmail.com, or see www.mi-tshirt.com.
LMc
You can stick it
Some years ago I got a tank bag from American manufacturer Chase Harper. These people make seriously excellent gear and I was pleased to finally have a tank bag that was held on with magnets instead of straps. It was much easier to use and in those days my bikes (except for the 750SS) still had steel tanks, so the magnets worked. I used the bag for all the usual stuff, including my cameras.
Enter the digital camera. What, if anything, would the powerful magnets do to the camera's memory? And what about the small laptop that I also liked to take with me?
I emailed that question to Chase Harper and they, commendably, suggested caution. I haven't carried a camera, mobile phone or laptop in a magnetic tankbag since. As you can imagine that has been a bit of a pain at times because I ride to (and for) work every day.
Enter Ventura, the Kiwi company that makes so much excellent motorcycle luggage, with a new idea – suction cups – on its Spa Tank Bag. This offers most of the advantages of magnetic bags without a couple of the disadvantages, namely the potential danger of magnetic fields and weight. In case you don't entirely trust the cups, there is a safety strap that goes around the steering head.
That may be handy in the rain, too. It seems you're not meant to use the bag then because "suction cups may slide off" but I reckon the safety strap would be enough insurance. Oddly enough, the bag material is described as 100 per cent waterproof, which you would think was overkill if the bag isn't intended for use in the rain. The seams are bound, as well, making them pretty much waterproof.
Never mind. It's quite a small bag, although it's claimed to hold seven litres. The pockets are useful (except as below) and there's padding in the base. A carry handle and a detachable shoulder strap add to the usefulness. The suction cups are on four flaps, which are easy to attach to smooth metal and plastic tanks. I don't currently have a bike with a rough, textured finish so I can't try it on that but there aren't many of those anyway.
Inexplicably, the Spa bag's mobile phone pocket is not large enough for my iPhone. As it happens, it does comfortably hold my electronic toll tag, so it's far from useless but why include a thoughtful feature like this phone pocket without making it big enough to hold the most popular mobile on the planet?
It's also a shame that the main pocket is not large enough to hold A4 files. A slim, lightweight bag like this is ideal for work but A4 should be the minimum size. This way I have to roll my files up, whinge, moan.
All in all, though, it's a clever way of addressing an annoying problem and it's a tidy little piece of luggage. The Spa Tank Bag retails for $99 and if your bike shop doesn't have it, get it to contact Kenma. Its website is www.kenma.com.au.
PT
World's toughest socks
Always, always wear boots when you ride. Even if you're on a lightweight scooter, make sure you protect your ankles and feet with bike boots. That's always been our advice and now Draggin Jeans has come up with an alternative – sort of!
K-Sox kevlar socks are not by any means a replacement for proper boots but they might be a big help if you step off. The kevlar woven into the socks offers substantial protection without the loss of dexterity or comfort. Kevlar has up to 2½ times the cut resistance of leather and cotton, so if you do want to ride without bike boots you can at least protect yourself from abrasion. The socks cost $34.95 a pair and we think the ideal resolution of this would be to wear them when you're wearing short boots to protect your calves!
LMc
Coat of many meanings
A Trocadero can be a nightclub, a Swedish soft drink, a hill in Paris, a Canadian rock band – or a motorcycle jacket. In this case, one you can wear out – to a nightclub!
Motorcycle jackets can be stylish and still do what they are meant to do, witness the Ixon Trocadero. Without question this would have to be one of the nicest jackets I've worn. Besides being warm it's also light and very comfortable, especially around the collar.
It's made from a Spylex Twist polyester fibres; whatever that means, this jacket is, as I have just found out, very waterproof and warmer than what I've been wearing. I wish I could say the same for my pants! Now there's a thought I just might get Ixon pants as well.
The Trocadero is one jacket that you could easily wear out on the town and look good. In fact it really doesn't look like a motorcycle jacket. It has the normal removable YF CE protectors on the elbows and shoulders with foam padding for your back that can easily be replaced with a heavier CE protector. Then, when winter's done, just take out the removable liner and breathe easy.
Another part of the jacket I like is the cuffs. With all of the jackets I have, I seem to have trouble getting my large mitts out of the sleeves. The liner usually comes along with the broad part of my hands but with the Ixon jacket the liner is situated further back up the sleeves therefore giving you that little extra room to get them out without bringing the liner along. It's a great idea!
Thumbs up for this one but I'm not so sure about the Swedish soft drink.
JA