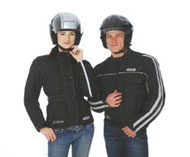 Developed for both road and track use, the Speedtek glove offers innovative design. With top-quality glove cowhide throughout, it has a floating hard knuckle protector as well as finger protectors. Stretch finger gussets allow extra hand comfort and – here's a thoughtful touch – the little and ring fingers are joined with a flexible leather bridge to stop separation in case of an "off". Finger and wrist vents allow air circulation and twin Velcro adjust tabs keeps the glove snug and secure. Recommended price is just $99.
The Rivet Horizon jean pants are constructed from robust 600d polyester fabric and feature CE knee protectors and hip pads, both removable. The main lining is a summer mesh, plus a zip-in waterproof and breathable Reissa lining and a snap-in quilted winter liner making them truly year-round riding jeans. Add to this zip gusseted leg cuffs for use inside (for Ulyssians) or outside (for rebels) boots and an adjustable web belt with adjustable buckle.
Both male and female sizes are available and all this for about $249.
And now to jackets. Rivet design Scoot-R collection has released the popular Jacana jacket for 2008 in a new luster-look polyester fabric. The jacket continues with all the important features as before, including summer mesh main lining and waterproof zip-in liner, CE armour and back protector and 3M reflective stripes for night safety. They have elastic and belt waist adjustments and front and back zippered air-vents. They have a soft microfiber-lined collar for added comfort.
Priced at about $199, the Jacana is available in silver or black in sizes 8-16.
The retro look is part of Rivet's Scoot-R collection, with the new Citi jacket for guys. Made from tough 600d polyester outer fabric, the Citi has a summer mesh main lining and a zip-in Reissa waterproof and breathable liner for those rainy occasions. There is 3M reflective piping for night safety, CE approved shoulder/elbow armour and a back protector included. They have a soft microfibre collar for added comfort. They are available in the colours shown in sizes S to 2XL for about $199.
Further details about all these products are available from R&R Speedsports on 02 9709 4655.