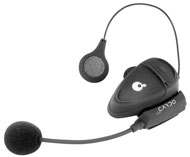 The Scala Rider Bluetooth Headset
It looks cool and works well, is that enough to justify using one?

Ratty might have thought that there was nothing as much worth doing as messing about in boats, but with respect – I disagree. I think messing about on bikes beats boats every time (and a lot of the time even beats messing about with planes, which is my job and hobby), though that's obviously just my opinion.
Some contributors to this magazine agree with Ratty, mind you; Mike Grant is the proud owner of a scull that has more carbon fibre on it than a celebrity MV and spends most mornings on the water [unlike the rest of you, who seem to spend most nights on the booze… the sub].
One of the things that make motorcycling (and boating, I suppose) so enjoyable is the privacy. You're out there among it all, but you're also by yourself on your bike. You have the best of both worlds, in many ways. Even a lot of riders who habitually carry pillions agree, and refuse to have intercoms.
So, why would you want a Bluetooth helmet headset for your mobile?
Well, it's probably not a matter of wanting anything. Some of us actually need to be available (or would like to think we do) pretty constantly. I've found that wearing it on my way to and from work is terrific; I don't ever arrive with message calls on the phone that I have to return. I can solve problems on the spot. The same thing is true during longer rides on working days.
But, of course, the temptation is strong to wear the headset all the time – switched on.
The obvious next question is, assuming that you do want a headset, does this one work? The answer is "yes". It's light and very easy to install on the helmet (no holes or other modification required) and my Motorola Razer phone recognised it immediately. Turn it on and you're on the air.
The controls are simple and easy to use even when you can't see the unit, in other words when you're wearing it. Battery power lasts a good long time between charges – Cardo, the manufacturer, claims a week on standby and I wouldn't argue with that. The Scala Rider has an automatic volume control, which is excellent, and a noise cancelling microphone that works pretty well, too.
There are various voice controls that I haven't fully explored and you don't have to do a thing when you receive a call other than say "hello" – no buttons to press or anything else. That makes it as safe as a phone on a moving bike is ever going to be. The unit switches itself and the phone (which is safely in a pocket) off at the end of the call.
One concern I might have is the waterproofing. It's claimed to be water resistant and looks pretty well sealed, but a downpour might test it too far. Not that we ever get downpours these days. The electronic "box" is easily removable, so if it was raining heavily I'd take it off and tuck it away somewhere waterproof.
The bottom line is simple. If you ever need or want to be reachable while you're on the bike, it will be worthwhile investing the $220 (including postage) that a Scala Rider costs. You can get more information at www.ptp.net.au and order it, in silver or matt black (cool), from Paul Cox at paul@mpia.com.au or on 0412 941 106.
Be careful, though. This constant communication business can be addictive. I'm not giving mine back.