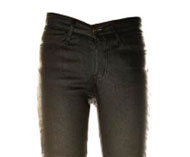 The Revolution is here, according to Draggin Jeans. It has introduced Slix, the first slim-fitting, protective motorcycle jean with a leather look. Slix have a unique leather look and feel but breathe and move like traditional denim jeans. Constructed with quality stretch denim and coated with a wax finish, these innovative jeans are made to be close fitting and will quickly mould to individual body shapes. Over time, each pair of Slix will age and develop their own unique creases and curves. No two Slix will be alike!
Available in both men's and women's cuts, Slix are designed to be worn on and off the bike. The fit is lower at the waist than at the back to ensure both comfort and skin coverage while riding.
As with all Draggin Jeans products, Slix feature knitted Kevlar/Dyneema™ lining. The lining is soft to the touch, breathable, flexible, non-allergenic and, according to Draggin, vastly superior to basic woven or knitted Kevlar® alternatives. The men's Slix feature a plastic zip rear pocket for wallet security and are cut with a tapered leg. The women's Slix are cut to the same pattern as Draggin Jeans' popular Minx Jean. RRP is $279 so they should, err, move fast.