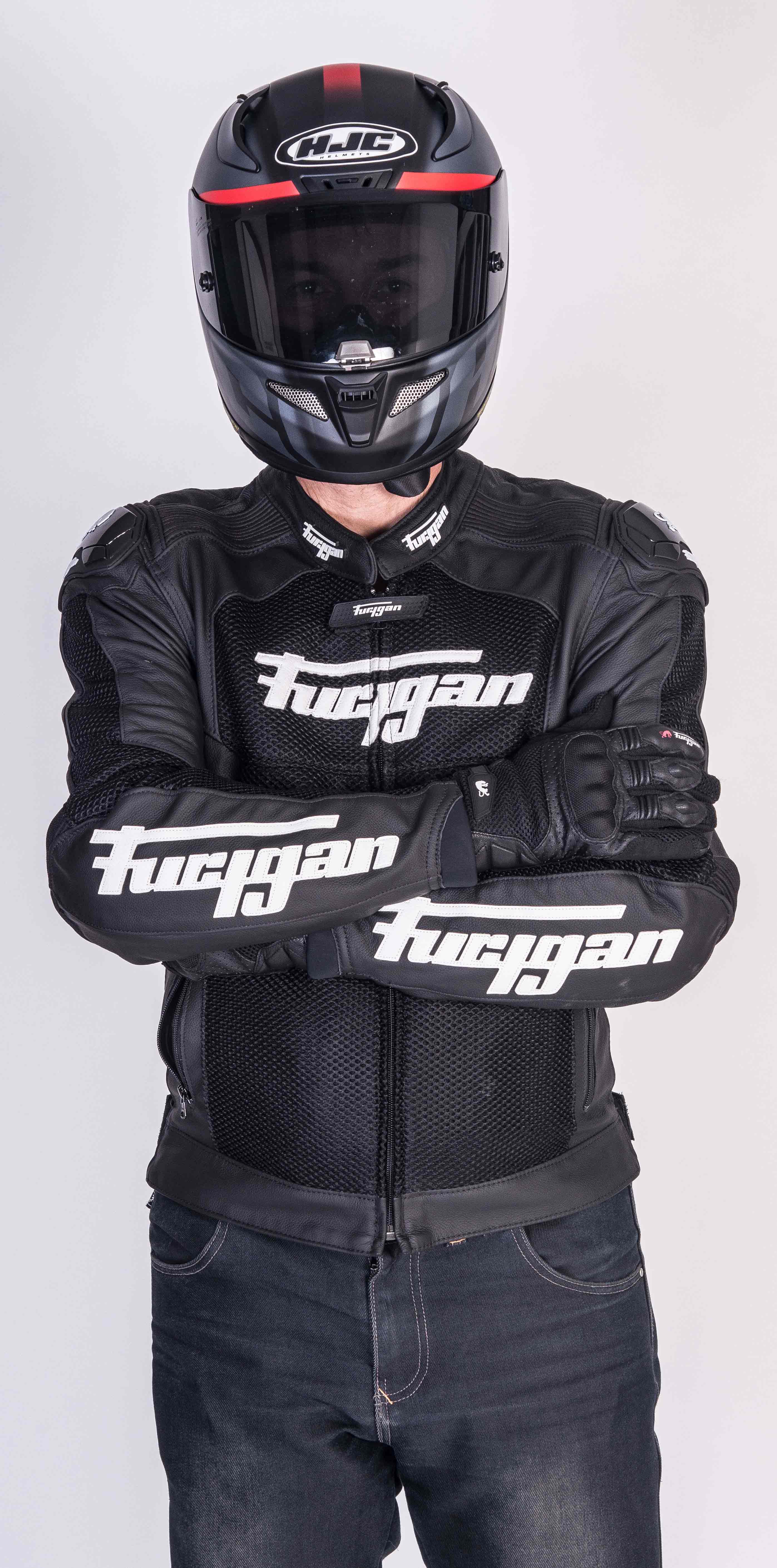 Gear that has gone through the vigorous ARR testing schedule. Well, we've been using it anyway. Let's see if it's any good…
Despite being around for about 40-years, the French brand Furygan may not be a name you're very familiar with here in Australia and I was surprised to see them at the Sydney bike show. For the record it's pronounced furry as in cat, not fury as in road.
What caught my eye specifically was the Speedmesh jacket with its huge ventilation panel on the front. I've pretty much given up on leathers as they're just too hot for most of the year but in truth I'd rather wear leather than textiles any day. The jacket looks the business with the white Furgan logos on the arms and across the back accompanied by their crouching leopard emblem and is made from the same quality leather as their premium race suits and all the important areas are triple-stitched to prevent tearing in a slide, just as all good quality leathers should be.
The shoulders also feature hard plastic armour externally and CE-approved D30 armour internally at the elbows and shoulders. There's a pocket for the optional back-protector too.
D30 is pretty weird and clever stuff actually, having the twin magical properties of being soft and flexible under normal circumstances and yet stiffens-up on impact to absorb and spread the kinetic energy applied to it. I would urge you to go to d30.com to check it out properly. The upshot of all this is the jacket is lighter, more flexible and offers a freedom of movement not readily achievable with more traditional armour.
For the record I had to go up a size to an XL, rather than my usual large, so have a good read of the sizing chart on the website before ordering one.
Regardless of size, the cut is definitely sporty as, for the armour to do its job properly, it needs to stay in place over the bits of your body it's designed to protect. This requires a generally tighter fit than textile jackets provide and is one of my main reservations about wearing fabric rather than leather.
As luck would have it we had a bit of a heatwave for the first week the jacket was in my possession and it performed brilliantly. Riding with just a T-shirt under it I felt as if I hardly had a jacket on at all. The wide mesh panels down the arms let in bucket-loads of air and the front panel like-wise allowing your sweat to do its thing, i.e. keep you cool.
All up this is a fantastic piece of kit which screams quality and thoughtful design throughout. I can't recommend it highly enough and it's become my absolute favourite bit of riding gear right now. Sizes are from small to 3XL and colours are black/white or black/red. Price is $549.00.
The optional back protector is $89.00 which is a coincidence as that's the same price as the matching TD12 summer gloves which we're also testing. This is another bunch of French holes in the shape of a glove and is probably the most ventilated pair I've ever worn. Hold one up to the light and you can see daylight through it.
That's not to suggest they're lacking in protection mind you and are CE homologated. They come with hard knuckle guards and are reinforced throughout with either a second layer and or additional foam in high abrasion areas. The shorty-cuff design is made of half goat leather, half textile and they're pre-shaped to give a better fit. If I was being picky I'd be happier with an extra closer at the wrist just to ensure they couldn't possibly come off and I could have fitted into a size smaller without a problem: otherwise I have no complaints and just like the Speedmesh jacket these things do an amazing job of keeping you from boiling over. Do bear in mind the underside of the fingers are made of fabric not leather and do feel more slippery on the clutch and brake levers to begin with, but you soon get used to it.
With the jacket and gloves I'm now better equipped than I've ever been for riding on those stinking hot days, and if you feel better in leathers rather than textiles you should definitely check out the website.
Go to www.furygan.com.au for a look at the entire product range as well as a list of retail outlets in Australia or contact BCE on (03) 9645 2919.
THE GOOD OIL
The stuff: Furygan Speedmesh 3D Jacket and TD12 Gloves
How much: $549 (jacket) $89 (gloves)
Get yours: www.furygan.com.au