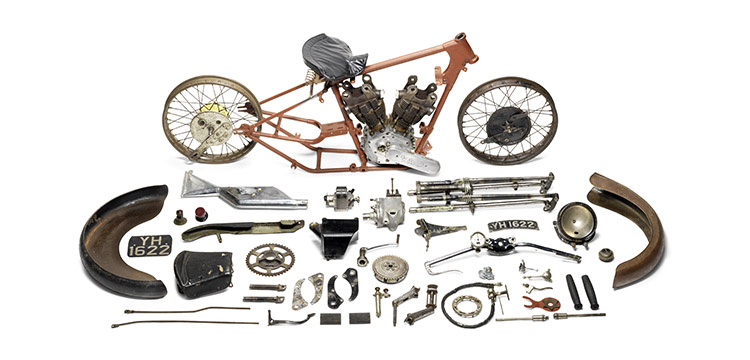 Two incomplete Brough Superior project bikes from Australia sold for over $1 million last weekend at a record-setting Bonhams motorcycle auction that grossed $7.66 million.
Classic bike prices are going through the roof, with new high prices being achieved at almost every major collectors' auction held over the past year or two.
The two incomplete, disassembled Alpine Grand Sport SS1oos, dating from 1926 and 1927, are about the most collectible Brough Superior models there are, and they achieved higher prices than complete, restored Brough Superiors at the same sale.
The SS100 that was displayed at the 1937 Olympis Motor Show, and which is complete and in very good condition, sold for $444,000, less than either of the two projects.
Fairfax Media reported that Elaine Ross, whose late husband Gary had owned the Brough Superior parts, had no idea how much they might be worth until speaking with the auctioneers.
Gary had "bought one Brough Superior engine from a fellow over on the northern beaches [of Sydney] but I didn't take much notice. It was just a motorbike engine," Ms Ross told Fairfax.
The annual two-day Bonhams sale also featured the single-owner Lonati motorcycle collection. Most of the 60 bikes were sold, bringing a total of $2.77 million.
A four-cylinder Indian established a new record price for the model, the 1930 example with sidecar reaching over $200,000.
A 1930 Rudge works racer went for an amaxing $150,000, more than seven times its estimated value.
For more jaw-dropping prices, some beautiful photos and other info on the sale, see the Bonhams website.