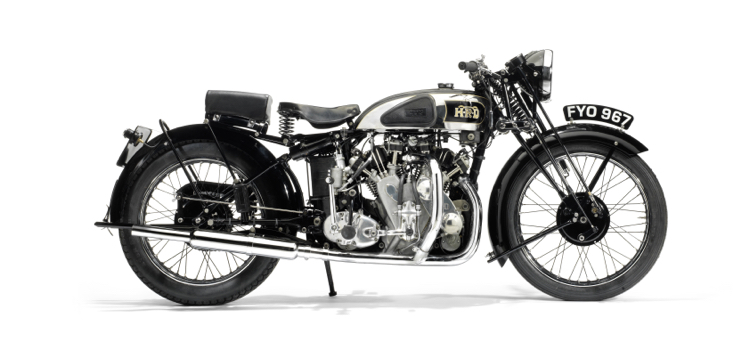 Former Top Gear stars James May and Richard Hammond sold all 12 of the motorcycles they'd put up for auction at a record-breaking sale which achieved over $4.25 million.
The celebrity pair's bikes weren't the highlights of the Bonham Spring Stafford Sale, though, with a number of Brough Superiors, Vincents and other high-profile brands fetching six-figures sums.
A 1939 Vincent-HRD Series A Rapide topped the results at an incredible $535,000, making May's SR400-engined cafe racer built by Deus Ex Machina look positively cheap at $20,000.
The total value of sales was the highest ever achieved at the Bonham spring sale.
Bidders bought 86% of the hundreds of items for sale, which ranges from spares parts and memorabilia to pristine collectible classics.
"British machines proved popular," a Bonhams spokesperson said. "The 1937 Brough Superior 1,096cc 11-50hp sold for more than three times top estimate, a total £147,100 [$285282]; the 1930 Brough Superior OHV 680 Black Alpine sold for £138,140 [$267,905]; and the 1955 Vincent 998cc Black Shadow Series-D sold at £72,060139,751].
"James May and Richard Hammond added some celebrity excitement to the event, cheerily bidding and joking with auctioneer Malcolm Barber."
Hammond's 2010 Norton Commando 961SE fetched the top price for their bikes at $29,439.
The full results are on the Bonhams website.