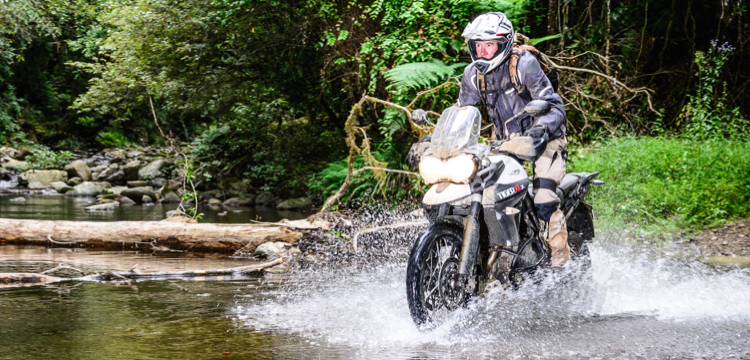 Triumph has a two-bike Tiger 800 lineup, the XR and XC, and there's such a significant difference between the two models that you should have no doubt which one was made for you. It all depends upon whether you chase dirt-road thrills or treat gravel roads as a necessary distraction on your trips away.
The XC's 21-inch, wire-spoked front wheel and long-travel, firmly tuned WP suspension is ideally set up to tackle gnarly first tracks and rugged outback expeditions. The XR's 19-inch, alloy front wheel, lower ride height and softer Showa suspension give it characteristics perfectly suited to taming backroads of all kinds, no matter what the surface. That's not simply an abstract observation based on the specs, either, but a statement of fact based on my time on both machines, including a back-to-back ride on the sort of road that draws a line between the two Tigers.
Both models are updated for 2015 with dozens of changes ranging from new graphics to a more efficient engine. Two of the most significant upgrades are the introduction of an impressive electronics packages on the XRx and XCx versions, and the adoption of high-quality WP suspension on the XC and XCx models. Triumph has brought a range of accessories including seats, panniers, heated grips and more. In short, the British firm has taken what was already the best bike in its class and made it as close to perfect as you'll get in mid-weight adventure-touring bikes.
A hard ride on forgotten forest trails along the Great Dividing Range, mixed with a stint on the gorgeous curves of the Oxley Highway and a series of blasts along Hunter Valley rural goat tracks convinced me that the Tiger 800 XCx was a winner. It's exactly my kind of bike: light enough to be managed on dodgy fire trails and even out on Stockton Beach's dunes, yet powerful enough for comfortable mile-eating and two-up touring.
The WP suspension is the bike's strength, endowing it with superior handling. However, the new package of variable traction control, throttle response and ABS settings — the extras on the XCx — add to the controllability as well as the confidence the Triumph gives you when riding in tough conditions.
Those same electronics are on the XRx, a bike that potentially provides benefits from their introduction. This bike is not built to handle the challenging terrain the XC models are made for, so the electronic aids go a long way to making up the difference — especially for riders who aren't as confident or experienced on unsealed surfaces.
And where the XC's 21-inch wheels cuts through the sandy and rocks, the XR's 19-incher hangs onto the tar better and, most noticeably, steers with greater precision and willingness. The lower stances of the XR helps, too, and this is a far nicer, more responsive bike to ride on sealed roads. It holds a line and has superior accuracy, whether in hairpin bends or fast sweepers.
Both bikes are powered by the same 800cc triple with a light ride-by-wire throttle. It's a smooth and grunt engine, and what it lacks in top-end excitement it more than compensates for with a broad power delivery that's tailor made for all-round riding.
I enjoyed the XR in ways I didn't expect, coming from a background of hardcore adventure riding. I wanted the XC to be my favourite, but the XR was sweeter and had a plusher ride. And although it ran out of cornering clearance too early on something like the Great Ocean Road, I could go harder on tar roads.
However, I'm still an XC man who'd rather go to Birdsville and climb Big Red than have an edge through a tarmac corner. Out there, the XC is the pick of them, coming into its own for control, safety and strength.
So take your pick. Go for the XR or XRx if dirt roads are not high on the agenda but you're not ruling them out; take the XC or XCx if you seek out the tracks less travelled.
For specifications and features, see the Triumph website. 
The full test of the Tiger 800 XCx is in the June 2015 issue of Australian Road Rider. The review of the Tiger 800 XRx will appear in the October issue.