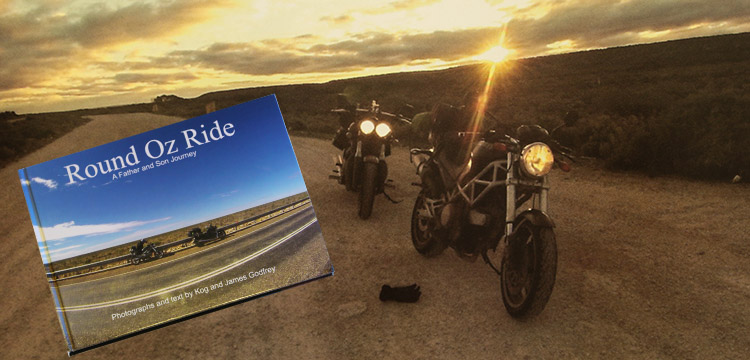 Kog has always been a legend, I reckon. If anyone has proven that it's the simple things that make a rich life, it's Kog, and the first acknowledgement in this book sums it up: "For the love of motorcycling, Australia, family, friends and freedom". That comes through crystal-clear in Round Oz Ride — A Father and Son Journey.
Most riders know Peter "Kog" Godfrey as the Rallyman who wrote so many fun columns about motorcycle rallies in the 80s and 90s. All those stories you heard about him — they're undoubtedly all true. He was — and still is — a wild man. He's now also the father of grown kids. So 56-year-old Kog and 19-year-old James decided to take off on a ride around Australia.
"There was very little preparation, no back up vehicle, no real plan," Kog writes. "Just ride around Oz in 40 days, come what may … We each carried a tent, sleeping bag and clothes. Not much really. Just the bare essentials."
The outcome is this hardback book, which is as raw and unadulterated as the pair's ride. It's a very honest, unpretentious and insightful yarn which, in telling the details of daily experiences, also exposes the joys, bonds and changes that come to both father and son. Kog always had a way of using nice, uncomplicated language to weave the most entertaining tales.
James only contributed one chapter to the book, covering the first day. It's a wild one, too, and reminded me how much of a thrill life was at 19. Kog's writing, on the other hand, sometimes made me stop and think for a moment before reading on. As a parent, he touched on all sorts of thoughts, emotions and events that resonated with me. As an Australian, ditto. And as a rider.
Kog and James made it around Australia in 40 days, which was about the only stipulation they set, and the lack of itinerary must have truly made this a liberating experience for them.
James returns a changed man. The bond between him and Kog had become as tight as it could possibly be — reward enough for undertaking this journey. He became a traveller with a completely outlook on life and the world, and subsequently went to India and Thailand, with more adventures to come.
Round Oz Ride is full of short day-to-day chapters and is illustrated entirely by photos taken with a GoPro. Books aren't supposed to be that simple, but it works. The pics are fun to flick through, the story is touching and enlightening, and the fun had by Kog and James is enough to make you get up and do it yourself.
DETAILS
Round Oz Ride — A Father and Son Journey
Price: $70 incl P&P
Publisher: Greengrass Publishing
ISBN: 978-0-646-93787-8
This is an edited version of the full review published in ARR issue 119.