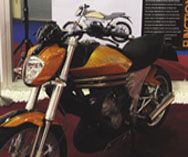 All bike shows aren't the same, as we discovered
In April, the first pan-Asian bike show took place in Singapore. Its
published purpose was to reach a potential market of more than 500
million people with the message that, according to Managing Director
Roberto Fabbri, "bicycles and motorcycles are changing from useful,
low-cost tools to move around, into objects of desire to do sports,
tourism [and] fitness".
Reason enough to introduce a show, of course. A market that size,
even if it's only "potential" at this stage, is worth capturing. EICMA,
the organisation that runs the Milan motorcycle and bicycle show, saw
the opportunity and grabbed it; BikeAsia, managed by EICMA, was born.
The Italians are to be congratulated on the initiative. As Charles
Albert, King of Sardinia-Piedmont said in 1848, "Italy will do it
alone".
The presence of movie legend Sofia Loren, who attended the opening
of the show and the dinner, was a real bonus. Well, for those of us who
remember her movies. There were quite a few of us, including one
exhibitor (and friend of mine) who sighed, "I used to have a poster of
her on my ceiling when I was a teenager, you remember the one in the
tight blouse."
And the sad thing is that I actually did remember it, too.
Costantino Ruggiero, the man who runs EICMA, was happy with the result.
"We have just come back from Singapore, where EICMA launched the first
Bicycle and Motorcycle Show of South-East Asia," he said on his return
to Milan.
"BikeAsia started off on the right foot, dispelling all doubts on
the potential of this show, which, right for the very first edition,
attracted 79 journalists, 1,360 trade operators and over 20,000
visitors who flocked to the Singapore Expo during the two days the show
was open to the public.
"Almost all of the exhibitors have already confirmed their participation in next year's edition."
That's absolutely true if the reaction of the Wild Men of Borneo, tour operators Terry and Bryan, is anything to go by.
"Interesting show," wrote Terry. "It must have been so disappointing
for the punters with only Italian bikes to see but it was marvellous
for us. We collected 160 email addresses of riders who expressed an
interest in coming! We used up 1500 of our 2000 Borneo Biking
Adventures leaflets and talked ourselves hoarse. Altogether well
worthwhile going."
The absence of most non-Italian manufacturers, including the Big
Four Japanese, has been interpreted in some press reports as a sign of
"failure" of the show. It might have been, too, although attendance was
strong anyway, if this had been just a straightforward motorcycle show
– although as a first attempt it deserves a lot of leeway anyway. Let's
see what next year brings.
But there was another, much more carefully targeted reason for
BikeAsia and for EICMA's involvement. As Ruggiero admitted, "the chief
aim of BikeAsia is to develop new businesses by enhancing a market that
is potentially of great interest," in other words, it is an opportunity
for the Italian motorcycle industry to show off its wares and
capabilities and to make some useful contacts.
Fabbri told me that, very simply, the Asian industry expects you to
put your cards on the table and spend some money before it will take
you seriously. That's why BikeAsia spared no expense for advertising,
display and promotion. The show was expected to generate a lot of
interest and eventually a lot of contracts worth a lot of money, for
the Italian industry.
"It was a true success," said Fabbri. "Most of the exhibitors were
delighted as they achieved their objectives in terms of exposure,
contacts and sales (particularly in the high-end segment)."
It would be kind of nice if Australia took such a long and carefully
targeted view in support of its industries… maybe it does, and we just
don't find out about it.
So the absence of the big players in the motorcycle industry might,
indeed, have been a disappointment for some of the punters, as Terry
notes, but then again the locals can see most of their products in the
shops. That's not so easy with a brand such as MV Agusta, which was
strongly represented at BikeAsia along with the likes of Piaggio and
Moto Guzzi. There were interesting general displays, too.
"Visitors and exhibitors alike appreciated the design section 'The
Designer's Hand' that contributed to show the importance of design for
the two-wheels industry together with the importance of the industry in
the context of the economy," said Fabbri.
"It was inspirational and emotional for bike enthusiasts to be able
to see how these beautiful machines are first conceptualised on the
drawing board as it was important for students seeking to become
product designers."
And it did the image of the Italian industry no harm at all, either.
The next BikeAsia will be held in Singapore from the February 27 to
the March 1, 2009. I think I'll be there again and I suspect the
Japanese and a lot of other Asian manufacturers will be, too. If you're
in the area, don't miss it.

PT