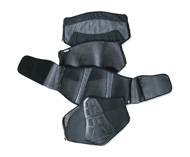 Your debutante knows what you need;
We know what you want
BMW Premium Kidney Belt
I've long been on the lookout for a versatile, yet high-protection kidney belt to suit the variety of riding we do here at ARR. I've been through quite a few brands and styles but never had one that I was totally comfortable with or that stayed in position and didn't end up hurting or pinching me in some way. That is until I found the BMW Motorrad Premium kidney belt.
I like a wide belt for maximum comfort and this one fits the bill, and doesn't fold around my guts either. When it comes to price, this is an expensive belt ($140) but well worth the money; it is basically three belts in one. Sizing comes in S-XL. The first and main part of the belt is the protective element, which covers the lower spine to just below the middle of the back, offering plenty of spinal protection. I use this mainly for off-road adventures and sports bikes. The second part, a zip-on panel to the belt is a Schoeller Phase Change panel that protects against the cold — this is great for touring in those colder months. The third part, also a zip-on, is a Windstopper membrane to prevent heat loss, again great while touring in those colder months. These panels zip to the main belt. You can have two together at the same time, or a single one by itself.
Sizing is larger than most other belts I've used. I take a size 40-42 pant and the XL belt is a touch too big for me, so the L size would be perfect. I did fix the belt by sewing some extra Velcro into it for a tighter fit, but keep this in mind if need be. I took the XL because at the time of purchase, this was the only size in the country and rather than wait a week or more, I opted for the larger size and adapted it. As a result I do have a wide range of adjustment from just comfy, to a tighter fit when required.
For more info, check out www.bmwmotorrad.com.au or get down to your local BMW dealer to try one on.
Givi Tank Lock Bags
Givi is renowned for producing the highest-quality products. The introduction of the "TankLock" bags brings yet another fantastic product to the market. All you need to do is get the specific kit for your make of bike, mount it to your fuel tank cap and you're away. To fit the bags, you just need to position the flange of the bag over the mount on the fuel tank cap, apply a small amount of pressure and it locks in place.
The first of the two bags we tested was the 3D TPH02 bag, which is only four litres in size, measuring 240mm x 140mm. It is great for throwing in your wallet, keys and other small items you like to carry, but the best part is the clear top pouch that fits a smartphone. The clear plastic of the bag makes the smartphone useable. Price for the 3D TPH02 is $109.
The next bag we tested was the larger T480. It is expandable from 14-22 litres and measures 270mm x 200>300mm. It comes with a waterproof zip, rain cover, shoulder strap, map holder and a GPS holder. As with the 3D TPH02 bag, where you can use the swipe features of a smartphone, you have this option for the GPS. Many motorcycle-specific GPS units offer this feature. Like the smaller one, this bag attaches to the TankLock mount on the fuel tank cap, but the great feature of this one is the range of adjustment (80mm) forward or back, so you can get it just right. Retail for the T480 is $179.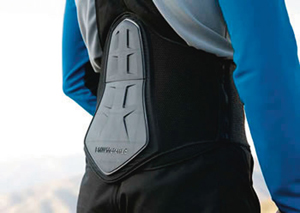 SW
Distributed by Ron Angel Wholesale, check them out at www.ronangel.com.au or give them a call on 1300 997 006.
Andy Strapz Sundowner
If you ride at varying times of the day and night, you will probably find that a tinted visor just doesn't always cut the mustard. Andy Strapz has solved the problem with the "Sundowner", a tinted strip that sticks to the top edge of your visor without glue. How does it do this? Maybe by magic, who knows. You will need to experiment with the height that best suits you and the placement of the Australian Standards sticker, which may require a little trimming of the Sundowner. After extensive "testing" at the recent Yamaha R1 launch in the pouring rain, I can vouch that it will not come off, even at speeds over double the highway speed limit. Good thing we were on a private road!
SW
Shoei XR1100 Chroma TC-1
You may have read a couple of years ago our review on the Shoei XR1100 sport touring helmet and how much I loved it. After virtually flogging it to death without it ever causing me any trouble, it was time to get a new helmet. I love the XR1100 so much that I got another one!
This time McLeod Accessories (the Shoei distributor) sent me the Chroma TC-1 graphic and I must say that the subtle pearl highlights give this helmet that something extra. Retail for the XR1100 is $799.95 and with an iridium visor, $149.95, or alternatively a dark tint for $109.95.
Features of the XR1100 have been designed after intensive preparatory work with CAD programs, in the laboratory and in the Shoei wind tunnel, plus extensive road tests involving test riders around the globe. It has resulted in a helmet with innovative design and particularly superior aerodynamics.
The outer layer is a multi-composite and high-performance organic fibre in various layers for a shock-absorbent shell with optimum rigidity. The EPS liner system has two densities and different shock-absorbing levels.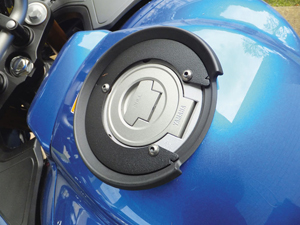 A mist-retardant CW-1 pinlock-ready visor, with safety locking mechanism and dual resistance visor seal, also offers fast and simple exchange. The Double-D ring is easy to use with a perfect-length strap to get the perfect fit. Shoei offers four different outer-shell sizes: 1) XXS-S, 2) M, 3) L and 4) XL-XXL. A low weight of only 1330g (+/-50g) for size M helps to reduce neck muscle fatigue, one of the main reasons why I love this helmet. Detachable and washable 3D centre pad cheek pads allow for easy cleaning and come in different sizes for a custom fit. I found the standard pads fitted me perfectly. They have been washed at least once every three months and I have had no problems with the foam or covering changing shape or losing any of its qualities throughout this time, demonstrating that this is a high-quality product.
Another welcome feature is the detachable and washable chin strap cover. This is usually a part of the helmet that gets neglected when it comes time for a wash and smelling fresh again. The multiple venting and extraction system works well. You can actually feel it working, unlike the ventilation on many helmets. There are two inlet vents on the brow and one on the chin for fresh air supply, and the four outlet vents on the back of the helmet exhaust the used warm air. As I said in my last review, "The finest Sport-Touring helmet money can buy." Too right! Check out www.mcleodaccessories.com.au or give them a call on (07) 3621 9000.
SW


Shoei CW-1 Pinlock
To go with the pinlock-ready visor on the Shoei XR1100 helmet, Shoei now has the pinlock inserts. They retail for $49.95 and come in clear, amber, light tint and dark tint. Fitting the insert to the tabs on the visor is very simple, but you do need to be careful that you don't touch the inner part (or the part going against the actual visor) as you will have a permanent fingerprint. Stretch out the visor so that it is a little flatter, insert one side of the pinlock insert, hook the other side and then gently bring the visor back to its normal shape and that is it! If you don't have the pins already fitted to your visor, simply follow the instructions and template which makes a universal fit available for many brands of helmets.
I can say that these things work an absolute treat. I even went to the extent of wearing my helmet in the shower with loads of steam and while the outside areas, where no insert was covering the visor, were basically dripping with condensation, the pinlock insert never fogged up.
I have the amber insert on my clear visor for rainy days. You know how, on those really steamy occasions after rain, your visor will instantly fog up? Well, with the Shoei CW-1 pinlock inserts you never have to experience this again. I can't rave enough about how good they are. Distributed by McLeod Accessories, check out www.mcleodaccessories.com.au or give them a call on (07) 3621 9000.
SW
S3 Performance Kevlar Jeans
When it comes to motorcycle kit, or anything else for that matter, the word "cheap" is not something you normally associate with quality gear. S3 Performance Equipment, however, offers Kevlar denim jeans for the "cheap" price of only $149.95 a pair. This in no way means they are a cheap product; they are, in fact, quality gear — but at a surprisingly low cost.
When I spoke with Brendan from S3 Performance Equipment I asked how they can manage to have such a low retail price. He pointed out that he and his business partner Jeff own the company and, to put it briefly, don't have all sorts of middle men who need to be paid, which then pushes up the retail price.
"We could push up prices but we're riders too and we started making body armour, jeans and so on simply because we felt Aussies were getting a raw deal," he says. Well, from us and our readers, thank you S3 Performance Equipment!
The jeans are their own idea and design and, naturally, they are quite proud of them. The Kevlar is 240gsm and the denim is a good-quality stretch material, making fit very easy for most people. Since launching them mid last year, Brendan tells me they have had only one size exchange in all the online sales, which has blown them away.
I take a size 42 jean and when they arrived I threw them on and the fit was perfect. Leg length, even for a tall bloke like me, is good. Comfort on the bike is great and there are no bits digging into you. The one feature, however, that tells me that these jeans are a high-end product, is the fact that the Kevlar runs the full length of the jean.
As I have mentioned before, I've had the misfortune of sliding down the road wearing a pair of motorcycle jeans which had a patch of Kevlar sewn over the knee. The only trouble was it was in the wrong spot for my long legs, burning some denim into my knee. No such trouble with the S3 Performance Equipment Kevlar jeans!
Apart from the fact that they are permanently fully lined with genuine Kevlar, are made from high-quality heavyweight stretch denim, fitted with heavy-duty YKK zip on the fly and are fully breathable, fully machine washable and able to be tumble-dried, they have a large left-hand-side coin pocket, no metal studs or buttons that could scratch/scuff your bike and a double, wide-spaced belt loop in the middle of your back.
You can get the jeans in two styles — straight leg, which is a casual style, easy-fit cut in modern dark denim, or a skinny leg version in a modern, slim style, in dark denim. Sizing for the straight-leg version ranges from 30-42 and the skinny-leg version ranges in size from 30-38.
For more great products that S3 Performance Equipment has on offer (like their body armour, for example) or to get yourself a pair, jump onto www.s3performance.com.au or call 1300 937 935. I suspect you are going to be very happy with your purchase!
SW
Trinity Racewear
Ever wanted a custom-made leather suit, jacket or pants? Ever wanted lettering put onto your motorcycle gear, needed an alteration or a repair after a crash? Well, the people at Trinity Racewear can provide everything you need!
Trinity is owned and run by the lovely Myra Magnussen, who can do just about anything. Myra put on the ARR patches you see on my one-piece suit, made up the lettering of my surname and tailored the arms for a closer fit.
Myra has been in the business for more than 20 years, making motorcycle clothing and altering and repairing it. She has been the one many motorcycle racers have gone to when they want a tailored race suit or wanted their current suit repaired after a crash.
Trinity Racewear's philosophy is simple: "To give our customers individually one-of-a-kind custom-designed racewear of superior quality and to uphold the ethos of excellent after-sales services for suit repairs and lettering, and to design our suits to meet the highest safety standards and to be the protective skin required for racing and on-road motorbike enthusiasts." A long philosophy, but a welcome one.
Give Myra a call on 0419 414 763 or check out her website — www.trinityracewear.com.au.
SW
Garmin Zumo 660 GPS Adventure Pack
Zumo navigation units are at the forefront of quality and ease of use, and it's reasonably claimed they are designed by riders for riders. We recently took a Garmin Zumo 660 GPS Adventure Pack unit for a trip through fairly complicated parts of Europe and found it to be an invaluable tool.
Featuring a bright 10.9cm touchscreen colour display, the Zumo 660 puts all the information you need in an easy-to-read format as you travel down the road. It also has a glove-friendly intuitive interface that makes entering information easy. In addition, the wide sunlight-readable display makes for easy navigation. The rugged waterproof case resists fuel sprays and UV rays and is waterproof in up to one metre of water for up to 30 minutes (not that you'd want to be testing that too often, but read on …). The unit has been built tough.
Pick your path and away you go. The Zumo 660 is ready to go right out of the box. It's preloaded with City Navigator — NT Australia and New Zealand street maps and points of interest (POIs) that include motels, restaurants, petrol stations, ATMs and more, and we had the European maps loaded into the unit for our overseas ride. These maps cost $139.
I have been chauffeured in and out of Milan quite a few times by bus, and I've always wondered why the drivers took so many back roads instead of just staying on the main drag. Well, it turns out those back roads are the main drags — it is nearly impossible to get out of the city without using them. The Zumo took me out to the main ring road unerringly — well, except for one occasion where I tried to second-guess it. Bad idea, but it showed me that the unit is capable of quick recovery and will give you a new route almost instantly.
It also offers a 3D building view on selected buildings and lane assist, along with Real View Advanced Lane Guidance which accurately depicts the surrounding environment by providing a real-life representation of the scene a rider would see on approaching selected intersections, and provides visual guidance. A digital fuel gauge comes standard in the unit so you can keep track of how many kilometres you have left before it's time to gas up. Other than the preloaded Australian and NZ maps, you get a motorcycle mount with integrated power cable and mounting hardware, carry case, battery pack, automotive suction cup mount, automotive power cable, USB cable, dashboard disc and quick-start manual.
The Zumo 660 also features Bluetooth wireless technology so you can stay in touch while you're on the move. Simply connect your Zumo 660 to your Bluetooth-enabled headset or helmet and then pair with your mobile phone to make and receive calls on the go. Once connected to your Bluetooth headset, you can enable the spoken street names functionality for wireless and worry-free navigation.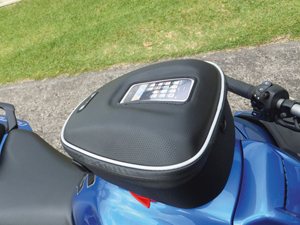 Have a long ride planned? Well, the Zumo 660 features an MP3 player as well, so you can enjoy crisp and clean stereo sound with your compatible headset. The motorcycle mount also comes standard with a headphone jack so you can connect to your headphones or helmet headset and microphone.
With the Zumo 660's powerful trip planning tools, you can create your own custom routes via computer and then transfer your saved route directly to your unit. When you've returned home, you can review your rides in Google Earth. In addition, microSD card expansion makes it easy to share routes and add storage.
You can also visit Zumo Connect — the online community of routes and riders. It's a great resource for finding new rides and planning trips.
The Zumo 660 can also act as an in-car navigator when you're on four wheels instead of two. In addition to the included motorcycle mount, the Zumo 660 also includes a carrying case, vehicle mount and power cable. It's like having two full-featured navigators for the price of one and speaking of price, the 660 isn't cheap, retailing at $999, but as we found through our trip in Italy and France, it worked faultlessly both in dense cities like Milan and in the backwoods of the French Maritime Alps.
I have to admit here that I simply couldn't be bothered to fit the motorcycle mount to my borrowed Moto Guzzi Stelvio, so I used the in-car suction cup on the tank. I did loop a strap around the handlebar as security, but even in the absolutely staggering downpour that followed me for several hundred kilometres on the autostrada the unit never budged — and it kept telling me where to go even in the blinding rain.
For more information, or to grab yourself a Zumo 660, jump onto www.gpsoz.com.au, email sales@gpsoz.com.au, or phone (02) 9999 2313.
PT