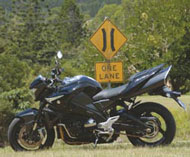 West, then up
Mackay's top recreational ride
It's hard to go past the sugar town of Mackay if you're looking for a typical pleasant coastal Australian settlement.
It's a bit flat, admittedly, but it has everything you'd want and it feels welcoming. The town centre has lots of National Trust listed buildings as well as a neat little "tropical" segment right in the middle with lots of palms and other vigorous plants.
If you're keen to be surrounded by something absolutely modern all you need to do is ride across the bridge over the Pioneer River (where they have genuine traffic jams, too, albeit very short ones) and head north towards Slade Point. Right next to Mackay's deepwater port, you'll come to a brand-new collection of high-rise apartments lining the edge of an equally new marina, with a bunch of interesting and very reasonably priced restaurants at their foot. I recommend the prawn rolls at the place right at the end, on the car park.
I suppose my one criticism is that they haven't learnt to cater for motorcycle parking yet.
Mackay, if I may paraphrase Elwood Blues, has everything. Despite the flatness, it even has good riding. And the best of the riding is the road up to Eungella (pronounced yunjella).
To get there you just follow the Pioneer River first and Cattle Creek later, upstream towards the Clarke Range. This is not part of the Great Dividing Range, by the way; that's much further inland. It's just a coastal range, but it makes up for that by being really steep – and quite high. Beginning to sound good?
Getting out of Mackay is easy. Take the Bruce Highway south (I always think, and sometimes say or even write "G'day, Bruce" when I see the name; forgive me) to the edge of town and then turn west along the Peak Downs Highway. Past Te Kowai and the big sugar mill there's a turnoff to the right signposted to Marian and Eungella.
The builder of the first sugar mill at Marian in 1881, by the way, fathered opera singer Dame Nellie Melba. You may recall her injunction to fellow artistes touring Australia to "sing 'em muck", advice that is frequently followed to this day. The gentleman's name was not, as you might surmise, Mr Melba but David Mitchell.
From here on for most of the remaining 60 kilometres to Eungella you're on a reasonably narrow but well kept country road that passes through equally well-kept country towns with pleasant country pubs offering bargain-priced counter lunches, set in pleasant sugar cane and grazing country. It's hard to imagine anything bad ever happening here – until you encounter one of the rare but impressive patches of scattered gravel right on your line in a corner.
There now, that's cleared the sinuses and woken you up! Keep an eye out for the many little cane trains while you're at it, too, at least in harvest season from June to November.
Possibly the prettiest and best cared-for of the towns along this road is Finch Hatton, which is also where you will find the well signposted and carefully explained turnoff to the rainforest wonderland of Finch Hatton Gorge. It's a great place for a swim, so they say, although I sadly didn't have time to sample it.
I did find time to read about the amazing gastric frog. Discovered in the area in 1984, the females of these perhaps unfortunately named batrachians apparently swallow their fertilised eggs to incubate them. To the immense disappointment of lovers of gastric frogs everywhere, scientists seem to have lost track of them again since then. Whether it's simple carelessness or another sign of the imminence of the end of the world, I do not know.
But let us leave the gastric frog to its own concerns, because the main attraction of this ride is now just a few kilometres ahead. The tight corners and switchbacks of the climb up the Clarke Range escarpment make for memorable motorcycling and will reward a second and third go for those keen to refine their cornering skills. In other words it's great fun, too tight to allow high speeds but with little other traffic to worry about.
I had hoped to get some cornering shots of a bike and waited for ages at one of the better sets of twisties but no bike came. They tell me it's busier on weekends.
Don't get too blasé about the occasional car, though, because there is a good chance it will be driven by a tourist who will slam on the brakes and brandish the video camera if he sees a brush turkey by the side of the road. Not particularly appetising in appearance, these well-named birds are nevertheless spectacular enough with their red necks to draw visitors' attention.
Once you have tired of the corners and reached the top of the range you will find the town of Eungella well spread out and without an obvious centre – that we could find, anyway. The best thing to do now is to turn south on the excellent road towards Crediton. It's a good ride in its own right and there are lookouts that are well worth a stop and a short wander from the road. We were warned to lock everything that was lockable and not to leave anything, even helmets or gloves, on the bike at any of the lookouts or other parking lots.
On the positive side you'll find it is pleasantly cool, which can be welcome after the humid heat of the Castle Creek and Pioneer River valleys.
After tackling the corners one more time, the 80-odd kilometres to Mackay and the Bruce Highway (G'day, Bruce) will pass even more quickly on the way back than they did on the way up and you'll have some terrific motorcycling memories as well as tyres with their edges worn away a little.
But hey, if you see any frogs on the road swallowing their fertilised eggs, remember that they're not cane toads. Try to miss them, okay?
PT