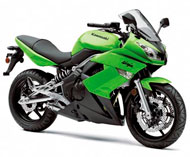 Big Green goes Greek
Clearly, someone at Kawasaki was thinking Greek when it came time to reincarnate the ER-6f
The ancient Greeks picked up the theory of the four humors from the Egyptians and ran with it. The idea was that the human body held four fluids — blood, yellow bile, black bile and phlegm — which determined its characteristics and health. Blood made you an artisan, yellow bile an idealist and black bile a guardian. Phlegm meant you were rational.
Even after Ibn al-Nafis discredited the theory in the 13th century with his discovery of coronary circulation, humors continued to influence medical thinking. They were not totally dismissed for another 700 years.
And then Kawasaki revived them for motorcycle development. The success of the Ninja 250 R, Australia's best-selling motorcycles, was clearly due to four concepts closely linked to the humors.
The artisan application meant taking an existing bike and reworking it to make it relevant. Idealism gave it the flash sports-bike styling. Guardianship provided the brand references, namely the Ninja name and the unmistakable Kawasaki colour. And rationality determined the very attractive price. How could you lose with the four humors taken care of? Well, as we've seen, you couldn't. The little Ninjas rolled out of the showroom.
Time to apply the same ideas to a bigger bike and what better choice than the smart-underneath but relatively dull-on-top twin-cylinder ER-6f? Style it like a sports bike, call it a Ninja and paint it green, and price it at a very attractive $10,990. How can it lose?
Well, if the one we've been riding is anything to go by, it can't. The Ninja 650 R is a winner and, humors or not, that's no joke.
Apart from the restyling, the bike has had the engine tuned for what Kawasaki calls more linear response and quicker-revving character. It's certainly pleasant to rev out. It has also received rubber engine mounts and improved rider and pillion ergonomics. Suspension settings have been revised for lighter handling and the mirrors are now further apart. All welcome news, but the big attraction (apart from the price) is likely to be the name. "Ninja" has magic.
Which is not intended to take away from the many virtues of this bike. These days, I seem to spend a lot of time congratulating bikes for being versatile; many of them are, but this new Ninja is even more versatile than most.
The new fairing shelters riders of average height — I'm 1.78 metres tall — at all speeds and should be pretty good for taller riders as well. Shorter ones will definitely be happy. Aside from a little pressure on the shoulders, it keeps the wind off and manages to do that without creating turbulence. The seat is a little higher than on the previous version of the bike, but the narrow seat makes it possible to get your feet down securely even if you aren't tall.
The engine sounds a little tinny, a side-effect of the fairing. Don't be fooled. It revs happily, goes well and accommodates a great variety of riding styles due to a pleasantly wide power band. You're probably sick of reading this, but the bike will commute, scratch and even tour quite happily.
Commuting is made easier by the narrow design ("What can he possibly mean by that?" you ask) and by the relaxed riding position, which keeps your head high enough to easily see over the top of the cars in front. The Ninja is happy with a bit of weekend corner carving because it has a decent amount of power and reasonable ground clearance, as well as a secure, fairly stiff suspension set-up that provides good feedback. And even touring is catered for by the protective fairing and comfortable seating. There is a Learner Approved version as well, called the L.
All right, I'm not entirely keen on the all-digital instruments, where the designers have tried a little too hard. The way the fuel gauge runs into the rev counter is too cute by half, but at least there's a nice, big, fat number for speed — and I do like that. These days, it's vital if you want to keep your licence. There's also a clock, so you can work out whether to drop your speed for that school zone coming up.
The basic practicalities have been looked after with a couple of different ways of strapping luggage onto the pillion seat and some steel loops to lock helmets to the bike. There is no rack or provision for one, but it would be easy to mount a tank bag. Both clutch and brake levers are adjustable for reach, which is a nice touch on such a modestly priced bike.
I love the Kawasaki green of our test bike. I know the Ninja 650 R is also available in blue, and the colour suits it quite well, but I'd have to have the green one. Bet it's faster, too …

Quickspecs — Kawasaki Ninja 650 R
Model: Kawasaki Ninja 650 R
Price: $10,990 (plus on-road charges)
Warranty: Two years, unlimited distance
Power: 53kW @ 8500rpm
Torque: 66Nm @ 8000rpm
Engine: Liquid-cooled parallel twin, four-stroke, four valves per cylinder DOHC, fuel injection and digital ignition
Bore x stroke: 83mm x 60mm
Displacement: 649cc
Compression: 11.3:1
Transmission: Six-speed, wet multi-plate clutch, final drive by chain
Suspension: Front, 41mm cartridge telescopic fork, travel 120mm. Rear, offset lay-down single shock, preload adjustable, 125mm travel
Dimensions: kerb weight 204kg, fuel capacity 15.5 litres, wheelbase 1410mm
Seat height 790mm
Tyres: Front, 120/70 ZR 17. Rear, 160/60 ZR 17
Frame: Diamond, high-tensile steel tubing
Brakes: Front, twin semi-floating 300mm petal discs with two-piston calipers. Rear, 220mm petal disc
Acceleration:
0–100km/h 3.9 seconds
60–100km/h 4.6 seconds
Fuel consumption: 4.3 litres per 100km, unleaded
Theoretical range: 360km
Colour: Green, blue
Verdict: An artistic, idealistic, brand-worthy, rational choice