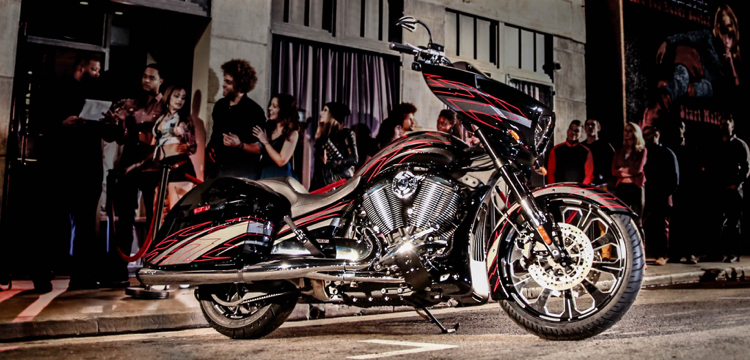 Victory has trumped its own radical bagger, the Magnum, with a more heavily customised, limited-edition version designed to shatter the peace by sharing your musical tastes with the world.
This new Magnum is called the X-1, just like the legendary US jet aircraft that first broke the sound barrier, only this machine is equipped for massive decibels rather than mega speed.
But it's not the blast of an open exhaust that'll do it. The two-wheeled X-1's sonic boom will come from its 10 speakers, sending out sound waves produced by a 200-watt premium sound system.
We're guessing the panniers are boom boxes rather than touring accessories.
The Magnum X-1 also has high-quality custom paint, a 21-inch front wheel and other touches inspired by the growing trend of heavily customising baggers.
The release of this loud and proud bike comes on the back of news that Victory has again topped a US survey into customer satisfaction among motorcycle owners.
The Consumer Reports survey of over 12,000 riders, covering 10 brands, found 80% of Victory owners "would definitely buy again" — the highest percentage among the brands.
The X-1 starts at $34,995 ride-away in Australia, and only a handful are being imported.
Find out more at the Victory website.