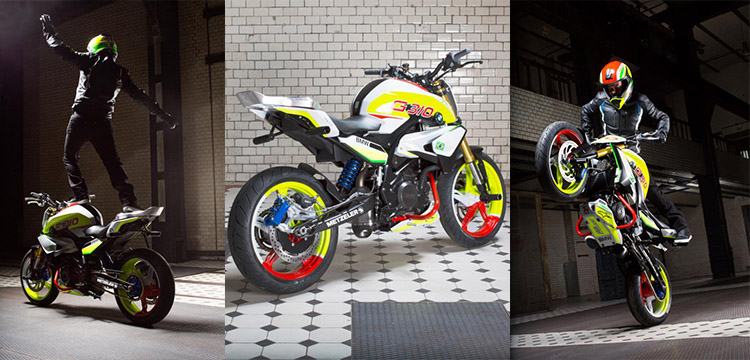 BMW has revealed a new engine with a single, rearward facing cylinder and reversed cylinder head … and they've wrapped it in a stunt bike chassis so that Chris Pfeiffer can show off its agility and power.
Pfeiffer, a multiple world-champion stunt rider, usually performs on an F800, and has had a play on a massive K1600, but the implication is that the Concept 310 is a much smaller machine.
Whether or not it's 310cc, BMW isn't saying yet.
The main advantage of the back-to-front engine layout is its compactness, permitting the use of a long swingarm inside a short wheelbase, and a lower front end.
BMW says the upshot of this is a "very agile" motorcycle.
The engine layout has other benefits, too, including placement of the exhaust vertically below the seat, well away from Pfeiffer's feet when he's moving around the bike.
Concept 310's chassis is purpose-built for stunt riding, with features like a foot-hold formed in the tail unit and two rear brakes, one activated by the rider's left hand.
BMW isn't the first to employ this engine design, and Yamaha is using them already in its offroads bikes; the 2016 YZ450F will feature it, for example.
Concept 310 was unveiled in Brazil, implying it'll form the basis of a new, small-capacity range that BMW can sell into South America and similar markets where there's high demand for them.