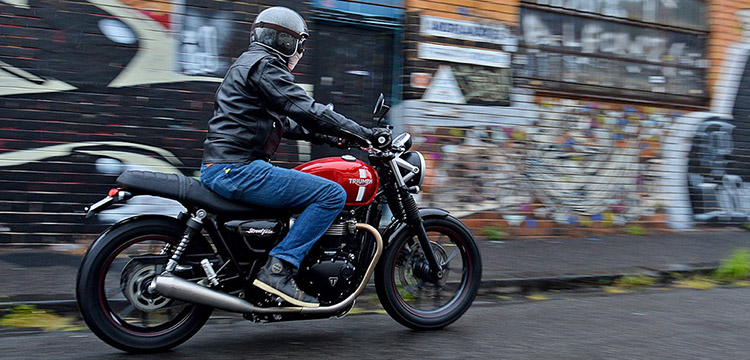 Sweet! The new Street Twin, the base model in the revised Triumph Bonneville range, is exactly what we hoped: cool, cute, pretty and oh so much fun to ride.
Streaming over the Black Spur, it felt fantastic in the way I wanted it to, that is, not perfect like a Street Triple but imperfect like a retro bike that purposely shuns the plasticised slickness of 21st Century technology.
I rode it the way bikes were supposed to be ridden back in the day, taking smooth lines, braking gracefully, leaning as deeply as possible and maintaining the momentum before rolling on the power as early as possible.
The Trumpy played the game with me and we flicked quickly from side to side as the engine note fell and rose again. It was uplifting, and it was all about speed without going so fast that I had to exist outside my own limits.
You sit in a classic British-bike riding position with a very skinny tank between our knees and a whirring, vibrating engine below it. Even the stock pipes release a deep and audible beat that celebrates every twist of your wrist.
Yes, that sound is different now because the crankshaft in this vertical twin is set like a 90-degree V-twin's. The patter of the classic British 360-degree crank is gone, replaced by what's frankly a better, more exciting sound.
But even though the new crank also alters the vibration, the character of the engine is still there in spades.
In this new 900cc engine, with fly-by-wuire throttle and much more besides, there's a big dose of torque through the bottom and middle of the rev range, and it endows the bike with much more punch.
Power is up through the range as a result, but the tuning means there's actually 1hp less at the peak. Not that you'd pick it – the emphasis on midrange torque means you'd swear this was a much bigger, more powerful unit than the 865cc donk it replaces. And now it has switchable traction control as well, a handy backup.
The suspension is greatly improved, giving a nicer ride on rough roads and, while it's not in the league of the Street Triples of this world, the handling is way better. It's not till you really push it on imperfect roads that you begin to feel the slight mis-match front to rear, and realise there's just a bit too much spring for the amount of damping.
It's a small criticism, epsecially in context of the Street Twin's purpose in life, which is to be sweet and cool, not mean and race-ready.
It fills its role brilliantly. Triumph is toting its urban credentials and its Sunday-morning abilities but I know it's also more than that if you're the kind of person who sees the all-round nature of a classic British twin.
At its $13,350+orc introductory price, it's damn fine buying. The temptation is to wait and see what the 1200cc models will be like, but I was very taken with the Street Twin's fun, torquey performance and would be tempted to grab it and save a few grand.
Then again, I might not save the money. That'd buy a lot of bits from the massive range of accessories. Drop bars, fly screen, flat seat… Oh dear, I'd better stop now before I talk myself into it!
Full specs and other info are on the Triumph website.