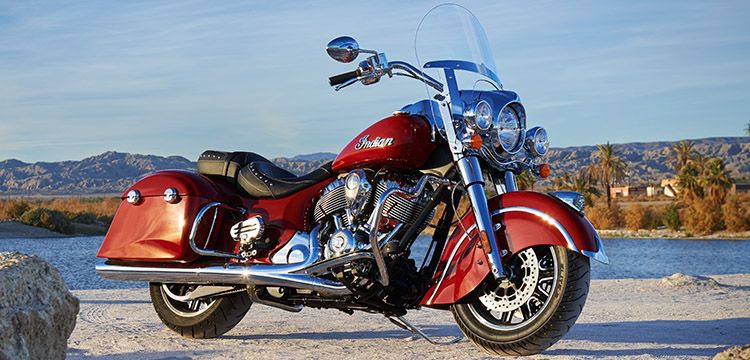 Indian has annoucned a new touring bike in its 111ci Chief lineup, the Springfield, which takes aim at Harley's Road King.
The Springfield is intended to be more versatile, though, and can be stripped down to a bare cruiser or built up into a more heavy-duty touring bike.
It differs from the Chief Vintage not only in having hard, lockable panniers instead of leather saddlebags, but with a frame taken from the bigger Roadmaster, designed to carry a heavier load.
Its rated payload is a whopping 242kg, and Indian claims its cartridge forks and air-adjustable rear suspension are up to the job of carrying it all.
Like Indian's full-dress tourer, the Springfield has ABS brakes, tyre pressure monitors, cruise control, and more. The crash bars mounted front and rear are shaped to accept accessories — perhaps a set of spotlights to complement the standard driving lights.
As you'd expect, the model-specific windshield is a quick-detach design. The panniers come off in moments, leaving little trace of mounting hardware so that a stripped Springfield will look almost as clean as a base-model Chief.
"It's a bike with a split personality that delivers on the tradition of great Indian motorcycles," Indina's senior product manager, Ben Lindaman, said.
The bike's Thunderstroke 111 V-twin engine is the same side-valve lookalike we've come to love in other Chiefs, and its 139Nm of torque will be ample for a tourer like this.
In either Indian Red or Thunder Black, the Springfield is due in Australian dealership any day now at $33,995 ride-away.
See the Indian website for more information.