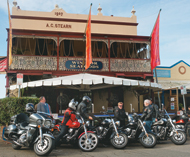 Riding the range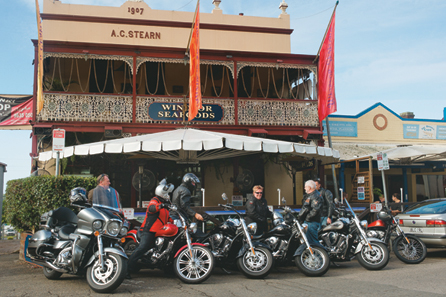 Words: The ARR crew
Photos: Nick Wood

Rudi from Kawasaki usually has something interesting to say when he rings up. This time it was even more interesting than usual.
"Hey, Bear," he said, "we've got the full range of our cruisers available — they're just back from the Ulysses AGM. How would you like to sample
them all at once?"
That might seem like an unusual concept but we had actually been talking to Yamaha about doing exactly that with their bikes. Availability had been a problem but I already had the idea fully worked out in my mind. It's a great opportunity to sample a range of bikes that are similar but at the same time set up to do different jobs or appeal to different people. And yes, we'll probably do the same thing with other manufacturers' ranges, if the occasion arises.
But at the time, I think Rudi was a little surprised at my instant response. "OK," I said. "Drop them off at the usual place by Friday. You can pick them up again on Monday."
And thus it came about that five of our usual crew (see box) rode out on very nearly seven litres of engine capacity, ready for … well, with that kind of firepower, ready for anything!
The bikes in the Kawasaki cruiser range, in case you haven't been paying attention recently, include two 900s — a Classic (fat front tyre) and a Custom (skinny front tyre) — and three 1700s — another Classic, the unfaired but screen- and pannier-equipped Nomad and the fully equipped Voyager. You'll find the specifications below.
Did we have a good time? Yes, we did. Did we discover anything useful? Well, with five sharply-honed Motorcycle Brains (if such a thing is indeed possible) on the job, how could we miss? You may well be surprised by some of the differences of opinion below, but even more by the general agreement …
PT
900 Classic
"Very comfortable bike," was Di's reaction. "Classics always are to me. It has low, wide handlebars and a nice wide seat. The mirrors are in a good position and the speedo, too, so you haven't got to move your head.
"It cornered well and the suspension felt good. I like having the running boards; makes a nice comfy platform for your feet and you can ride it for hours. I'd change the pipes though; the standard ones are very quiet. The Dunlop tyres were good on the wet roads. Nice easy bike to ride and easy to park. I really enjoyed it."
Selena agreed: "My first impression of it was that it was a light cruiser, good seat height, good foot position with running boards. It has a comfortable seating position with pull-back handlebars making the arm reach very easy. It was a five-speed box — although I didn't feel that I was looking for a sixth gear — but somewhat lacking in power when I opened the throttle on an uphill pull in fifth gear."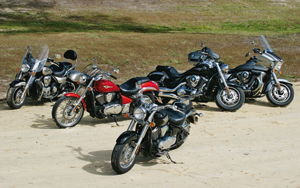 John liked the running boards, too: "This bike is your basic cruiser with sleek, clean lines. It certainly looks the part and the whitewall tyres set it off. This model also has a flick-up brake pedal for comfortable foot placement. Although you need to glance down a little to check the speedo it's not as bad as some other bikes on the market and would be easy to live with.
"Kawasaki certainly got the rider's seating right on this model as well; I can't say that I sat on the passenger's seat but it doesn't look as good. It's got good brakes, too. The 900 is a bike you would be happy to own, and fitted with throw-over pannier bags you would be happy to tear up some miles on country roads. The 900 is also quite stable on the road and it takes very little effort to throw into corners. Suspension is good although I found it a little soft.
"The engine is sufficient for the bike's size but I feel it could do with a few more horses. I am a fan of the belt-drive system. I found the gearbox a little clunky but it's just the way these are designed.
"All in all, a very nice all-rounder."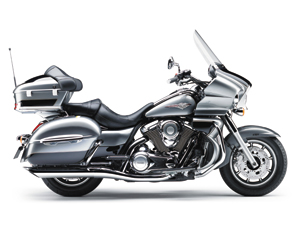 "The 900 Classic is a nice, cleanly styled, straightforward cruiser," says Mike. "The engine is smooth and vibration free and the brakes work well. On smooth roads it tracks stable and true and the steering feels nicely weighted. But when the pavement gets a bit rough, especially if you're pressing on a bit, the suspension doesn't cope at all well. It doesn't absorb the bumps and there is very little noticeable damping. It just sort of bounces.
"It's not a bike for the power mad, either, but I find it oddly satisfying to be able to twist the throttle all the way to the stop in (relatively) normal riding."
900 Custom
Di found this a "very nice bike to ride with comfy hi-rise flat handlebars. I started nearly sitting up on the tank but after a few kays sat back and settled in on the nice wide seat. I always find 'customs' fun bikes to ride. The forward footpegs were good even for a short person like me. Gear changes were smooth with easy clutch and front brake levers that didn't test my small hands. Speedo was in a good position and I didn't have to move my head to keep a check on my speed.
"I loved riding it! Nice, easy, light bike to ride, great on the corners and easy to park."
Selena agreed: "This was the last bike I rode and after the Mother Ship it was so light and nimble and even felt like riding a sports bike in comparison. The seat height was great: I had both feet planted flat on the ground. The seat was pretty hard after a while.
"The handlebars with the eight-inch risers were comfortable and steering this bike seemed easier: maybe it was something to do with the larger, narrower front wheel. I know it has the same engine as the Classic but I thought it seemed a little peppier."
Mike liked it, too: "As a lightweight and versatile cruiser, the 900 Custom is my favourite among this Kawasaki range. It looks great in Candy Red, a colour which seems to bring out the subtle sculpting in the tank. The big skinny front wheel works well as a design element, too, and I like the simplicity of it. There is no tizzy and unnecessary decorative bling to get tired of after the first week or two.
"The highway-style forward-mounted pegs create a more comfortable riding position than the equivalent Classic's running boards. Being further away from the seat, they created more room for my relatively long legs and stopped my back from digging into the ridge in the seat. Taller riders, take note: this is the model you should choose.
"The 900 custom was also the most fun to ride. Despite its almost two-and-a-half-metre length, it flung itself enthusiastically into corners and was a pleasure to just chuck around. Kawasaki needs to do something about the suspension, though. It's just not compliant enough when the road surface gets rough."
And Stuart liked it as well: "This was the standout for me. It looks the part, it's simple, yet purposeful; it's comfy for most distances with forward controls; the engine is responsive with adequate 'cruiser' power and torque. Handling is light and sporty and surprisingly there was an abundance of grip from the large 21-inch skinny front tyre.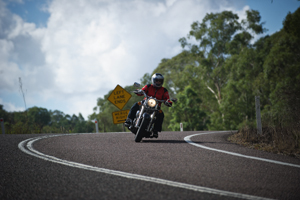 "Fit and finish are good. Braking power and feel is excellent; I used them quite hard and, unless you were to be totally silly, there's no suggestion of lockup creeping in. The clutch was reasonably light and the change far smoother than the 1700's. The five-speed box has the ratios spread well to make all cruising speeds comfortable."

1700 Classic
"This bike is your true classic cruiser," according to Di. "It felt a bit higher than the other cruisers but I could still touch the ground. It had running boards rather than footpegs so it was very comfortable. It was nice and smooth changing gears and the brakes felt good.
"As with all of them, the seat was nice and wide and super comfy. Suspension was a bit bumpy for me and I thought it would have had a bit more grunt. I did find it a heavy bike though and had a bit of trouble manoeuvring it around the car park."
Selena wasn't so sure: "This bike seemed much heavier than the first one [the 900 Classic] and I felt that I had to reach for the forward gear shift. That would be great for longer legs but it meant I had to sit further forward in the seat. Again, I was surprised at the power of this bike; I would have expected the 1700cc to have endless low-down power but thought it was a little lacking."
John thought it was especially versatile: "The 1700 and the 900 Classics share a lot of similarities in styling; however, that's where it ends. The 1700 is Kawasaki's big standard cruiser but with the agility of its little brother the 900.
"Sharing the engine of the Voyager and the Nomad plus with a six-speed gearbox with overdrive, this bike isn't just meant for the local roads in or around town; it feels right at home on the country roads. Fitted with twin 300mm front discs and four piston calipers plus a 300mm rear and with K-Act ABS, this bike stops well. Handling isn't a problem, either."
The Classic is Mike's favourite of Kawasaki's 1700-capacity cruisers: "I like the retro-coloured speedo, the running boards, the big fat rear brake pedal and the heel-toe shifter, which works well. The bars are nicely positioned, too. Being unburdened by accessories, it also feels the most powerful of the group."
"Coming from the Voyager and Nomad to the classic with no screen made cruising a little more attention grabbing," wrote Stuart. "With the wind hitting you, it requires more muscle to grip the bars. Power from the engine was better again (even less weight) and the ABS worked well at speed, but at low speed it had the slightest pulse.
"The classic 'old English' text speedo is easy on the eyes and the nacelle is positioned well enough forward and high enough to be readable with a quick glance while not really taking your eyes off the road. To me, the comfort felt very similar to the Voyager, which was reasonable. Handling was the same as the Nomad: mid-weighted and comfy enough to be a good classic cruiser.
"On all the 1700s I really liked the brake lever pad that flips up to allow your right foot extra room on the foot boards. All three gearboxes were clunky but the ratios [were] spread evenly throughout the rev range."
1700 Nomad
"The seat from heaven!" cried Selena. "The seat on this bike was pure joy, with the combination of better suspension than the previous bikes. Having a dodgy tail bone means I often get a sore back from riding cruisers; this is the best cruiser seat I have ever ridden.
"The foot position on this bike was more mid-control than forward, pull-back handlebars in a good position making it a very comfortable ride overall. I struggled with the windscreen; it was either not low enough or not high enough, right in my line of sight. Panniers are huge, offering a lot of space for my kit. I would like the option of being able to remove both panniers and windscreen so they can be an option on the day of riding."
John particularly liked the Nomad: "Like its big brother the 1700 Voyager, this bike has everything that you would need for those longer trips with or without your partner. It's fitted with good-sized panniers, large windscreen, fork deflectors and pillion backrest, giving the rider and passenger plenty of comfort, and the instruments were easy to use. The Nomad is a bike you could jump on and do some serious miles. Like the rest of the models fitted with ABS, the Nomad has no problem with stopping or handling.
"Like most cruisers, you need to be aware that ground clearance can be a problem and being too confident can lead to scraping the underside of the running boards.
"Like the Voyager, the engine is strong and with an overdrive makes for the perfect interstate cruiser. It's fitted with twin 300mm front discs and four-piston calipers plus a 300mm rear and with K-Act ABS.
"This is a lovely motorcycle that anyone would be happy to own."
Mike thought the Nomad was a bit of a puzzle: "It should have had the same appeal as the 1700 Classic except with the added comfort of a screen and cruise control and the added security of ABS. Unfortunately, the screen vibrated annoyingly and the engine in our particular example clattered and rattled a bit.
"It rode nicely and smoothly, though, and handled well at touring speeds. Overall, with its standard panniers and passenger backrest, it makes an excellent two-up touring alternative to the fully equipped and heavier Voyager."
This bike impressed Stuart as well: "Of the 1700s the Nomad was my pick. The seating position was super plush and the rider triangle is similar to the Voyager; however, the different bar width and reach put you into a different position, making it so much more comfy. The shorter screen cut wind around you well and it was a great height so you didn't have the distractions of the Voyager.
"Handling is chalk and cheese over the Voyager. Turn-in was mid-weighted with good feedback through the bars and the spring rate made it comfy over rough patches without bottoming out or inducing wallow. Engine power was more responsive over the Voyager (no doubt due to less weight) and made cruising much smoother.
"Again, the cruise control worked perfectly and the ABS worked unnoticeably. The power from the brakes was better, again due to less weight. Luggage capacity is great for the Nomad rider and fit and finish were 'production' but nicely done."

1700 Voyager
"Wow!" wrote Di. "Such a big bike for a 5′5″ grandmother! But it was great to ride! Seemed a bit daunting at first but by the time I was out of the driveway of the servo it was all good. It wasn't as heavy as it looked and my feet were flat on the ground when I stopped.
"This bike has all the bells and whistles, which I loved. Didn't get to play with the music setup but it has MP3 connection and heaps more. The huge dashboard tells you everything, even what gear you're in. And it's all so easy to read. Lots of luggage and an excellent seat you could sit on all day. Changed gear effortlessly and really has good power along the open road. The Dunlop tyres felt great on the wet roads, too. Great bike to do some serious cruising on."
Selena nicknamed this the Mother Ship and also noted, "It had all the bells and whistles. When I got onto this bike I was surprised it wasn't as heavy as it looks. The seat height was also not too bad and again it was a very comfortable seat. The handlebars were different from the Nomad, making the reach a little longer. Gear shift and foot position were good.
"I found it got quite hot behind the screen and was looking for a way to bring through some air. Found it, too, after I got off the bike, at the feet. I played with the stereo a little: reasonably good sound system and controls at the fingertips. The luggage capacity was massive, making it a great couple's tourer! However, I felt that the panniers seemed flimsy and wonder how they would withstand the test of time and constant use."
John sounded quite surprised by the big bruiser: "[Despite] looking heavy and awkward for its size this bike is relatively easy to manoeuvre and once out on the highway feels quite stable and soaks up the bumps very well. Handling isn't too bad either and although we started in damp conditions it felt positive in the twisties.
"Having the full fairing was nice, giving plenty of protection, and with the full instrument layout in easy viewing, switches were also easy and it didn't take long to work out what each switch was meant to do. [It's] fitted with easy-to-use cruise control and a stereo radio that works well and is quite audible even at 100km/h.
"Seating is very comfortable, even more so for the passenger, with a wraparound padded backrest. Ground clearance is adequate but, should you decide to push it, you will scrape the underside of the running boards.
"I really do like the styling of this bike which I think is a classic look with nice clean lines and a great colour scheme to match. It looks great and goes and handles well and it certainly makes an excellent tourer with its large panniers and top box. Once you get over 110km/h you can slip it into overdrive, drop the revs and save some fuel."
Mike is nothing if not comfort conscious: "The first impression on lowering my backside onto the Voyager's seat is how plush it feels. It's one of the cushiest pews I've sat on in a while. It seemed to hold up quite well, too, but since I spent less than a day on it I can't vouch for its long-term comfort.
"The engine pulled strongly but felt a bit blunted by the weight of all the kit being carried. It rides nicely, though: the springs soaked up sharp undulations while the dampers kept the rubber firmly in contact with the tarmac.
"There were some things that I didn't like about the Voyager. The fairing-mounted 'dashboard' is comprehensive and looks well made but aesthetically it doesn't quite work. It looks a bit, well, cheap. From a comfort point of view, the fairing deflected a lot of heat onto the legs when standing in traffic. On a cold winter's day it would probably be welcome but even on the coolish day of our test ride it was uncomfortable. Once on the move, though, it wasn't noticeable.
"One more annoying thing: the volume control for the radio is positioned just under the blinker switch so I kept flicking the blinker on while wondering why the radio wasn't getting louder."
"Having ridden the Voyager before, I was instantly in tune with its idiosyncrasies," wrote Stuart, "such as the lack of feel through the front wheel and having to ride looking through the screen, which can be off-putting. Reflections cut vision, as do rain droplets. The seat was reasonably comfortable and Nick reports that the pillion comfort was fantastic.
"Engine power was docile but made for lazy touring. The ABS in virtually unnoticeable and the power and feel are adequate. Cruise control works well and was not fluffy, holding the set speed well, even over undulating terrain. The stereo system is lacking a CD player but the radio is nice and clear while riding at speed. Luggage capacity is this bike's grace: it's huge and will fit rider and pillion gear easily."
So there. If you can't find an opinion in that lot that addresses your own concerns, we give up. It's more than interesting to see how rounded a description of a bike can become when it is approached from so many different points of view, some of which inevitably disagree with each other. We know that you like this kind of "comparison"; let us know if it hit the spot, as previous ones have.
We also suspect that there is a very good chance that the bike you want is among this lot!
PT
Box
Da krew
Please keep in mind that the opinions in this article are those of five different people. There may well be disagreement — but then there is among all riders. The idea with all of our comparison rides is to present opinions to you without trying for a numerical ranking. You may well find that a bike that doesn't seem to rate all that well with some of our riders is just the thing you're looking for. Here, in all their variety and glory, are our five testers.
In reverse approximate order of height (well, you try to come up with a listing that isn't alphabetical) we had the pleasure of the company of Di Scaysbrook, the past president of the NSW Ducati Club; Selena Thurbon, the owner of Bikescape Motorcycle Tours and Rentals; John "Johnny Diesel" Arens, our advertising manager; Mike Grant, Vespa rider and occasional cruiser tester; and our road-test guru Stuart Woodbury.
This was a pretty good selection, I thought. We had two females and three males, for a start. Di might be one of the Ducatisti but she rides all sorts of bikes all the time; Selena owns and rents out a lot of different cruisers; John was a diehard Harley rider until he eased up a bit; Mike rides cruisers for us but also spends time on other bikes; and Stuart was a kind of control with a lot of experience across a huge variety of motorcycles.
Photographer Nick Wood played interchangeable pillion and I accompanied the whole shebang on a Harley.
PT
Quickspecs
Kawasaki Vulcan 900 Classic SE/900 Custom
Price: $12,499
Warranty: 24 months
Service intervals: 6000km
Engine: Liquid-cooled, SOHC four-stroke V-twin with TCBI ignition
Displacement: 903cc
Compression: 9.5:1
Bore × stroke: 88×74.2mm
Power/torque: 37kW @ 5700rpm/78Nm @ 3700rpm
Transmission: 5-speed with belt final drive
Dimensions: Seat heat 681mm (Custom 686mm); wheelbase 1646mm; kerb weight 281.1kg (Custom 277.1kg); fuel capacity 20.06L
Suspension: Front: 41mm telescopic fork. Rear: Uni-Track
Brakes: Front: single 300mm disc. Rear: single 300mm disc (Custom Rear: single 270mm disc)
Tyres: Front: 130/90-16 (Custom Front: 80/90-21). Rear: 180/70-15 (Custom Rear: 180/70-15)
Colours: Ebony (Custom: Metallic Dark Red/Flat Black)
Verdict: Could be all you'll ever want
Quickspecs
Kawasaki Nomad 1700/Classic LT
Price: $22,999/$19,999
Warranty: 24 months
Service intervals: 6000km, major service every 12,000km
Engine: Liquid-cooled, SOHC four-stroke V-twin with dual digital fuel injection. Electronic cruise control standard on Nomad only
Displacement: 1700cc
Compression: 9.5:1
Bore × stroke: 102×104mm
Power/torque: 54kW @ 5000rpm/136Nm @ 3250rpm
Transmission: 6-speed with belt final drive
Dimensions: Seat height 729mm (Classic 719mm); wheelbase 1666mm; kerb weight 378.3kg (Classic 362kg); fuel capacity 20.06L
Suspension: Front: 43mm telescopic fork. Rear: twin air-assisted shocks
Brakes: Front: double disc. Rear single disc
Tyres: Front: 130/90-16 (Classic Front: 130/90-16). Rear: 170/70-16 (Classic Rear: 170/70-16)
Colours: Candy Neptune Blue/Metallic Phantom Silver; Ebony/Metallic Moondust Grey (Classic: Metallic Imperial Red/Metallic Titanium)
Verdict: "Classic" says it all, and so does "Nomad"
Quickspecs
Kawasaki Vulcan 1700 Voyager
Price: $25,999
Warranty: 24 months
Service intervals: 6000km, major service every 12,000km
Engine: Liquid-cooled, SOHC, four valves per cylinder, four-stroke, V-twin with digital fuel injection
Displacement: 1700cc
Compression: 9.5:1
Bore × stroke: 102×104mm
Power/torque: 54kW @ 5000rpm/136Nm @ 3250rpm
Transmission: 6-speed gearbox with belt final drive
Suspension: Front: 45mm telescopic fork. Rear: 170/70-16
Brakes: Front: Twin 300mm discs. Rear: Single 300mm disc
Tyres: Front: 130/90-16. Rear: 170/70-16
Dimensions: Seat height 729mm; kerb weight 401.9kg; wheelbase 1666mm; fuel capacity 20L
Colours: Candy Imperial Blue/Atomic Silver, Ebony/Pearl Meteor Grey
Verdict: The Mother Ship