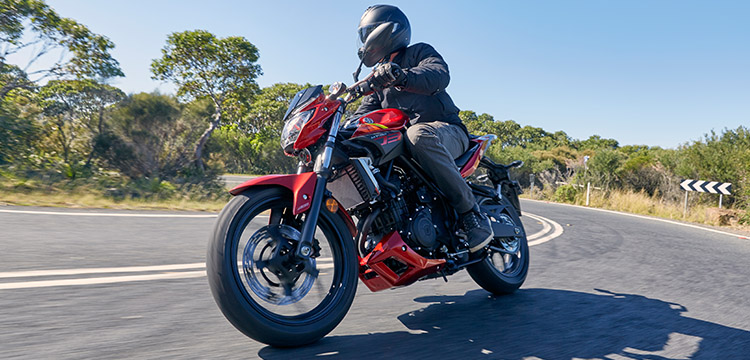 Can a 300cc motorcycle really qualify as a Yamaha MT? The MT designation has variously stood for Monster Torque, Mighty Torque, Massive Torque and probably other interpretations of what should by now be an obvious theme. Torque.
This is not torque as we know it in the 1600cc MT-01 that started this whole thing. Nor is it torque like in the former MT-03 that had the 660cc single. But the new MT-03 is without a shadow of doubt the Mr Torque of the 300cc class, and for that it deserves its MT moniker. It spins out about 30Nm at 9000rpm, with a peak power of 31kW at 10,750rpm.
The new bike's engine is actually 321cc, so the MT-03 has at least a slight edge over everything smaller than the KTM 390 Duke.
So for hotshot performance in this part of the learner-bike market, you can't go past the MT-03, a bike that really does deserve to be part of the MT range.
A good dose of grunt is nice but there's more to motorcycling than that. Yamaha has come up true to form on this score, wedging the parallel-twin engine into a good chassis wrapped in cool bodywork.
As such, you know you're in for a fun ride when you slot the key into the ignition and fire up the MT-03.
There's no need to force the MT-03's handling. It steers as beautifully as a Miss Universe finalist and will carry the corner with equal grace as long as you are light on the handlebars.
Ridden like this it will lean and lean until finally you scrape a footage, a just reward for your empathetic inputs.
The Yamaha dealt with bumpy roads better than I expected of such a lightweight, even in corners. There's stability, responsiveness and an ease of handling that stands out in this kind of machine.
The MT-03 is a handsome bike, with a solidness to the front that provides the impression of muscle, and a waifish minimalism behind.
The more obvious appeal is the price. Only the Benelli BN302 is cheaper, by a few hundred dollars. Sure, the Honda CB300 equals the Yamaha on price but by offering a lower-performing single-cylinder powerplant is fails on value. The Kawasaki Z300 and KTM 390 cost more.
This a top-performing, classy and good looking 300-class motorbike. Whether you're in it for the LAMS credentials or you're a fan of small-capacity motorcycling, the Yamaha is the standout.
QUICKSPECS
Model: Yamaha MT-03
Price: $5699 (plus on-road charges)
Colours: Race Red, Race Blu, Midnight Black
Warranty: 2 years, unlimited distance
Servicing intervals: 10,000km
Engine: Liquid-cooled, DOHC, 8-valve, parallel-twin
Bore x stroke: 68.0 x 44.1mm
Displacement: 321cc
Compression: 11.2:1
Power: 31kW @ 10,750rpm
Torque: 30Nm @ 9000rpm
Transmission: Wet clutch, 6-speed gearbox, chain drive
Frame: Tubular-section steel
Dimensions: Seat height 780mm, weight 156/168kg (dry/wet), fuel capacity 14L, wheelbase 1380mm, rake 25º, trail 95mm
Suspension: Front, 41mm fork, 130mm travel. Rear, monoshock, 125mm travel
Brakes: Front, 1 x 298mm disc, 2-piston caliper. Rear, 220mm disc, 1-piston caliper. ABS
Tyres:  Front, 110/70-17 (54H). Rear, 140/70-17 (66H)
Fuel consumption: 4.3L/100km
Theoretical range: 325km
Verdict: Deservedly an MT Yamaha, with class-leading performance and value
For more pics and info, see the Yamaha Australia website.