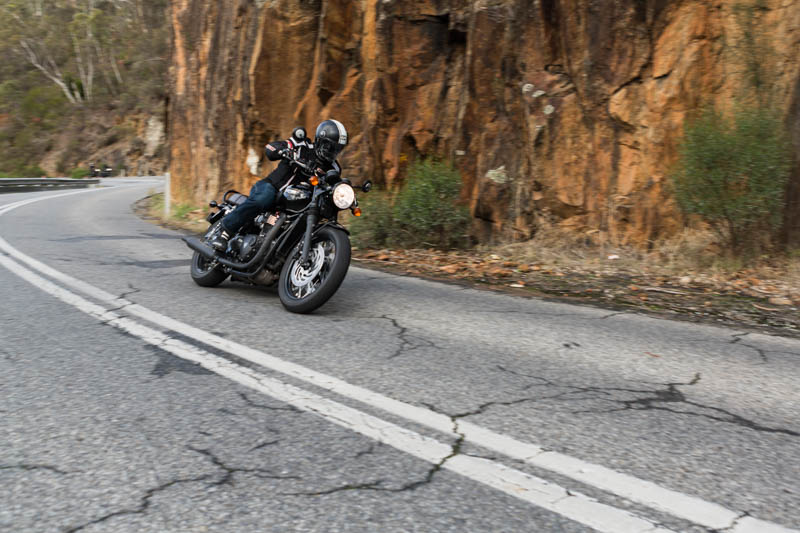 Grown in size and with a bunch more tech, the new Bonnie is a much better bike with the charm to knock the socks off you
When I was a kid, still trying to figure out how to stop falling off my moped every time I went near it, a guy in our village bought a brand new Bonneville. It was a 750cc T140 and my mates and I were drawn to it like moths to a flame, despite not owning a tassled leather jacket or a jar of Brylcreem between us. The bike was black and red with hand-painted gold pin-striping, shiny, loud and super cool.
In a time of CBX1000s and Z1300s it looked retro even then and, unbeknown to us, was about to go down in history as one of the last-ever Meriden-built Bonnies. In its day it represented a leap forward in both engine size and technology over the previous 650cc T120, which had been around in one form or another since 1959. Initially sporting simply rebored 650 barrels to take the motor out to 724cc, a revised cylinder block took it out to 744cc in 1973. In addition the T140 also received a five-speed gearbox and hydraulic disc brakes. Heady days indeed.
The latest iteration of the Bonnie harks back to that bygone age in much more than just looks alone. Once again the model has grown in size, this time from 865cc to 1200cc, has updated performance and technology to go with it, and as history would seem to demand, an extra gear.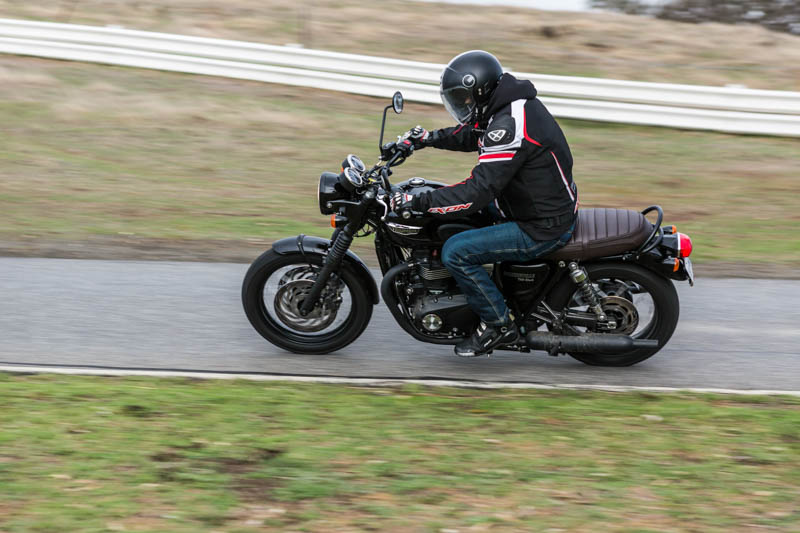 The latest motor is essentially the same unit as that residing in the new Thruxton, although in this application it's tuned for more torque and less power than its clip-on sporting stablemate, courtesy of a different head design for each model. In fact, the new T120 Bonnie makes a whopping 54 per cent more torque than the outgoing T100 model which, even with a capacity hike of 335cc, is still a pretty impressive figure.
Styling-wise the new bike has been heavily influenced by the original '59 Bonnie, even down to some of the available paint schemes, but the first thing I noticed was how tidily the whole thing has been put together.
Despite all the added technology and in particular now being water-cooled, there is hardly an errant cable or hose in sight. The radiator itself is also subtle and surprisingly small, thanks in part to the fins on the cylinders being functional as well as cosmetically essential, and is cunningly positioned vertically between the front two frame rails, rather than sticking out horizontally. Even though the bottom of the rad cops a lot of debris and dirt by being oriented this way, like most good engineering it's a simple and obvious solution once you've seen it.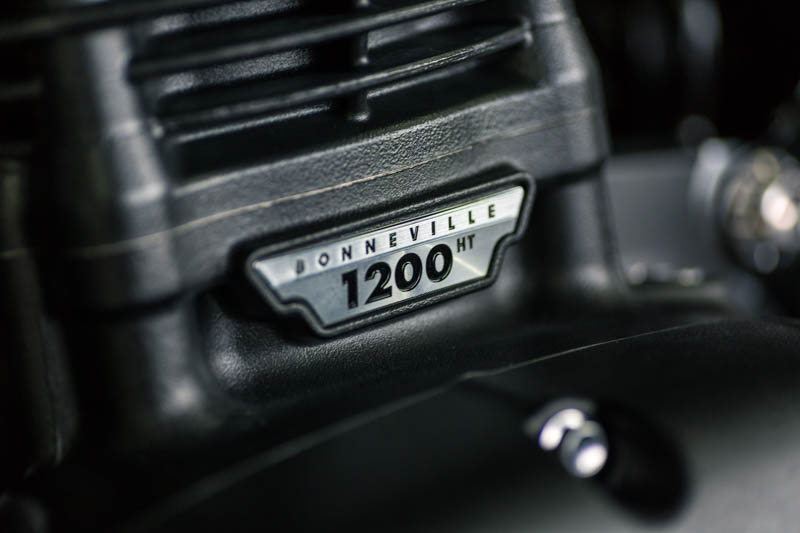 There is a mudguard extension available for $35 if you're worried about damage, but not one of the eight test bikes on the launch had any problems in that regard across two days and many hundreds of kilometres, where we literally threw everything at them as far as road debris was concerned; more on that later.
The attention to detail on the new bike is also utterly superb. For a start the metal tank badge looks like it came straight out of a '60s parts bin, and I mean that in a good way. Then there's the offset-to-the-right chrome filler cap, which unscrews rather than hinges and has a cleverly hidden keyhole, harking back to those days when no-one would dream of pilfering
your petrol. The white-numbered clocks look particularly classy and whether by accident or design, the tacho features an authentic wobbly needle at tickover. The pea-shooter exhausts, which leave a nice fruity roar in their wake, now have a straighter run than the old model and also hide a CAT in there somehow, while the finned exhaust clamps not only look like they came off my mate's Bonnie, but also help mask the presence of the O2 sensor, which is right at the exhaust port to help improve emissions. Even the plug caps come to the party by appearing to be made of Bakelite.
However, hiding the throttle bodies inside fake and very realistic AMAL carburettors really point to the lengths Triumph has gone to to embrace the nostalgia of the brand. (They even developed a thin film of white oxidation on them when left out in the rain overnight: how
authentic is that?)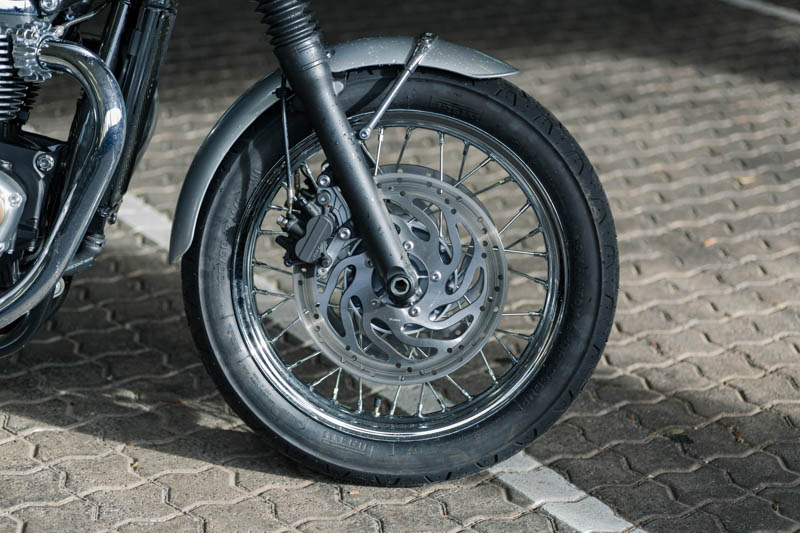 Cleverly integrated yet not detracting from all this old-school charm in any way are some thoroughly modern features such as LED running lights up front and LED brake light at the rear, a USB charger under the seat and two subtle digital displays in the clock faces showing a variety of fixed and scrollable information such as time of day, trips, odometer, fuel level, gear-position indicator and range to empty, as well as traction control and engine map settings.
Bringing the T120 bang up-to-date, it now features ABS at both ends (which cannot be switched off), traction control (which can), slip-assist clutch to reduce lever pull and improve feel (which it does), and two engine maps in the shape of Rain and Road modes.
There's a gap on the display for a third map (presumably Sport) but that's only available on the Thruxton, which shares the same clocks — lucky it only took me about an hour of trying before I realised this. In terms of size and weight, the old and new models are very similar.
Surprisingly, the 1200cc motor is physically no bigger than the previous 865cc and dry weight has only gone up by 10kg despite the addition of water-cooling. With its low seat height of 785mm this all helps keep the
Bonnie very un-intimidating when either moving it about at a standstill or when riding, and by the end of the test I'd all but forgotten I was on a 1200, which is a testament to its balance and handling rather than an indication of anything lacking in the forward momentum department.
Very often in this fine country, press launches are conducted in perfect weather conditions — sunny, warm and dry with perhaps a light breeze to cool you at the rest stops. Sometimes you get unlucky and it rains or blows a gale, or there's fog, or it's freezing cold or maybe roasting hot, and sometimes you get really unlucky and it does all of that on the same day. This was one of those times.
It's testament to the Bonnie that despite everything the weather gods had to throw at us, we had an absolutely riotous and thoroughly enjoyable time on the new Trumpet. Perhaps fittingly for a bike from the UK, our two-day test in and around the Barossa Valley began in persistent rain and high winds. The twisty, hilly road out of Adelaide appeared to have been hit by a hurricane shortly before we arrived and was variously covered in gravel, sticks, mud, bark, mulch and puddles, often all of them on the same corner.
To say it made our progress interesting and exciting would be an understatement and was a hell of a way to be introduced to the Bonnie. What it did highlight was how easy the bike is to ride and how quickly you become confident in its ability, the quality of the ABS and traction control, the surprisingly good grip from the Pirelli Phantom Sportcomp tyres and the tractability of the engine.
By the end of that particular road we were all slightly frazzled, slightly wide-eyed and more than slightly soaked to the skin. The bikes were shamefully filthy and caked in mud, but we'd certainly learned a lot about them. I was particularly impressed by the traction control which allows the rear to get somewhat out of shape before stepping in to help, which it did accurately and consistently despite having every excuse to get confused by
the varying grip levels.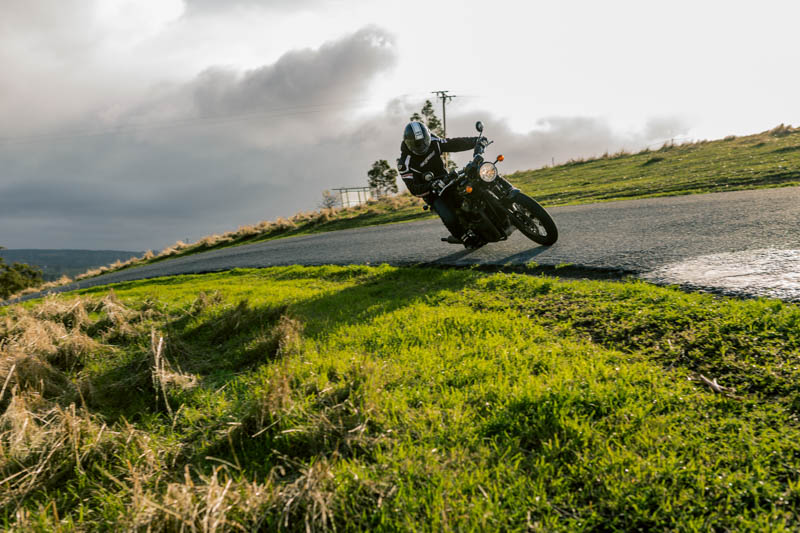 The overriding feature of this bike, though, has to be that glorious motor, with its peak torque of 105Nm being available at a lowly 3100rpm, allowing you to surf up and down the rev range without unduly bothering your left foot or, if you're in the mood, dispensing with the middle gears in mere seconds with giant handfuls of gas. Either way the engine helps you make the best of every situation although don't assume this bike is only about that impressive mid-range.With a tall top gear, slated as an overdrive (revs drop by 500rpm between fifth and sixth), this bike has a more than decent terminal velocity with a good runup, and I would assume that the more powerful Thruxton must have a few more numerals on the speedo to prevent bending the needle.
It also allows for relaxed and fuel-efficient cruising which should see around 300km from the 14.5L tank and, with its super comfortable riding position, you can keep filling it up all day long. There's even a retro-fit cruise control if you're that way inclined. The fuelling itself is close to faultless anywhere in the rev-range and even in that tall sixth gear will drive from as low as 60km/h, which is 1500rpm, or just
barely above tickover. Impressive.
Although this bike isn't designed to be overly sporty in character, as such featuring fairly basic suspension components, it does share its new, stiffer chassis with the Thruxton and therefore comes with an inherent level of
ability in the corners. With the rear pre-load set halfway through its range, which we never felt the need to alter over the two days, the T120 can be confidently thrown onto a footpeg and driven hard off the apex time and time again without feeling out of its depth. Big bumps mid-corner will eat up the available ground clearance, but Triumph has cleverly designed the centre-stand so as to be almost impossible to deck and tucked it well out of
harm's way. Nice touch.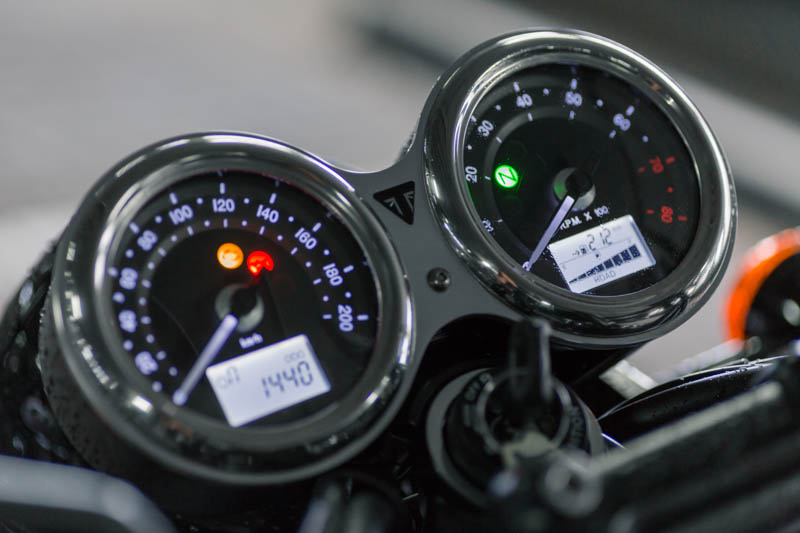 At the same time, the excellent damping rates allow the bike to soak up the majority of urban potholes, making for a relaxing ride in town. The only time the suspension felt like it was having difficulty was on about the 20th lap of at the Collingrove Hillclimb track, which to say is an arena some way beyond the design parameters of the T120 would be a bit of an understatement. It was, however, a flippin' fantastic laugh which, in the end, is pretty much how you feel about this bike wherever and whenever you ride it and in whatever conditions. There wasn't a single time we got off the Bonnie when we weren't all standing around grinning like Cheshire cats, and that just about sums up the reason for having one of these.
With Bonneville being one of the most iconic names in motorcycling history, you can't say its name without thinking Triumph and vice-versa. The weight of expectation must have borne heavily on the engineers when penning this model, but rest assured they've got it right and done the name and its heritage proud. This is a bike which clearly wears its retro heart and 57-year history on its sleeve, yet is a thoroughly modern, capable and versatile motorcycle which performed way better than I expected, whatever we asked of it, and for around $17k is something
of a bargain too. This thing is great in town, is an all-day tourer, wicked fun in the twisties, and if you just wanted to sit outside the coffee-shop and stare at it, it's way over-qualified for that too. You just might need to clean it first.