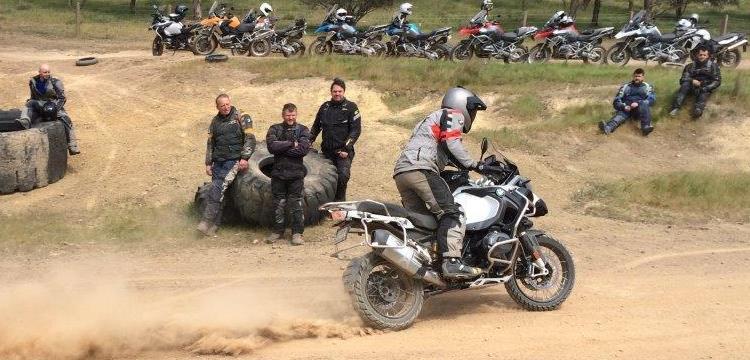 BMW provides some of the best training for aspiring and experienced adventure riders, hosting courses tailor made for owners of GS models.
The $695 courses, some of which are open to riders on any brand, run over two days and will be held in NSW, Victoria, Queensland and WA. You can take a Level 1 or Level 2 course, depending upon your experience and ability.
They've been a popular choice for BMW riders, too.
"In 2014, more than 300 riders took part in the program, increasing their confidence, improving their skill-set, and gaining further instruction in the vital elements of motorcycle control," BMW's Miles Davis says. Miles is not only BMW Motorrad Australia's marketing manager, he's a key part of the training regime and a very talented rider.
"During the two-day course, participants are taught the fundamental techniques of off-road riding to a level they never before thought achievable," he says. "These basic techniques are the core elements of novice through to advanced riding."
The courses cover all aspects of riding on rough, unsealed roads and even off-road. You'll learn about slow speed riding, dealing with obstacles, tackling speed climbs and descents, using your body correctly on the bike and much more.
"If you ride a GS this is your chance to get even more enjoyment from your riding and have a lot of fun," Miles says.
On some courses, BMW can rent you a G-series bike for $300.
For complete details or to book, go to BMW's website, email them or call 1800 813 299.
Dates and Venues
NSW
April 17-18                    Mt Seaview/Port Macquarie, NSW               Level 1
April 19-20                    Mt Seaview/Port Macquarie, NSW               Level 2
June 20-21                   Dargle/Sydney, NSW                                           All Brands-Level 1
August 15 -16              Dargle/Sydney, NSW                                           Level 1 and 2
VIC
June 6-7                        Broadford/Melbourne, Vic                               All Brands-Level 1
Sept 18-21                    Broadford/Melbourne, Vic                               Level 1
Sept 18-21                    Broadford/Melbourne, Vic                               Level 2
QLD
July 31-August 1        Conondale/Sunshine Coast, QLD                   Level 1
Aug 2- 3                         Conondale/Sunshine Coast, QLD                   Level 2
WA
Oct 23rd-24                  Kirup, WA                                                                 Level 1
Oct 25-26                      Kirup, WA                                                                 Level 2