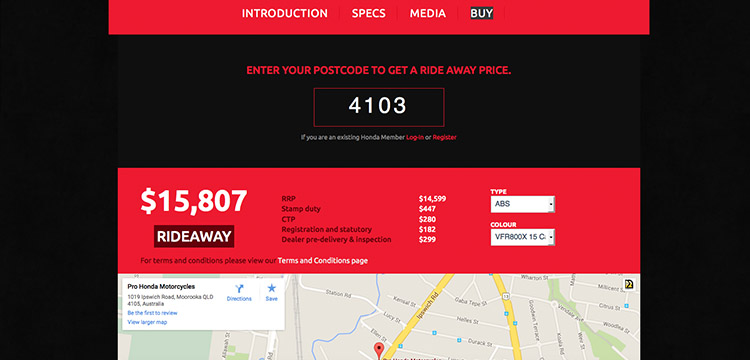 Honda Australia's website gives you ride-away pricing on any motorbike now that a new online calculator has been added.
Australian laws require manufacturers to quote only ride-away prices in their marketing and advertising, but this is often impossible because on-road costs are different around the country.
The differences are often only a few dollars, but that's enough to make it illegal to quote a single price in a national medium.
Some brands absorb the differences themselves so they can set a nationwide ride-away price, but others, including Honda, set a standard base price before on-road costs.
In what Honda claims is a first of its kind in Australia, its website now calculates the ride-away price based on a customer's postcode.
It also gives buyers a list of all the relevant on-road charges, including registration, stamp duty and pre-delivery costs.
"It's important for us to be able to provide our customers an easy way to access the information they want online," Honda MPE general manager Peter Singleton said.
"This new feature gives users the opportunity to do their research at home in their own time."
To use the calculator, just hit the 'buy' button on the Honda website's pages.