Not heavy, not a V-twin and not expensive. What's not to like?
Words and photos Nigel Paterson
Honda, the world's largest motorcycle manufacturer, doesn't offer many big bikes for sale these days. There are a couple of Gold Wings, a good variety of Africa Twin adventure bikes and the new NT1100 coming soon. Even the famous Fireblade is now track-only.
So the introduction of the CMX1100 was a bit of a surprise, a cruiser powered by the engine from the Africa Twin — a torquey, narrow, 1084cc parallel twin with lots of electronics. Combine that with a cruiser chassis and style, super-low 700mm seat, sporty suspension, more advanced electronics and you get a bike which breaks the cruiser mould.
It's not a V-twin.
It's "only" 1100cc.
It doesn't weigh 300kg.
It's so affordable to be almost cheap.
It goes like stink.
THE LOWEST SEAT IN TOWN
Honda's sold lots of CMX500s to learners looking for the confidence that comes with getting both feet onto the ground when stationary, so it's no surprise the 1100 followed the same formula, its 700mm seat height being one of the lowest in motorcycling.
Add in wide mid-set footpegs and it's about as easy as it gets to move from stationary, feet down, to rolling and feet up. The handlebars are out in front, a good compromise reach designed to suit as many people as possible, although handlebars, of course, can be swapped out relatively easily.
The wide-set footpegs, positioned either side of the engine cases… you're kinda stuck with them. As a six-footer, I found them too close to the seat for all-day comfort and would have loved to have seen forward controls on the accessories list, but alas nothing like that is available from Honda (although aftermarket options exist).
Like Harley's Low Rider S, I found the mid controls a little disconcerting at first, but quickly got used to them. Mid controls are the way to go for handling and control — they don't compromise cornering clearance like forward controls often do and they allow weighting of the pegs when riding in a sporty manner. You're just not as stretched out and comfortable.
Maybe highway pegs (which are an additional place to put your feet to relax rather than control your bike, for they don't have brake or gear levers) would be the smart compromise.
I doubt the engine was designed to go into a cruiser as it's chain driven — a belt or shaft would be better — and the footpegs are bolted onto the widest part of the bike, splaying your legs out into the breeze, which I found a bit weird at first but really liked by the time the machine was due to go back to Honda. Having my legs away from the tank by a few centimetres also helped keep the legs away from the engine, so I don't think this bike will cook you quite like many others, which is A Good Thing.
The super-low seat is also a result of the engine choice. The compact and short parallel twin obviously doesn't have a pot pointing backwards, so you're sitting where the cylinder would be on so many other cruisers. It's also a compact motor, so the weight is carried low for a low centre of gravity. There are advantages that come with not choosing a V-twin.
THE MOTOR
Re-purposing an engine designed for an adventure bike into a cruiser powerplant makes more sense than you'd imagine. Both forms of riding demand good low-down grunt, and with the 270-degree crank in the CMX, it feels like a V-twin, too.
The CMX engine features 32 per cent more flywheel mass for better low-rpm response. Eighty-five horsepower doesn't sound all that impressive from a 1100, but 98Nm at 4750rpm does. Combined with Honda's Dual Clutch transmission (a $1000 option fitted to the test bike) and the CMX gets off the line like nothing else. No getting the revs up, no focussing on clutch control, worrying about wheelies or thinking about upshifts, just nail the throttle and this thing gets across the traffic lights like nothing else I can remember. Not just quickly, but so easily.
The DCT does the shifting for you, the traction control keeps the front wheel on the deck and prevents the rear from getting sideways, so all the pilot has to do is hang on. Given enough space and time, faster bikes will overhaul you, but for that first 50m or so you're pretty well untouchable. With maximum torque so low in the rev range, the CMX is easy to ride, possibly the easiest litre-plus motorcycle available today.
For someone stepping up from a LAMS machine, the CMX1100 offers lots of tech to keep the power and torque under control while you get familiar with a big bike. Not only are there three riding modes (Sport, Standard and Rain), there's a custom setting you can configure to your liking, all part of the electronics. I liked the way the standard modes were configured — Rain got tested out in a massive thunderstorm, which threw down flooding wet weather in a very short period, and the Rain mode helped make the CMX feel fine in the conditions.
Throttle response is tamed (but there's still plenty), ABS, engine braking and traction control all help manage the conditions. I ended up preferring Standard mode to Sport as the latter gives a snappy throttle response, which is fun when you're exploring the performance potential of the bike, not so flash if you're cruising. Standard represented a good compromise and became my default setting.
More time or a particular set of conditions may have seen me configuring the user setting, but I didn't see a need. For someone new to big bikes, the user mode could be configured to suit their lack of experience.
This certainly isn't a high-speed machine, but it'll sit on the freeway speed limit all day with plenty in reserve for overtaking.
DCT
Automatic motorcycles have never sold well. Scooters, usually with CVT set-ups, sure, but motorcycles no. 
We haven't wanted them.
Honda's tried to address this by offering its Dual Clutch Transmission in the line-up next to manuals, and it's good, really good on the CMX. The DCT either automatically shifts for you or you can set it to manual and change with paddles on the left switchblock, and there's more info in the DCT Shifting breakout box.
HANDLING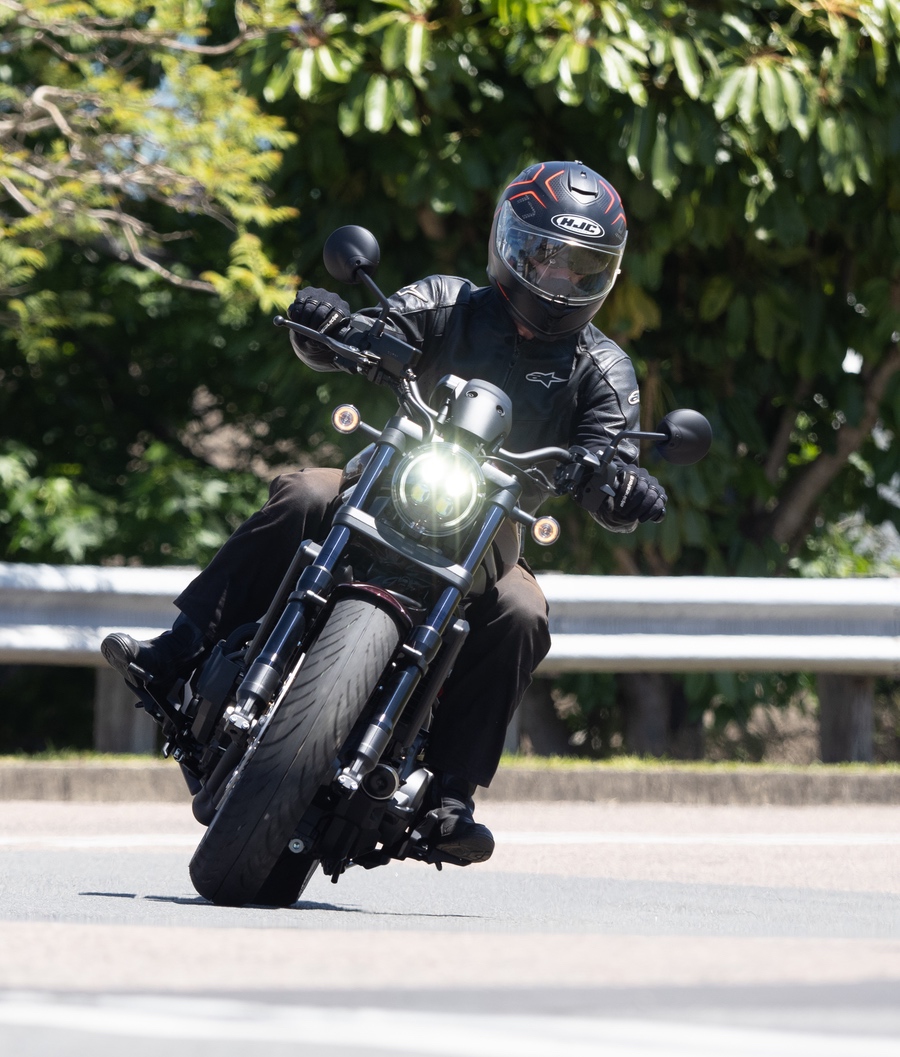 Fat USD forks upfront and dual piggyback shocks look the go and certainly work well on smooth roads. Of course, that low seat height and Bobber-style design mean we don't get a lot of wheel travel, but around four inches at each end was more than I expected. Combined with the mid-set foot controls and cornering clearance it's pretty good — but the handling's quite decent on smooth roads so I was inspired to go faster, which meant I ran out of cornering clearance…
As speeds rise and roads deteriorate the ride isn't so rosy. The front copes well, but stiff springs (and the short travel) at the back make for a pounding of the kidneys. Both ends offer preload adjustment, but the shocks were wound off to almost minimum when I got the bike and I never felt making it even stiffer would be the right way to go — and I weigh in at nearly 100kg.
For the roads in my area, at least the roads I like to ride, I'd need a new pair of shocks. If you stick to riding smoother roads (or you ride slower than me), you may never notice the problem, although maybe, just maybe, the shocks will be a little more forgiving with a few thousand km on them… the test bike was brand new.
Around town the bike handles sweetly. The steering is light and precise, there's a reasonable amount of steering lock for easy U-turns and, of course, it's really easy to get both feet on the ground.
Braking is taken care of by a massive 330mm disc with a radially-mounted four-piston calliper… if there were two they wouldn't be out of place on a Supersport machine. But there's only one, so braking performance is fine, not fabulous. Seriously, you'll be charging hard to need more brakes, and keep in mind the CMX is stopping a lot less weight than many cruisers and nothing works brakes harder than kilos.
There's 2-channel ABS and that's fine, too.
ON THE ROAD
Around town the CMX is pretty comfortable. Everything from the seat padding to the riding position to the mirrors are just fine riding between suburbs and even for brief stints on freeways. Like nearly all naked cruisers, highway speeds are tiring. For long rides, the optional touring screen might be the go to soften the wind blast. There are optional seats available too as the standard one becomes pretty uncomfortable after a few hours.
As a taller rider I found the footpeg to seat distance quite short, adding to fatigue over time.
ELECTRONICS AND EQUIPMENT
I was impressed to see cruise control as standard equipment. It's controlled by a button and toggle on the right switchblock and is easy to access and use.
The instruments are digital, light text on a dark background in a circular pod. They aren't bad — comprehensive yet still reasonably easy to read, although there's a bit of work to learn the button pushing required to find everything there is to offer.
Luckily the instruments give an estimated range, which might be essential to know if you go touring, for the tank is only 13.6 litres, so if you make 250km you've done well.
The ignition key inserts under the seat on the left… but it does serve the dual function of popping the seat off, exposing a small storage area. Here you can charge personal electronics via the USB-C charging port, and it's big enough to take a spare pair of gloves or lightweight wet weather pants — or maybe lunch. There's also a pair of helmet hooks on the seat, so you can lock your lid to the bike, something I find super convenient.
The bike doesn't get heated grips, a 12V power outlet, Bluetooth connectivity, navigation, reverse gear or cup holders.
ACCESSORIES
Honda is offering a range of genuine accessories to customise your CMX1100, including different seats, a rear rack, tank pad, headlight fairing, shorty front guard, passenger back rest, fabric saddlebag and touring screen.
CONCLUSION
The cruiser market is in the doldrums. Most manufacturers have cut their ranges back and few are offering bikes over 1000cc, except for Harley-Davidson and Indian. Even Triumph only offers the Bobber and Speedmaster. So seeing Honda re-enter the category was a bit of a surprise, but I think the success of the CMX500 (a big seller for the brand) helped make the decision.
The biggest surprise from the CMX1100 was how much fun it is to ride. The DCT makes it so easy to blast around town, while the stiff chassis and great forks meant it was fun to charge around on, even if I was running out of cornering clearance and it got a bit uncomfortable over harsh bumps.
For anyone looking for a big bike that is easy to ride, stylish and reasonably priced, the CMX might just be perfect. aRr
In detail: DCT Shifting
Unlike most automobiles (which use a planetary gearset automatic transmission), Honda's Dual Clutch Transmission is essentially an automated manual transmission.
DCT has been around since 2010, with over a hundred thousand riders choosing to pay the extra $1000 or so for the convenience of the system.
It uses two clutches: one for start-up and 1st, 3rd and 5th, the other for 2nd, 4th and 6th, with the mainshaft for each clutch located inside the other for compactness.
The illustration shows each clutch and the gearset it controls in red and blue. 
The advantages of using a Dual Clutch Transmission are numerous: it's easy to build the same bike with a conventional gearbox, engine braking is retained and paddle shifting can be incorporated easily.
In automatic mode, shifting schedules are dictated by constantly-monitored parameters including vehicle speed, engine rpm and throttle opening angle, and there's a different schedule for each of the three riding modes.
Each clutch is independently controlled by its own electro-hydraulic circuit. When a gear change occurs, the system pre-selects the target gear using the clutch not currently in use. The first clutch is then electronically disengaged as, simultaneously, the second clutch engages.
Gear changing on the CMX1100 was smooth and slick in both auto and manual modes. With no manual operation of clutch and gear levers and the engine management disengaging the throttle during the shift, gear changes are smooth and fast. It's not as smooth as the CVT gearboxes on scooters, but we wouldn't want a CVT on a big bike anyway.
During the test we found ourselves using auto most of the time, simply for the convenience. Even in auto, if you want to downshift quickly and briefly for a quick overtake or because you'd hit a steep incline, it's as easy as stabbing the paddle with your left thumb. The downshift happens and it'll hold the gear while the throttle is kept open, but returns to automatic shifting quickly.
For sporty, spirited riding we switched to manual mode, primarily so the bike would hold a gear between corners – in auto it would upshift quickly out of corners and would often be in sixth on the approach to the next – so little engine braking and a lag before it would find the right gear for the next turn. 
Manual mode in this situation is quite like riding a bike with a quickshifter, except you're using your fingers not toes. Just a dab on the paddles (left forefinger and thumb) and the change would happen, in a fraction of a second. No need to back off, fast and smooth.
Other advantages include you can't stall, you left hand doesn't get tired and you can't break a clutch or gear lever if your bike falls over. 
Would we pay $1000 extra for the CVT? You bet.
Specifications
ENGINE
Type:  SOHC liquid-cooled 4-stroke 8-valve parallel twin with 270° crank and Uni-cam. EURO5 compliant
Capacity: 1084cc
Compression ratio: 10.1:1
Engine management: PGM-FI electronic fuel injection 
PERFORMANCE
Claimed maximum power: 64kW at7,000rpm
Claimed maximum torque:  98Nm at 4,750rpm
TRANSMISSION
Type: 6-speed manual or 6-speed Dual Clutch Transmission (auto w/paddle-shift manual)
Final drive: Chain
Clutch manual:Wet multiplate clutch
DCT: Wet multiplate hydraulic 2-clutch
 CHASSIS AND RUNNING GEAR
Chassis: Diamond steel
Front suspension: Preload adjustable 43mm cartridge style
Rear suspension:  Preload adjustable twin piggyback rear shock
Front brakes:  Radial mounted monoblock four-piston brake caliper, 330mm floating single disc w/ABS
Rear brake: Single piston caliper, 256mm single disc w/ABS
Tyres, F: 130/70B18 R: 180/65B16
DIMENSIONS AND CAPACITIES
Rake: 28°
Trail: 110mm
Claimed wet weight: 233kg (DCT) 223 (Manual)
Seat height: 700mm
Wheelbase: 1520mm
Fuel capacity: 13.6L
Electronics, rider aids & convenience features
Offset 120mm negative LCD instrument display, underseat USB-C charger & storage, Two channel ABS braking, non-switchable traction control (Honda selectable torque control), LED lighting, cruise control, HISS security.
ETCETERA
Price: From $17,499 (manual) or $18,499 (DCT): plus dealer delivery and statutory costs.
Colours: Bordeaux Red Metallic – Gunmetal Black Metallic
Test bike supplied by:  Honda MPE
URL: https://links.roadrider.com.au/164CMX1100
Warranty: 2 years, unlimited kilometres