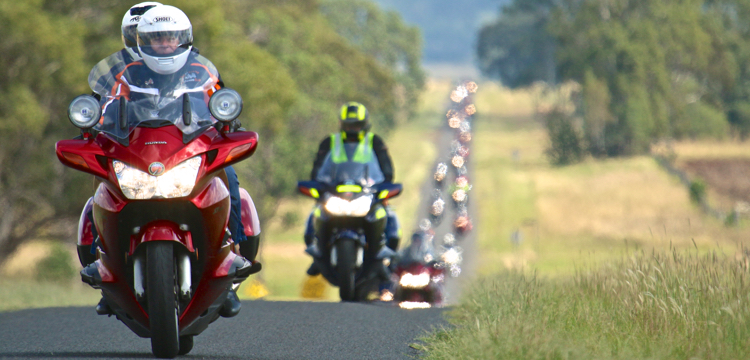 The Australian ST Owners Club (OzSTOC) hosted over 100 people on its annual rally last weekend, when the largest local gathering of Honda ST1100 and ST1300s congregated in Toowoomba, Queensland.
OzSTOC has grown exponentially in its five-year history, now boasting over 800 members on the club forum as well as a very active group of core members for whom long-distance riding and laid-back socialising are par for the course.
They came from every state and territory in Australia to this year's rally, and a couple lobbed in from New Zealand. One rider, Lionel, clocked up 2000km in 24 hours on his way there.
Centred on the Big 4 holiday park in Toowoomba, the rally's main activity was a ride south to Nobby for a long smoko at Rudd's Pub, on to Leyburn for an even longer lunch at the pub there, and back to Toowoomba. It was a surprisingly short distance but, as route organiser "PC" explained, "Most of us have done our riding on the way here and now it's time to socialise."
The club's strength runs contrary to Honda's commitment to the ST range, which it no longer makes. There is no replacement model on the cards at this stage, either.
OzSTOC members say they are disappointed by the axing of the ST and a number of them voiced the concern that they have lost the chance to update their existing bikes as they age.
Honda had shown some dedication to the ST range over the years, using early ABS and traction control systems on the models as well as giving it a complete re-work when bumping it up to 1300cc capacity.
The first 1100 model, introduced in 1990, blurred the lines between sports-tourers and tourers and won many fans with its smooth V4 engine mounted longitudinally in the frame.
Next year's OzSTOC Rally will be held in Western Australia. See the club's website for details.