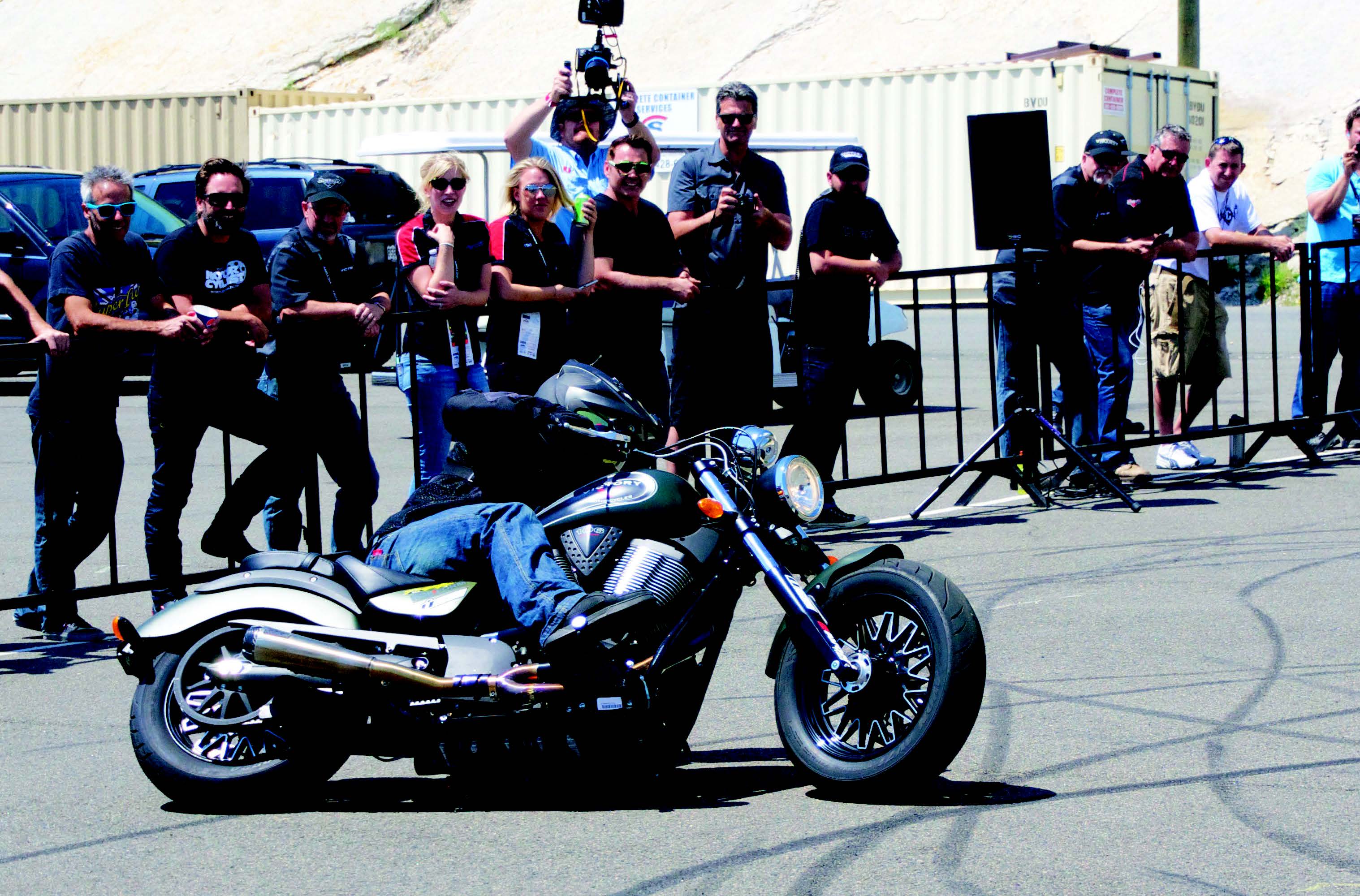 Victory finds a new way to stretch the limits of its big bore baggers!
Anyone can stunt a trials bike.
The bigger the bike, the tougher the challenge, and Victory Motorcycles has developed a stunt team that not only features riders wheel-standing Gunner cruisers, but also drifting supercharged baggers. A video of the two American stunt riders drifting their supercharged Victory baggers around a Florida track has now gone viral and made stars out of the riders. Cop this!:
Not that they weren't already stars. Joe "Vertical" Dryden, 34, of New Orleans and Tony Carbajal, 28, of Southern California have appeared in a host of TV shows, movies, commercials and music videos. And now they are appearing at various motorcycle rallies, motorsports events and community days doing their Victory stunt shows on Gunner cruisers, and Magnum and Cross Country baggers.
We caught up with them at the national Victory Motorcycles Rally in Colorado at the Bandimere Speedway.
Victory Motorcycles GM Rod Krois says the stunt team is an integral part of their motorsport and performance program to attract a younger demographic. That program also includes their Isle of Man TT Zero race podium with their electric prototype race bike, their entry in the NHRA drags with Mal and Angie Smith and their assault on the Pikes Peak International Hillclimb with a water-cooled V-twin Project 156 street fighter built jointly with Roland Sands Design of LA.
Project 156 was the main teaser for the recent release of the Octane cruiser.
"We have a more youthful market than some," says Rod. "The 38–45 age group is our sweet spot. That's where this program and our brand can resonate with that group. These are things those people can relate to."
And what a team Tony and Joe make with their unusual stunt show on big cruisers and baggers rather than the usual sports bikes and dirt bikes used in motorcycle stunt shows.
Tony started riding motocross and scrambles and got into street bikes at the age of 18 and has been a pro-stunter since 22.
"I wanted to go road racing but couldn't afford it," he says. "I could barely even afford to buy the bike. Then I saw some stunt videos and one thing led to another."
Some of the movie and TV shows on which he's worked include Transformers 4, Rock of Ages, NCIS, CSI and Burn Notice.
"That's my real job because the pay is great,but this is for fun."
Tony has been pro for eight years and has appeared in the Bollywood movie Dhoom 3, a McDonald's ad, and in music videos for stars such as Rihanna and Chris Brown. Both are total converts to Victory Motorcycles.
"Victory is a lot of different to what we've come from in the sports bike world," says Joe. "It's fun to do things on a big bike that people don't think they are capable of. It's new territory."
Amazingly, Victory has made very few modifications to the stunt bikes. The Gunners have new exhausts and an easy-pull clutch to aid in the stunts, while the Cross Country and Magnum have Procharge superchargers pumping out 160hp and fitted by Victory and Indian aftermarket performance specialists Lloyd'z Motor Workz of America. They also worked the cams and did some tuning, but no other changes have been made to the internals.
"I went right into a show with zero on the odometer," says Tony. "I ride it on the highway. It's my favourite bike. I actually now own a Cross Country and a Gunner."
Tony says their previous Victory stunt bikes were Judge models which they received just before performing at 2014's Sturgis Motorcycle Rally.
"We beat the crap out of them all week and nothing went wrong," he says.
Tony says they haven't had any crashes, but he's tipped the Magnum on its side and it didn't do any damage. He says the toughest stunt is tight burnout circles — called the Crazy Larry for some arcane reason — on the Gunner because it doesn't have a big lean angle.
"You have to get that sweet spot," he says. They perform wheelies and drifting stunts on the Gunners and just drifting on the baggers, although Joe is starting to stand up on the Cross Country, a difficult stunt on such a heavy bike.
At the Victory Motorcycle American Rally in Colorado I watched as Tony almost threw away the Magnum in a massive tank slapper.
"Yeah, I had a huge tank slapper, but you just have to stay on the throttle and power on through. The worst thing you can do is shut off the throttle because it wants to high side," he says.
After a lot of testing, the stunt duo use Avon medium-compound tyres.
"We use medium compound to get traction,"says Tony. "It's hard to get traction on the heavy bikes because of the torque and the heat on the surfaces at places like Sturgis and here which are very hot. We will do three shows today and two shows tomorrow and the Gunner won't go through a set of tyres, but the baggers will. It depends on how the show goes, how aggressive we get and how the crowd reacts."
The crowd certainly goes wild when they see these guys put such big bikes through their paces.