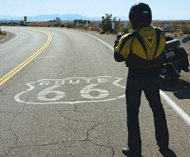 A little learning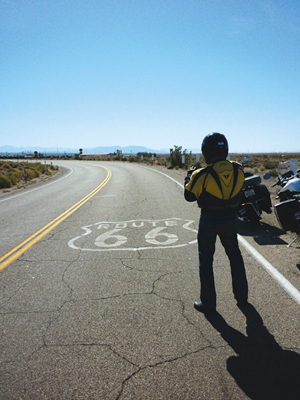 Here's a bit of background from our Big US Trip, about the Triumph and the gear I took along; we ran out of space in the last issue.
We should have learnt not to stand in the middle of the road, as the Bald Man is doing here near Amboy, California — but there's so little traffic on Route 66 these days you're actually very unlikely to get run over.
As you know if you've read my previous mutterings on the subject, I have been deeply impressed by Triumph's new Tiger 800 — especially the-one-that's-not-the-XC. That's why I asked for this bike for our trip; it's definitely not in the "lookin' for America" vee-twin mould but I wanted to sample one in real-world conditions and for a bit longer than I'd managed on the launch in Spain.
Once you dispose of the pannier inner bags, which take up a lot of room and, in the case of the right-hand one, don't even fit into the box (we left them at our hotel), there is very little you can pick on. This is just such a likeable bike.
You could point out that the "scoop" out of the right-hand pannier to accommodate the exhaust pipe is so large it halves the pannier's useful load, and you'd be right. But if you're going to have the traditional high pipe, what alternative is there?
What it comes down to for me is that the Tiger is easy to ride, comfortable over a wide range of roads from somewhat snotty conditions to the open highway and even freeway (although see below) and just plain fun. The Pirellis might have been designed for it and the engine is happy to accommodate almost any conditions — except one. It's quite true that the bike is not geared for really high speeds, although the engine is perfectly capable of reaching them. A case for a sprocket change? Could be; at least it's easy to do.
"Our Triumph Tiger 800 with its long range, comfortable seat and long suspension made the trip a breeze," says the Log Thing. "Our machine was fitted with factory hard panniers that were more than adequate for a long-distance rider's needs.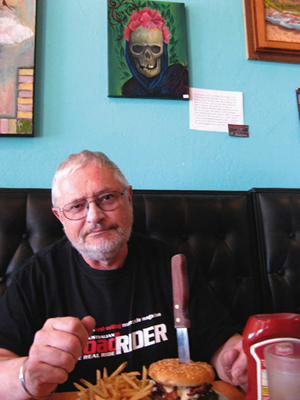 "With the torque laid down by the motor, I found myself looking for a higher gear on the six-speed box occasionally while the chassis package provided an easy ride.
"The small screen helped a tad on the long boring stretches and the seat-to-foot pegs layout was great for the long haul."
The Bald Man was even more enthusiastic: "The Tiger ran with our pack like an eager terrier. Not that it felt small, mind. Its relatively high seat and wide bars created ample room to stay comfortable for the long hours that we spent in the saddle each day [oh, poor princess, Bald Man!].
"No, it was the Tiger's free spinning triple that made it feel terrier-like compared with the two rumbling V twins it had for company. While it felt a bit busy and possibly under-geared on the straight stretches, it was the preferred bike to be on when we hit the mountains and things got twisty. In these circumstances the precise handling, good ground clearance and punchy engine made it a delight to ride.
"The small screen was surprisingly effective in keeping the wind blast off the chest and it was mounted rock solid (there's nothing worse than a screen that's constantly flapping or vibrating). In fact, the whole Tiger package felt solid and bulletproof right through to the integrated panniers.
"The overall effect of the design is to give it a tight, utilitarian, almost mil-spec feel which appealed to me a lot. With slightly taller gearing, I reckon it would make just about the perfect middle-weight adventure tourer."
And all that, taken together, is pretty high praise from a trio of old farts.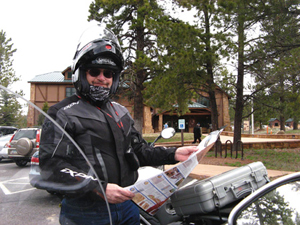 What to wear?
It isn't easy to decide what clothing you're going to take on a trip like this. We were going to be dependent on what we could easily carry on the bikes, with a minimum of strapped-on luggage. I knew it was going to be cold, but also hot — I've been in Death Valley before — so versatility was everything. In the end I duplicated only one item of clothing: my gloves. Everything else served nicely both in 40-degree desert heat and near-zero mountain snowfalls and I even managed to wear the jacket and one pair of jeans aboard the plane so I didn't have to pack them.

Helmet: Shoei Multitec
I like it anyway but I chose this big and comfortable helmet for the trip primarily because it's a flip-front. When you constantly need to be ready to take photos — and when your fellow travellers may not be in a mood to hang around forever while you fiddle with your gear — flip-fronts are invaluable.
They're also good for fuelling up, although American service stations don't seem to be as sensitive as Australian ones and are quite happy for you to pay while wearing a helmet. Long as you pay, pardner. They must have had a lot of drive-offs, because now you pay first!
As well, the Multitec is fairly quiet and doesn't lift, even at American freeway speeds (forget 55mph — these people boogie!). The single-button release allows you to open the chin bar with one hand and I like the fact that the visor offers protection from harmful UV A&B rays. When it got hot, the effective ventilation helped a lot.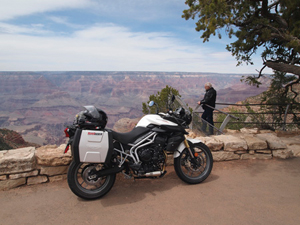 Visor: Pinlock Anti-Fog Lens
Specially designed to install on the Multitec's visor (and that of many other helmets) with built-in pins, the Pinlock Anti-Fog Lens turns your single visor into a dual shield which resists fogging very effectively, even in high humidity and snow. The Bald Man had no Pinlock lens and had to ride with his visor open in the falling snow, which covered the lenses of his spectacles with a layer of ice. Hmm, where did that road go?

Jacket: Ixon Gallium
I wanted a jacket that would be warm but not bulky and protective without looking too utilitarian. The Gallium was pretty much perfect, serving me well whether unzipped in the heat or with its quilted liner in the cold. It also got me though Homeland Security at the airport without a second look, something not to be underestimated.
The Gallium's allegedly waterproof outside pockets weren't on mine but the jacket itself was good. Being a belt-and-braces sort of bloke, I carried a rain suit anyway. The jacket has CE protectors all round, including for my spine, which is something I value very highly.
The Gallium also has reflective flaps on the arms and back which you can extend if you like. I don't.

Underwear
ARR T-shirts, of course: warm, comfortable, easy to wash and dry — and a reassuring black. But I'm afraid they're only for ARR staff — sorry. Oh, all right, I'll ask management to do another run. But if they're offered again, grab them as fast as you can! Oh, and special easy-dry jocks, available from any travel shop. They double as shorty pyjamas. Saucy, eh?

Wet weather gear: Harley-Davidson Canal Street rain suit
This is an ultra-light two-piece which packs into its own hood and has Scotchlite reflective panels. It also has heat-resistant fabric on the inside of the legs, which is useful. I have never used the hood except when walking around, but you can wear it inside your helmet.
This is a pretty basic suit, but that's its attraction to me — that and the fact that it packs down so nice and small. If it gets really cold, you can wear this to cut the wind. It keeps you considerably warmer.

Gloves: BMW Pro Winter & Harley-Davidson Waterproof Gauntlet
The Pro Winter textile gloves (gauntlets, really) have long been my cold-weather standby, to the point where I'm going to have to invest in a new pair for the next cold season. They are quite bulky but work well.
The drawstring does an excellent job of keeping the water out, and the gloves themselves are truly waterproof. There are visor-wiping "shammy" pads on the thumbs and little fingers: a thoughtful touch. Their one drawback is that they have no hard protectors, but they are well padded.
H-D's gauntlets are leather but nevertheless waterproof. They also have a drawstring which keeps rain from running into them. Unlike the BMW gloves, they're not particularly padded and are therefore a more in-between season glove. They are very comfortable, although I must admit that sweaty hands do have a tendency to stick to the liner.
Between the two, I found myself well served except in the hottest weather.

Pants: Draggin C-EVO jeans
How good are these pants? Not only are they the first CE-approved motorcycle jeans in the world with abrasion resistance and hip and knee armour pockets as standard — I use the Draggin-supplied CE protectors in both — but they're extraordinarily warm and comfortable. I suppose the fact that they're fully lined from waist to ankle and have a sports liner as well, for comfort and breathability, must help but they are also very well cut. No wrinkles or creases to cause chafing here!
There's an ankle strap which I actually found redundant, but everything else is just right — and despite being so warm, they did not become really uncomfortably hot in the desert. No, I don't know how they managed that.
Safety and comfort in one pair of jeans — so I can easily forgive the fact that they do look a little bulky. It would be hard to imagine how it could be otherwise.

"Walking-around" pants: Ned's Revolver jeans
For quite a while now I've used these Ned's jeans as my on-the-road back-up pair. They look good enough to wear onto the aircraft and out in the evening, but they also have Kevlar in the weave so they can serve as alternative riding pants if my usual pair gets dirty, or if it's really too hot for them.
Versatility is so … well, versatile, eh?

Boots: Gaerne short boots
Here's a tip for overseas travel. Consider taking some clothing that's nearing the end of its natural life and that can be disposed of at the end of the trip, making room for stuff you've bought. I do this a bit, and this time I packed an elderly pair of mid-length Gaerne boots with the intention of jettisoning them.
Unfortunately, they were just a little too old, and had lost their waterproofing. Fortunately we didn't get much rain. And then I packed them anyway to bring them home, primarily because I'm such a useless shopper and never buy clothes overseas anyway. Indeed I hardly ever buy any back here. Somehow, clothes shopping has eluded me as a pleasurable pursuit. Anyway, I still wear the boots occasionally.
And that's it. I hope this has been some help to anyone contemplating a trip of their own. I know I learn something every time I travel.
What really sticks in my mind, though, is just how good all this gear is today. When I think back to the days when I started riding — man, we used to get soaking wet when it wasn't even raining! You tell that to the young people today and they don't believe you …
PT