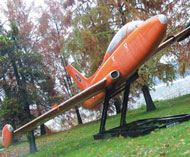 MV & H.D- A Marriage made in Heaven or Hell?

What is this $US109 million purchase all about?
Walk into the administration building of the MV Agusta factory by Lake Varese, north of Milan, as I did recently and the first thing you see is a wall-sized photo of a race bike, at full cry on some track somewhere. But it's not an MV.
It is, instead, a two stroke Harley-Davidson, in effect a re-badged Aermacchi. But it hasn't just been put up since Harley bought MV. It's been there since before Harley sold the factory to Cagiva, the company that gave birth to MV.
Confusing? Sure.
But also very deeply symbolic of what's been going on here.
This chapter in the Motor Company's history began in 1960, when Harley-Davidson very reasonably decided that it needed some small bikes to counter the increasingly popular imports from Japan. Model development was expensive, then as now, so it found a struggling Italian company that was making just the kind of bikes they needed. Or so they thought.
With the benefit of hindsight, it's easy enough to see that a company that's struggling is probably in difficulty for a reason, but the opportunity to pick up 49 per cent of Aermacchi for a mere $US260,000 just looked too good to pass up. One wonders, of course, if Harley's recent decision to buy another struggling Italian motorcycle manufacturer –this time for $US109 million – will be judged similarly by history. Seeing that that same company, MV Agusta, had last been sold for 1 euro, this doesn't seem entirely unlikely.
Back in the 1920s, Aermacchi (then called Aeronautica Macchi) built the world's fastest racing seaplanes. The company went on to supply Benito Mussolini with some very smart but outgunned fighter aircraft during World War II and turned to motorcycle manufacture afterwards like so many others.
By 1966, AMF owned Harley-Davidson as well as all of Aermacchi. The four-stroke Sprint deservedly sold well, but the range of two-stroke dirt bikes that AMF got the Italians to build was a disaster. A major disaster, as H-D's Vaughn Beals explains.
"Italy had this crazy law where you could cut production, but you couldn't lay off employees. AMF thought, 'We have to pay them, so we might as well have them build bikes'. One day we discovered all these bikes warehoused in Italy, the US, Brazil and all over that we hadn't sold. Now we couldn't sell them because they hadn't been prepared for storage, so they were all rusted. I finally convinced AMF to shut it down and sell it."
That was in 1978 and AMF subsequently sold the factory to the Castiglioni brothers. They built Cagivas there and in 1997 they began manufacturing the first of the new MV Agusta motorcycles.
MV Agusta? Okay. Agusta was and still is (it builds helicopters) another Italian aircraft company, formed by Count Giovanni Agusta in 1923. The Count died in 1927 and at the end of World War II, his sons began to make motorcycles to save their employees' jobs. Named MV Agusta, this division of the company built successful small-displacement motorcycles through the 1950s and 1960s.
When small motorcycle sales declined in the '60s, MV started producing larger displacement bikes in more limited quantities. A 250cc, and later a smart 350cc twin were produced and a 600cc four-cylinder evolved into a 750cc that is now a great collector's piece.
Following the death of Giovanni's son, Count Domenico Agusta, in 1971 the company declined and by 1980 it had stopped producing motorcycles altogether. A dozen years later, Cagiva's Claudio Castiglioni convinced the family to sell him the MV Agusta trade mark. He began building a small and very exclusive and expensive range of bikes badged MV Agusta at the old Aermacchi factory. That was in 1997.
In December 2004, the heavily indebted company, now called MV Agusta, was bought by Malaysian carmaker Proton for 70 million euro. By then, Castiglioni had bought and subsequently sold Ducati, just as he was to buy and sell dirt bike brand Husqvarna. Proton almost immediately ran into trouble – nothing to do with MV – and after only a year sold it to GEVI, a venture capital company, for one token euro excluding debt.
That was the company Harley-Davidson picked up in 2008 for, ironically enough, the same amount Proton had paid for it – 70 million euros or $US109 million. With it came the factory that AMF, then owner of H-D, had sold to the Castiglionis in the first place. When they returned, they found that photo still up in the entrance lobby.
Just about the first thing that Harley did was to modernise and upgrade the production facilities at Varese. The setup as it is today reminds me a little of Buell's factory in East Troy, Wisconsin. The factory is very clean and organised. Many of the sub-assemblies come in from other suppliers – or from other parts of the Motor Company – and production is quite labour-intensive.
Now, MV Agusta is managed by a slightly uneasy partnership between Claudio Castiglioni, who apparently remains as chairman – although his business card just says "President". But then, so does Matthew Levatich's. He's Harley's man on the ground and MV's managing director, an interesting job in the Chinese sense. Will two presidents really make MVs sell better? I would not want to predict the outcome of this latest marriage.
In fact, Levatich pointed out during a chat I had with him and Castiglioni at the factory that it might be Cagiva, rather than MV, that offers the most potential for H-D in the States.
Whatever happens, it seems that for the time being anyway, Claudio Castiglioni has done it again and secured the future of one of Italy's great brands. I can't help but wonder what he makes of that photo on the lobby wall, though. Maybe he hasn't noticed it.
PT