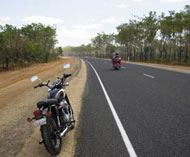 Open…then shut!
Words and Photos: Ian Klütke
Yes, the road to Mandorah is great – but the pub's shut
A picnic atmosphere prevailed some time ago for Darwin Ulyssians and members of the Harley Owners Group as 30 bikes, many with pillion riders, celebrated the completion of the tarmac surfacing of the road to Mandorah on Cox Peninsular, on the southern shore of Darwin Harbour.
For those not familiar with the top end of the Northern Territory, Darwin is also on a peninsula. Unfortunately, this leaves only one direction out of town before various destination choices are available.
For many years the Mandorah road has been a corrugated, loose surfaced, flood prone (in the wet) road for the final 30km or so and was not a road bike friendly stretch. The road distance from Darwin city to the Mandorah Pub is 129km. Ironically, however, the pub is actually only some 7km from Darwin city – across Darwin Harbour.
The completion of the road is the good news.
The bad news is that after many decades, the Mandorah pub is to be closed and bulldozed flat about January 2009 to make way for a new modern holiday resort, completion of which is scheduled about two years later.
Fuel, snacks, drinks and staples are available however at the Wagait Beach supermarket which is well stocked to supply the needs of the locals living on Cox Peninsula. There is ample signage to indicate the location of the supermarket/fuel stop, which is open every day from 8am to 8pm. For visiting bikers to Darwin wanting to do this ride, photo opportunities make it an interesting destination.