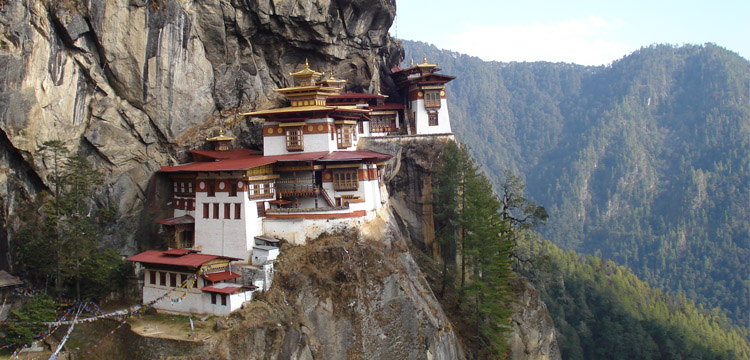 Ride a Royal Enfield through the Himalayan Kingdom of Bhutan, the Land of the Thunder Dragon, with ARR and World On Wheels in March 2017.
We're fulfilling a dream by booking a trip to Bhutan and we'd love you to join us and be part of the story.
We're teaming up with World On Wheels again, after riding with them many times when they were still called Ferris Wheels. We've ridden an Enfield in the Himalaya with them before, into Ladakh and Kashmir, and have wanted to return to this awe-inspiring part of the world ever since.
The tour starts in Kathmandu with a scenic one-hour joyflight to Mount Everest, and then the first few days are spent exploring Nepal.
We cross the border into northern India to discover the famous tea garden estates of Darjeeling, where we can also visit the Himalayan Mountaineering Institute, established by local son Tenzing Norgay after his pioneering summit of Everest in 1953 with a Kiwi beekeeper called Sir Edmund Hillary.
Then we enter Bhutan and ride the entire length of the nation!
It's not a big country but it's on a par with several European countries such as Denmark, Switzerland, and Belgium.
But here's the thing: there are no people! Denmark has a population of 5.6 million, Switzerland 8 million, Belgium 11 million, while Bhutan has less than one million gentle Buddhist souls. Yet it's sandwiched between India and China, two hugely over-populated nuclear neighbours.
A series of successively higher mountain passes take us way beyond 4000 metres, where we'll find Buddhist monasteries clinging to mountain cliffs in the traditionally accepted manner.
Don't worry about sheep or kangaroos on the road, it's the yaks you'll need to be concerned about.
Riding an Enfield across Bhutan can be a life-changing experience, and at the very least a mind-expanding one.
It's also one that's very difficult to do because of Bhutan's regulation of its tourism industry — so this is an extra special opportunity.
Not only will you enjoy the exciting ride, you'll get to do it with ARR's editor and be part of the story published in the magazine.
And you'll have access to professional quality photos of you. On an Enfield. In Bhutan. How good is that?!
Go to the World On Wheels website for all the information and to download a booking form. Be sure to mention ARR for the exclusive extras.