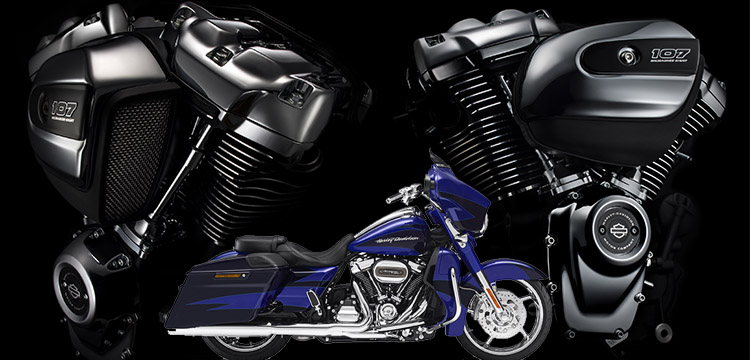 Harley-Davidson's new 1745cc and 1870cc Milwaukee-Eight 8-valve engines guarantee a future for traditionally styled V-twins, with more power and lower emissions.
The new donk doesn't look much different from the engines Harley riders are so unwilling to give up, but significant internal changes give them a reprieve from the ever-tighter pollution laws that are now forcing air-cooled powerplants off the roads.
The instantly recognisable 45-degree H-D engine is very much influenced by Harley's followers, who demanded the company "stay true to our legacy and respect the defining elements of a Harley-Davidson V-twin," says Scott Miller, Harley-Davidson Vice-President of Styling and Product Development Strategy.
"It was a big challenge, but one we've met."
Harley still won't quote power figures but the 107ci (1745cc) M-8 engine produces a massive 150-152NM, depending upon the model, and the 114ci (1870cc) version makes 165Nm!
The Milwaukee-Eight retains the pushrod design but doubles the number of valves in the heads and uses a variety of cooling techniques to pass emissions regs without resorting to a bulky, modern liquid-cooling system.
The new heads feature higher compression ratios of 10.0:1 or 10.5:1 and will flow 50% greater intake and exhaust gas volumes. Twin-plug heads help improve combustion efficiency.
On some models, oil is used to cool the hottest parts of the engine; the Twin-Cooled models, as in recent years, use small-volume water-based cooling.
The M-8 "retains the power characteristic that is the real legacy of the Harley-Davidson Big Twin: strong low-end torque with a broad, flat power curve through the mid-range that's ideal for the Touring motorcycle rider," Harley's head of engine development, Alex Bozmoski, says.
Because the lighter valve train, revised air intake and other changes have reduced mechanical noise, the exhaust can be a bit louder. Combined with the lower 850rpm idle speed, that famous Harley beat should be better than ever.
The M-8 engines also bring a lower level of vibration, improve comfort through better heat control, more room for the rider's right leg thanks to the new airbox, and a higher capacity electrical system.
The Milwaukee-Eight is being fitted only to Harley-Davidson's 2017 Touring lineup at this stage.
"The launch of the Milwaukee-Eight and the increased power this engine delivers will redefine the Harley-Davidson Touring experience," H-D Australia's marketing manager, Adam Wright, says.
More details and photos are on the Harley-Davidson website.