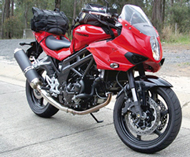 Let's do it Korean style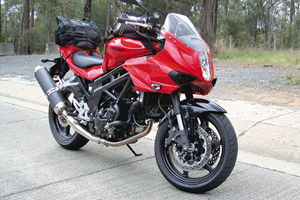 Touring on the Hyosung GT650S
Before we get into what Hyosung's GT650S is like to ride, what actually is Hyosung? Founded in 1978 as a division of the Hyosung Group of industries, Hyosung began producing Japanese Suzuki motorcycle designs under license for the South Korean market in Changwon, South Korea, in 1979. In 1986 it established its own research and development centre in Hamamatsu, Japan, and the next year began mass production of its own designs. In 2003, Hyosung Motors & Machinery Inc was spun off from the Hyosung Group to become its own corporate entity. In June, 2007, Hyosung Motors Division was acquired by Korean company S&T Group (Science and Technology) and the name changed to S&T Motors, yet still uses the Hyosung name for its motorcycles.
Hyosung has long reminded me of Hyundai in the car world. When Hyundais first came out, they were okay but not that appealing, however better build quality, design and features have seen Hyundai rise to be on par with their Japanese counterparts. This type of progression is what I see in the Hyosung brand.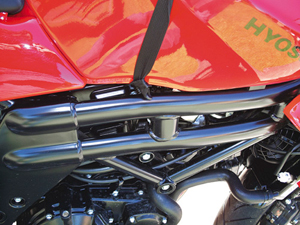 My first ride on a Hyosung was back in early 2008 and in that relatively short time, build quality has improved, as have features available on the Hyosung range. Our test here is on the sport-touring-aimed GT650S, which is very reasonably priced at just $8590 (+ orc) and it's a real no-fuss, no-frills-type machine, especially now that the V-twin engine is fitted with electronic fuel injection.
For our review, I strapped on one of our Wolfman tank bags (www.adventuremoto.com.au) and the Andy Straps seat bag (www.andystraps.com.au) and set off down to South Coast NSW. The GT650S has plenty of tie down hooks and places to wrap bungy cords, so fitting the straps for the Wolfman tank bag was easy and there was plenty of space available.
The GT650S ergonomics are suited to touring, with nice spread and easy reach — upright bars and three-way-adjustable foot pegs. But, even though the seat pad has been improved over the previous non-EFI version, I found it too hard after 180km, so factor in an Airhawk or a sheepskin cover and it should be fine. Because I'm quite tall I had the footpegs set on their lowest setting and found it just right over long distances. Those with shorter legs can choose the two higher positions (forward or back) according to preference.
Fairing protection is pretty good at highway speeds considering it is only a smallish half fairing. If I owned the GT650S, I would like a tinted touring height screen, which would make things even better.
Housed in the fairing is an analogue tacho and attached to its right is a digital speedo, trip meter, fuel gauge and clock. No fuss and no frills info for your touring kilometres.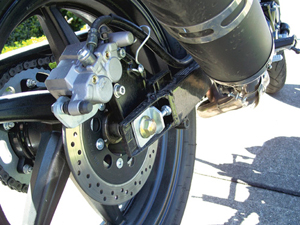 The GT650S is fitted with a 647cc V-twin engine, which was originally designed on the Suzuki SV650 V-twin powerplant. Fuelling is smooth, but the engine gets a bit buzzy over 7500rpm. I preferred to make the most of the characteristic V-twin torque curve and rarely revved it over 6500rpm, which had the GT650S performing just nicely around town, through traffic, cruising out on the open road and overtaking slower vehicles.
Fuel consumption is excellent. I achieved 5.01L/100km, which gives the GT650S a theoretical range around 339km — great for touring.
Suspension setup is very much on the soft side in the front forks. I wound in full preload and it was still a bit too soft under hard braking and over rough roads, but was reasonable when it came to cornering on most smooth roads. The rear is set up firm and with adjustable preload would no doubt handle two-up riding well. Turn in was relatively light and easy to manage while touring. The front gives good levels of feedback, but the rear felt a bit wooden, no doubt thanks to the stiff setup. Dunlop Sportsmart tyres give plenty of grip and even performed well in very heavy rain that saw rivers of water running across the Princes Highway.
Braking power is excellent for this size bike but contributes to overpowering the soft front forks. Brakes consist of four-piston calipers with dual discs up front, and the rear is fitted with a dual-piston caliper. (Look for an ABS version in the not-too-distant future.)
Clutch lever pressure is medium weighted and gear changes are a firm snick. The first five gear ratios are spread well, however I would like a slightly taller sixth gear for even more relaxed touring. Maybe a drop of one tooth on the rear sprocket would do the job. The engine has a good spread of torque to handle it so is worth considering.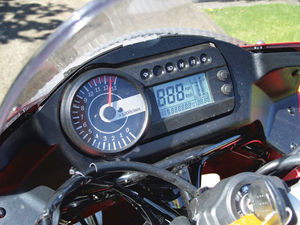 Accessories available from Hyosung include a tinted touring screen for $140 and a sports muffler retailing at $490. Some heated grips would make a nice addition too.
With an equivalent-sized V-twin machine costing thousands of dollars more, the Hyosung GT650S is well worth considering as your new ride. It does everything with no fuss and proved to be very reliable in all conditions. With a more comfortable seat, the GT650S would be hard to beat for this sort of price tag. SW

Quickspecs
Model: Hyosung GT650S
Price: $8590 (plus on-road charges)
Warranty: Two years, unlimited distance
Servicing km intervals: Every 6000km
Engine: Liquid-cooled, 4 valves per cylinder, DOHC, 90-degree twin cylinder, 4-stroke
Bore x stroke: 81.5 x 62mm
Displacement: 647cc
Compression: 11.6:1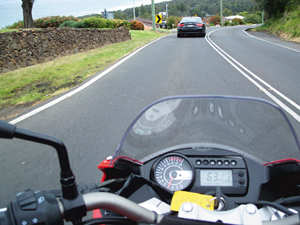 Power: 59kW @ 9250rpm
Torque: 67Nm @ 7250rpm
Transmission: Six-speed, wet multi-plate clutch, chain final drive
Suspension: Front: 41mm upside down fork, adjustable preload and rebound, travel 120mm. Rear: monoshock, adjustable preload, 110mm travel
Dimensions: Seat height 790mm, dry weight 203kg, wheelbase 1435mm, fuel capacity 17 litres
Tyres: Front: 120/60/ZR17. Rear: 160/60/ZR17
Frame: Dual lateral over bar
Brakes: Front: twin 300mm discs with four-piston calipers. Rear: 230mm disc, two-piston calliper
Fuel consumption: 5.01 litres per 100km, premium unleaded
Theoretical range: 339km
Colours: Hot Chilli Red; Titanium Silver
Verdict: A no-frills sports tourer