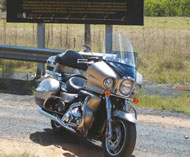 Travels of the… Millennium Vulcan
Stuart encounters Kawasaki's spaceship
When discussing my three-day trip south of Sydney with the Bear — down to Goulburn, up to Mudgee, out to Coonabarabran and back via Lithgow — a range of bikes was discussed but the 2009 Kawasaki Vulcan 1700 Voyager ABS was the pick.
When I arrived at Kawasaki to pick up the bike I thought, "Geez, it looks like something out of a Star Wars movie. How big is it?!"
I was educated in all the standard features such as cruise control, the audio system, massive luggage capacity and such by Kawasaki before jumping aboard my Millennium Vulcan, as I'm calling it thanks to its Han Solo Millennium Falcon rear LED lights and the spotlights that look like the front wings. Riding off with its 406kg wet weight my first impression was how light and easy this rather large bike is to ride and the overly massive windscreen, which, even for me at 195cm tall, I had to look through.
Once I got the Vulcan home, I packed my gear in the funny-shaped hard panniers and fantastic top box and set off for an early Friday morning start at Casula in NSW in freezing cold conditions. Our group consisted of a wide range of bikes, from BMWs to Hondas to a couple of Triumphs and a Buell. We headed south towards Goulburn over Razorback through Moss Vale and down past Wingello, making our first stop at the famous Paragon Cafe in the main street of Goulburn to warm up with a very nice latte and bacon and cheese croissant.
After regrouping all of our 10 riders and everyone was warm again, we set off west from Goulburn along the Tablelands Way, which used to have a section of dirt but is now sealed bitumen. If you haven't been this way yet, it is definitely worth the trip. There's little traffic, some good corners and a heap of pleasant scenery to look at along the way.
Once sitting around the 100km/h mark on the Vulcan, the high screen came into its own. It deflected just about all the wind away from me, which is a true blessing even though I did have to look through it. On the other hand, the chrome from the bars and tank reflect onto the screen, which can make it hard to see. A bit of a double-edged sword if you like — you either want the wind deflected or you want to see. For me, I would like to see. I would find this out later in the rain.
Oberon soon appeared and lunch was on the agenda. DJ's Cafe in the main street serves some of the largest meals I have ever seen, not to mention the great taste. I was after something light and easy, so I opted for the chicken Caesar salad. It must have been around 20cm high and I had no chance of finishing it, which is truly amazing for me. My compatriots chose hamburgers and sandwiches. Each slice of bread on the sandwiches was at least 5cm — and then you have the filling. Oh my God! I am still feeling overly full, but it's definitely worth the (small) price.
Setting off towards Bathurst through O'Connell saw me use a bit more fuel, thanks to the extra weight from lunch. Ha, ha! I did achieve an average fuel consumption from the entire trip of 6.61L/100km; this should see around the 300km mark from the 20-litre fuel tank.
North out of Bathurst we headed for the towns of Sofala, Kandos and Rylstone, then made haste to Mudgee for beer o'clock. One thing I did notice about the Vulcan is how comfortable the seat is. Even after riding a fair distance I was the only one not complaining about a sore backside and stiff back. I felt as though I had just ridden down to the shops for some milk and bread in my lounge chair.
Our accommodation for the two nights was the Oriental Hotel, located in Lewis Street, Mudgee. It's right in the centre of town and walking distance to any eatery or pub that took our fancy. The hotel management staff are very accommodating of motorcyclists and provided off-street parking for our bikes.
Once changing and making my way down to the beer garden I started with some cold ales, which then moved me onto some of the local produce of the Mudgee region: the wine. If you have ever watched the start of the Sydney to Hobart yacht race and noticed the Wild Oats super maxi, you may be familiar with the branding as one of Mudgee's famous wineries. I can highly recommend the Wild Oats Shiraz Viognier, which has a nice plum palate and soft finish. Dinner was at the Oriental where I had the seafood paella and my rather hungry friend, Mark, consumed the 450g rib eye steak, which filled the entire plate and slowed him down somewhat!
Mudgee has become a great place to go if you want to visit wineries. As one of our group stated, "It is like the Hunter Valley of 25 years ago; much more personalised." Well, what better way than to get out and sample this for myself? After our second day of riding I took some time to go to Stein's Winery — which has a terrific little motorcycle museum — and the wineries of Frog Rock, the Mudgee Small Winemakers Centre and High Valley Wine & Cheese. Frog Rock saw me sample some fine Merlot, Rosé and a dessert wine called Sticky Frog, which was sweet on the palate and would be nice when settling down at night once the kids have gone to bed.
Mudgee Small Winemakers Centre not only has wine but port, cocktails, olives, pistachios and artwork by ArtSpace. My final stop was a beautiful-looking winery called High Valley, which has premium aged and current vintage wines along with a range of artisan cheese direct from the factory and maturing rooms. Even though I went to a small percentage of the selection of wineries in the Mudgee region, I was thankful for the large luggage capacity of the Vulcan. I normally pack exactly what is needed for a trip, but this time thanks to the luggage capacity (50 litres just for the top box!) I packed an extra day's worth of clothes, making life more comfortable and still had massive amounts of room for selected items from my tastings.
Waking up on the Saturday morning after a comfortable sleep, a nice hot shower and some breakfast (provided in the tariff) saw our group make its way out to Coonabarabran in western NSW. The roads were relatively straight with wide, open panoramic views. We went along Mud Hut Creek Road out to Gulgong via Spring Creek Road and continued out to Dunedoo. Even though we stayed off the main roads, this is a part of our big country I had not seen before, so there was plenty to look at. It also gave me time to play around with the audio system on the Vulcan and listen to some of the country radio stations. A bit different to our city stations, I must say! I also had time to concentrate on the big, low-revving vee-twin pulsating within the frame. It was relatively smooth and the solid shifting gearbox mates nicely with the overall package and is finished off with soft, compliant suspension.
A short distance from Coonabarabran and located on the National Park Road is Siding Spring Observatory, next to the Warrumbungle National Park. Coonabarabran is a haven for astronomers. It has several of Australia's largest telescopes on-site. The biggest is the 3.9m Anglo-Australian telescope. To put it in perspective, the primary mirror alone weighs in at 16.19 tonnes.
Also found here is the start of what will be the Giant Magellan Telescope (GMT) — the product of more than a century of astronomical research and telescope building. Scheduled for completion around 2016, the GMT will have the resolving power of a 24.5m primary mirror, which is far larger than any other telescope ever built. It will supposedly answer many of the questions at the forefront of astrophysics today.
For those stargazers among us, there are also sign boards with different planets called the 'Virtual Solar System Drive' placed around the entire district. These have been made at a scale of 1,380,000th the size of our actual universe and stretch as far east as Tamworth. Each board has a heap of information about each of the planets it represents.
Our return to Mudgee was via Binnaway on the Warrumbungles Way, which lifted the excitement factor thanks to some great sweeping bends and a nice covering of the black stuff. We stopped at Coolah to refuel the big Vulcan and a couple of the other bikes and made our way to Steins Motorcycle Museum on the property of Robert Stein Winery & Vineyard. While there's only a handful of bikes at the museum, there are some rarities including a Husqvarna 450cc dirtbike from 1973, a 1972 Honda CB400 raced by Robert Stein and a fabulous 1927 Douglas E.W. model; all are a bit dusty but nice to see nonetheless. Apart from the bikes, there are also some rare motorcycle collectables and photographs on display.
Arriving back in Mudgee and having sampled selected wineries of the region, I freshened up and we walked to the Lawson Hotel for dinner. I had a very delectable piece of Black Angus scotch fillet while some of my friends chose the fall-off-the-bone lamb shanks, which I was told were perfect. They certainly smelt great.
Our return trip included a day of the Bathurst 1000 V8 Supercar race and wet weather. We briefly passed through Bathurst after coming back through Cudgegong and riding the two-minute trip through the centre of Sofala. One issue I had with the Vulcan in the wet was the Bridgestone Exedra front tyre; I had already found it vague in the dry, but it was very slippery in the wet. On numerous occasions throughout my return trip I had the front tyre slide, even at speeds below the posted speed limit — not a nice feeling and something I would change first if I bought a Vulcan. Again, the screen made life very difficult as the rain and dirt blurred the screen and sighting the apex of corners required me to poke my head out the side of the screen. Obviously, the screen has been made high to deflect wind off the pillion, which is a good idea but I would cut it in half or buy an aftermarket job.
A left turn just after the O'Connell pub took us out through Tarana. We were a little too early for the fantastic lunch at the Tarana Hotel, so we rode on to the Shell service station on the Katoomba side of Lithgow on the Great Western Highway to fill up. We had a light bite to eat at the adjoining cafe and then rode on home down the Darling Causeway and onto the Bells Line of Road to Richmond.
For touring our big brown land, the Kawasaki Vulcan 1700 Voyager ABS is well suited. Two-up touring is also a breeze and my wife stated the rear seat was super-comfy on the short few minutes she was on the back. A change of front screen and front tyre will see you well set to ride some big kilometres.