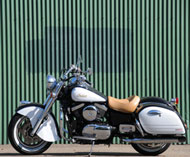 The World's Fakest Indian
Want a classic motorcycle? Build yourself one
My fellow rider at the Pie in the Sky cafe was just a little suspicious as he walked around our latest project bike.
"Is it a … real Indian?" he asked.
"Well," I said, "it's two-thirds as genuine as Burt Munro's bike."
Spool back a few years. Just after the film The World's Fastest Indian came out, I got an email from a reader with an interesting question.
"How much of that bike was actually Indian," he wanted to know, "and how much was Burt Munro?"
Good question, of course, but not an easy one to answer. After all, Burt isn't around to ask and who else would really, reliably know?
As it turned out that wasn't nearly as hard as I had originally thought, once I remembered that I had Lindsay Urquhart's phone number. Lindsay was BMW Australia's technical guru for many years and is credited (by those who know this stuff) with coming up with the idea for the company's hugely successful GS (or G/S as it was then) bikes. He actually built a prototype. These days, he is retired and devotes much of his time to Indian motorcycles, including his immaculate Powerplus.
"Yes," he said when I rang him, "I know the Burt Munro bike. How much of it is genuine Indian?" He didn't even have to think about his answer. "The gearbox and the stickers on the tank."
And while our bike misses out on the correct gearbox, it does have Indian stickers on the tank. Hey, two out of three ain't bad.
From small beginnings…
This project began, as so many do, over a few drinks after work. Looking at the photos of the latest of many new "Indians" being launched in America (by what an American mate of mine calls "a T-shirt company that also makes bikes"), I wondered aloud what the bikes would look like today if the firm had never gone out of business but had kept manufacturing motocycles (sic) over the decades.
Well, we thought, the bikes would presumably have been modernised as they went along, but perhaps some of their unique characteristics would have been retained. That might have included the unmistakable valanced front mudguard, the lit-up Indian head on that same mudguard and perhaps even the hand gear change. It also seemed likely that the bikes would be offered with a single seat, as they often were during Indian's history. And so on.
It was a small jump from that to "why don't we build one"? Not from scratch (custom frame, engine, gearbox…), of course, for time reasons as much as anything else, but by modifying another bike. The most obvious choice was the Kawasaki Drifter, which was already styled very much like an Indian. The front mudguard, especially, was all done for us.
But the Drifter had a major failing from our point of view, in the form of the rear suspension. Because the mudguard is part of the unsprung weight and moves up and down with the rear wheel, it is just about impossible to fit panniers. Now the expectation was that this project would earn its keep by touring and also towing trailers for tests (and being photographed doing so), so the alternatives of either forgetting about panniers or constructing a bulky and ugly framework to hold them had to be dismissed. But wait … Kawasaki has another model in the same range as the Drifter that offers not only more conventional suspension, but also built-in panniers.
The search was now on for a Nomad, ideally a fuel-injected version. Fuel-injection makes these big vee-twins much more tractable, in my experience. I found a 1500cc 2003 model in Queensland — they're not all that common, despite pretty healthy sales when they were new — for $9500 and we were set to go.
But what will we do?
For a start, we would definitely be guided by our original idea. So we really wanted that valanced front guard, a hand gear change and foot clutch, and the Indian head on the mudguard. The single seat was easy — Kawasaki supplies the Nomad with separate rider and pillion seats. The bike had already been fitted with Cobra slash-cut mufflers at some stage and they looked good enough to stay, so that was easy as well. But then it got harder, at least for a while.
Unfortunately, a magazine that has as many full-time employees as Cruiser+Trike (none) lacks the vital ingredient, time, for projects. Oh, there's always someone willing to shoot the breeze and bandy ideas around, especially in the vicinity of the editorial beer fridge, but when it comes to resurrecting the old fibreglass skills or firing up an angle grinder, the volunteers tend to fade away like the paint on an early BMW K Series.
Fate in the form of Sean Kelly intervened. Sean, who has an engineering company in Bathurst, NSW, had bought the Premier sidecar business and shifted it home from Broken Hill. He let us know about that because he was aware of my interest in outfits, and we went up to see him to take a look at his setup at SRK Engineering — which is truly impressive, I might say. During our conversation, it emerged that he had a whole box of the Indian head mudguard lamps and, not only that, he expressed an interest in taking on the entire project for us.
That was easy. The only thing that gave me trouble was dissuading him from fitting a sidecar to the bike.
"I've got a mould for the genuine Indian sidecar shape!" he insisted. "And the Indian sidecar mudguard! It'll be a snack!"
No, Sean. Just the solo. At this stage we had just sold our last (well, maybe not last, maybe just most recent) project outfit and I wasn't ready for another one.
The Nomad migrated up to Bathurst and in due course Sean got to work on it. The enormous windscreen with its chrome fittings came off, as did the sissy bar, the industrial-strength pillion handles and the tank and other badges. Let me know if you're interested in buying this stuff — it's sitting in my garage.
Then Sean applied the patented Kelly Method.
The Kelly Method
This involves pulling up a milk crate, cracking a beer and taking a good, long look at the project while mentally trying out different solutions. Sean has it down to a fine art. I can imagine his namesake doing much the same thing while he was working out how to create that famous iron armour of his. Well, except for the milk crate, I suppose. Ned would have had to find something else to sit on.
You can see the result of Sean's efforts in the accompanying photos.
It was not all smooth sailing. The valances for the front guard were originally intended to be fibreglass, but the result was not satisfactory. Clearly the best way to do it was to make up the valance panels in steel sheeting and weld them in place. The shape is much more complex than the original's because it needs to accommodate twin brake discs and calipers. At least fitting the Indian head to the top of the guard didn't present any problems.
The hand gear change wasn't going to be easy either, but before Sean even started on it he thought he'd better check on the effect the change would have on the "registerability" of the bike. Just as well. The hand change was fine, it turned out, but the RTA was not at all happy with the idea of a foot clutch.
Hmm. Not only was that a setback for the clutch location, it also changed the playing field for the gear change — after all, if we left the clutch on the left handlebar we could hardly have the gear stick on that side as well … and we weren't comfortable with shifting the throttle to the left, the way Indian actually had it. That was just a bit too authentic.
The gear shift would have to migrate to the right-hand side of the tank, which meant a long and complicated set of linkages but there was no acceptable alternative. So the gear shift is more Harley-Davidson style than Indian.
Removing the huge, heavy overkill of the taillight and rear blinker assembly, on the other hand, was not only easy but also very satisfying. The small taillight that took its place looks much smarter and helps the beautiful shape of the rear mudguard to stand out. The blinkers are incorporated into the panniers, where they do just as good a job as before but weigh a tenth of what they did, and don't overpower the bike's design.
I had asked for a black-and-white paintjob with a grey keyline, and Sean did an ace job. The bike simply gleams. Of course, we had whitewall tyres fitted.
After I got the bike back to Sydney I pulled the seats off and sprayed them tan with liquid vinyl. I didn't reinstall the pillion seat, although I can fit it anytime I like, because the bike just looked so good without it.
The Indian stickers for the tank (remember them?) came from my old mate Dan Murdoch at Motographix. Dan has enormous experience in customising bikes, so I also got him to make a few suggestions to help improve the bike even further. His ideas included small but significant changes to the paintwork and a reshaped seat, and we'll be looking at doing those some time in the future.
The one thing I found a little less than optimal was the operation of the gear stick, with all those linkages. Our tame mechanic Brian Connor took a look at that for us, changed the angle of a couple of the linkages and produced a truly slick shift.
Brian also began the inevitable process of adding accessories to the newly minted "Indian", but more of that in the next issue along with a couple of ride reports on the bike. It is certainly raising eyebrows already!