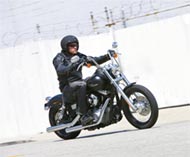 Here's to a year

Probably the most common request we get is for long-term tests. What's the bike like when you live with it, instead of just riding it for a couple of weeks? John Arens drew the long straw and he has a Harley-Davidson Street Bob for a year. He used to be a bike mechanic, working on lots of different bikes, so we know Bob is in good hands. Here's the first of his reports.
In the 70s, all kinds of motorcycles seemed to be everywhere. While some riders came into the shop asking whether we could make their bike go faster by adding pipes and engine performance kits and so on, I also had customers — and some of them became mates — who had choppers. You know the ones, long forks and raked frames. Of course, we're talking a long time ago, back when the Meriden Triumphs and Honda's original Fours were popular.
At the time, I thought: Why? Why would you ride something like that when there was a better alternative? But that was a different time, I was young and I didn't understand that this was their thing and they loved it. I eventually ended up working on Harleys and got closer to understanding these people.
Well, times have certainly changed, but the desire to be an individual hasn't, and wanting something different to ride hasn't, either. With that in mind, we decided to show you just what can be done with a bike without moving into the difficult and sometimes dangerous territory of doing it yourself. This is customising from the catalogue, which is always going to be the best way to start. You can get more adventurous when you've got some experience.
Not that we expect everyone to wait — but the sensible ones will!
With the help of Harley-Davidson, we are going to do something different. Over the next 12 months, we'll be converting a standard 09 Dyna Street Bob into a personalised (customised) cruiser, not a full-on chopper, but a bike that is my very own. Not that it isn't a cruiser already, but we're going to have a little fun with it! And who knows, you just might like what you see. It might also give you some ideas for your own scoot. And, by the way, all the major parts we will be using for this project will be genuine H-D.
Now, as I said, custom bikes are personal. In most cases, they reflect the individual who owns them; some long and low, some short. But, ha!, who cares, so long as you like it? If you are going to build or buy a cruiser, you might as well have one that's as individual as you are, and if you do have one (or are intending to buy one), you might as well be comfortable, right? Well, I think so.
After Project Bob got dropped off at work I decided to head home, but after only a short time I found myself shifting around in the saddle, trying to get comfortable on the single seat. Now, as a rule, seats on H-Ds are good, and single seats may suit some — but it wasn't for me. Bob started to give me a pain in the lower back, so I decided if I wanted to be comfortable, a new seat was the first thing on the list. The second was replacement of the standard foot controls.
If you're an H-D fan but haven't yet opened the 09 accessory catalogue, maybe you should. Have a flick through and check out the huge range of goodies you can buy to make your ride a special one. But be careful — it will tempt you to open up your wallet, really quickly.
After a lot of consideration, I opted for a dual seat and decided the Custom Vehicle Operations (CVO) seat would sit well with what we had planned. Added to that would be the standard chrome billet-style forward controls. The fitting of the seat is simple enough: one screw and that's it — but don't lose the nut on the inside of the rear mudguard!
The forward controls are another matter altogether. It should be left to the experts, who not only have the tools but also the knowledge to do the job — and I say that as an ex-Harley mechanic. Starting with the removal of the primary cases on the left-hand side, the motor has to practically be totally dismantled. The whole conversion takes around four hours and the mechanics at Trivett Harley-Davidson in Sydney did a great job while I watched with interest.
The RRP for the seat is $513, pillion pegs cost $120 and the forward controls plus fitting will set you back just over $1000. But what a difference it's made! Now I'm relaxed and part of the bike rather than just someone sitting on it. Let's see how I go commuting on it from the Central Coast down to Sydney for a few weeks.
JA