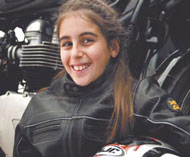 Here's lookin' at you, kid!
Kidbikers Australia is offering the first kids' motorcycle jacket and pants buyback program in Australia. The program gives customers 50 per cent trade-in on new Kidbikers Australia jackets and pants.
As you've probably noticed, kids grow quickly and it can be expensive to fit them out with correctly fitting jackets and pants for motorcycling safety. This can also become expensive when children grow out of their apparel each year.
Kidbikers Australia wants to see kids safe and getting the most out of their time on the bike while taking some pressure off mum and dad's wallets.
Under the buyback program, customers can purchase any Kidbikers Australia jackets and/or pants and return them within two years to get a guaranteed credit towards their next purchase (terms and conditions apply).
Kidbikers Australia is the only store in the country that only sells road motorcycle jackets, motorcycle pants and accessories designed exclusively for children and teenagers.
All jackets are made with armour in the shoulders and elbows, boast additional back protection, removable quilted lining for summer/winter riding, and are available in a range of colours. Prices start from just $129.95. Pants are made with hip and knee protection and removable quilted lining. Prices start from $79.95.
The complete Kidbikers Australia range is available online at www.kidbikers.com.au. Contact Scott or Karen on 02 8012 3796 or email info@kidbikers.com.