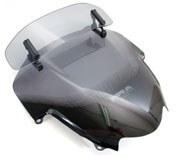 If you're after a new screen for your bike, it's worth checking out the MRA range. There's a huge variety, all the way from the basic Original (which, as its name suggests, is the same shape as your bike's standard windshield and costs $86.50) to the Vario Touring Screen (which has a spoiler at the end of the wind deflector that can be manually set to seven positions in terms of angle and height, selling for $193).
An interesting variation is the $106.50 Race Screen, the lower part of which corresponds to the original. Above that, it has a bubble-shaped extension at the centre to deflect the wind pressure away from the helmet. MRA was the first manufacturer to present a "double bubble" racing screen, back in 1994. This screen type was developed to reduce air resistance on racing and sports motorcycles, increasing the maximum speed.
The racing screens of the latest generation have a very different bubble shape. The upper side is flattened, increasing forward rather than upward force at the front of the bike while eliminating the air currents around the sides of the helmet. In order to reduce the vacuum underneath the bubble, some models have air vents in the front part to improve the air current at the edge of the screen. These improvements have already been introduced on existing models, allowing motorcyclists with older models to take advantage of this further development, too.
There are many other screens in the range, including windshields for naked bikes, cruisers and even dirtbikes.
MRA screens are distributed by Pro Accessories, 07 3392 0444 or 02 9604 8860.