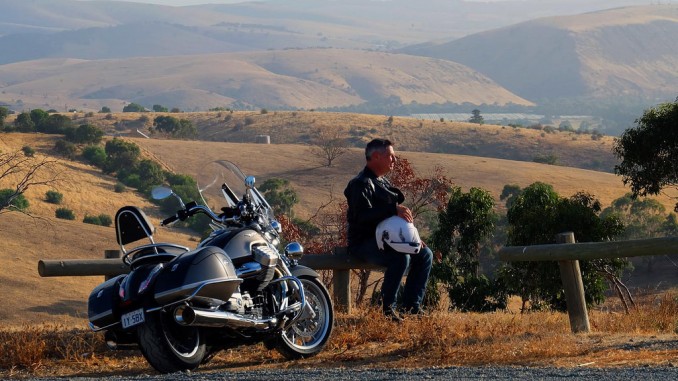 Words and photography: Roderick Eime
Additional photography as noted.
Adelaide. If you haven't got a bike there, well what's wrong with ya? We sent our bloke out on a big Guzzi to bring us South Aussie goodness.
To say I've been riding the Adelaide Hills for more than 40 years is only a tiny exaggeration. But truly, back in the '70s when my petrolhead Uncle Ken became the exclusive agent for Deltek minibikes, all the kids got one (of course) and we raced them at Mylor (Silver Lake), and Lonsdale as well as on the many fire trails through the hills.
That may all be part of history now, but those memories remain strong and, what's still the case, the Adelaide Hills and surrounds continue to present a multitude of rewarding riding opportunities.
Just to complete the nostalgic scenario, I called up my cousin Jason (who was then the youngest member of the Mainstyle Deltek Racing Team) to join me on an exploration of the Fleurieu Peninsula aboard an entirely different bike.
Our shared stead was the brand spanking new Moto Guzzi California SE Tourer, a modern incarnation of the classic highway machine with a glamorous 'retro' touch. With a 1400cc V-twin powerplant that runs like a Swiss watch, "Patrol" windscreen, a second set of chrome-plated headlights, 35 litre panniers, engine and pannier guard kit (just in case), this was going to be a true grand tour. Regular readers will recall our delight at riding the Putty Road astride the naughty sister, Eldorado.
Our route begins on leafy South Terrace at the 4-star Sage Hotel where GM and MV Agusta rider, James Coleman, is only too happy to talk bikes. It's the perfect location away from the city crush and a ready springboard into the hills.
There are so many possible routes and variations, ours is just a suggestion, but with some local knowledge, we can safely recommend these roads for both challenge and enjoyment.
Our destination is the Fleurieu Peninsula, directly south of Adelaide city and home to the very accessible and somewhat underrated wine region of McLaren Vale. But let's not take the easy route down the Southern Expressway, any fool can do that. Instead we're going to head southeast, directly into the hills, for some wonderful winding back roads through Echunga, Strathalbyn and Victor Harbor before swinging back through Mount Compass and down the testing Willunga Hill.
With a day up our sleeve, we'll take in some sights around Myponga and Yankalilla with deviations – just for the heck of it – to Waitpinga and Second Valley. These are the kind of roads made for daylight-saving, late summer rides when you just don't want the day to end. Twists and bends, hills and dales all lead through these delightful hamlets where it's easy to just jump off and grab a Farmers Union iced coffee or Woodies lemonade on your way through. Stop if you like to explore the bric-a-brac or local produce markets that are open on the weekends or make a mini-break of it, as we did, with a night in one these little villages.
Be sure to take a sticky beak at Collectable Classics in Strathalbyn where you could find anything from a E-Type Jaguar, Rolls Royce or Cooper S up for grabs.
Just to mix it up, we swap saddles to Triumph's magnificent new Tiger 1200 Adventure and check out some of the dusty shortcuts you can take if you're inclined to make the ride a bit more of a challenge. We'll also have a look at historic Selleck's Beach where motor races and speed trials took place from 1913 to 1957.
A reenactment, sponsored by Shannon's, took place last year and drew thousands of spectators on the 3km hard sand shore. The surf club's Sandbar Cafe serves decent snacks and coffee (when it's open) and has small gallery of historic images. Pay a small fee and you can ride the sand yourself.
McLaren Vale proper is a town riding on the back of wine tourism and has gained attention with the opening of the controversial Cube at the d'Arenberg Winery just a few minutes out of town. 'Controversial' because the five-level design is unique to say the least and looks like the Borg landed in a giant Rubik's cube. A resemblance that is not coincidental.
A TV crew is "bumping in" to shoot an episode of some tension-filled kitchen show but we manage to gain a tour before the culinary crusaders arrive. We take a sniff in the wine inhalation room, tour a virtual fermenter, a 360 deg video room, and fondle many other tactile experiences. Even taking a leak is an adventure in itself.
We bunk in at the very satisfactory motel just across the road from the visitors' centre and Shingleback Winery and, with bikes safely tucked in, take an easy stroll to The Barn Bistro for some quite stunning tucker and a glass or two of local produce. Jason loves his lamb and I'm giving the kangaroo fillets a nudge.
We make an easy day of exploring the local roads, Willunga Village and the sweeping vistas around Myponga Dam and the run down the coast as far as Carrickalinga and Normanville. As a kid, just off my L plates, we'd barrel down here on the weekends in search of a bit of local surf and sundry frolics. Good times.
We ramp things up a couple of notches with a stay at the acclaimed 'The Farm' just out of Willunga. Billed as a B&B, it's really quite something beyond that with two luxury apartments that look ready for a Vogue magazine shoot. The whole place will sleep just four, so it's more likely to suit a touring couple who are not in a hurry because you'll want to sleep in, savour the hot breakfast and barista coffees and dawdle off as it suits. Stay for a few days even, as you have a full kitchen and spacious living area with gorgeous views of the orchard.
My host, Robyn, tells me all about their certified organic olive products, but my attention is drawn to an assortment of the most magnificent vintage radios.
"Oh yes, those," she says, "they belonged to my late father. He had hundreds."
Most are prewar, valve units like Bell, all in fine wood cabinets. With a bit of tinkering, we manage to get one fired up and the erudite tones of the ABC soon fill the cafe. Robyn is delighted and so am I.
As a parting salute we lunch at The Star of Greece, a deservedly famous clifftop diner overlooking Port Willunga. You won't find Souvlaki or Spanakopita here, as the name is derived from a famous shipwreck just offshore. Instead, look forward to superb local seafood like whiting or mulloway where Doug and Nikki Govan continue a tradition with chefs Brett and Glenn Worrall that began as a humble beach kiosk serving ice creams and pies about the time I'd given up trying to surf. You don't have to have a fancy sit down affair. Grab a humble fish and chips from the kiosk and kick back in the fresh air.
At this point you can easily choose to cut and run back to Adelaide via the expressway or find a new way back through the hills like the quiet roads around Kangarilla and Clarendon.
Any way you go the hills are alive, although you may just catch them napping.
==
Highlights
Classic Cars Strathalbyn
www.collectableclassiccars.com.au
d/Arenberg Cube, McLaren Vale
www.darenberg.com.au
Aldinga Bay SLSC (Sellicks Beach)
www.aldingabayslsc.com.au
Also: Golf, scuba diving, fishing, surfing, whale watching (in season), art galleries
Eat
The Star of Greece, Port Willunga
www.starofgreece.com.au
The Barn Bistro, McLaren Vale
www.thebarnbistro.com.au
Stay
Sage Hotel Adelaide
www.nexthotels.com/sage
The Farm Willunga
www.thefarmwillunga.com.au
The McLaren Vale Motel and Apartments
www.mclarenvalemotel.com.au
Tourist Information
South Australian Tourism Commission
www.southaustralia.com
Fleurieu Peninsula Tourism Regional Office
www.fleurieupeninsula.com.au