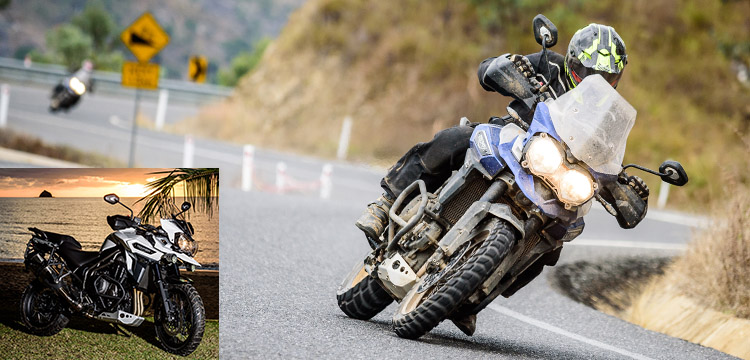 On a ridiculously sinuous gravel road near the old Palmer River goldfields, the Triumph Explorer 1200 was almost too much fun.
It went hot into corners, hot through them and hot out of them, usually in long, controlled slides that I wished I could hold forever. One after another as the road weaved in three dimensions.
This new Explorer XCX a lighter-handling, more accomplished adventure bike, one that wasn't going to be singled out as the less athletic one of its classmates like the original model.
Having said that, the Explorer is no less the tourer than it was — in fact, it's better on that score, too. And this remains one of the primary reasons to pick it over all other adventure-tourers.
It has some of the basic credentials that long-distance riders prefer, including a shaft drive, low-vibration engine, standard cruise control and exceptional comfort. Yes, exception comfort.
If the Triumph had more than 20 litres in the tank, you'd probably still not need to stop between refills, it's that good.
With fuel consumption generally ranging between 5.5 and 6.5L/100km, depending upon how you're riding, you'll usually do better than 300km between petrol stations.
If consumption isn't brilliant, it's the only part of the engine's performance you won't love. With effortless power at all revs, the three-cylinder is the king of bottom-end and midrange grunt among all the 1200cc adventurers.
Its 139hp is better than some and a little below others, but its torque is strong from just off idle.
Power is accessible everywhere, climbing inexorably to within a heartbeat of the soft rev limiter.
Any revs will do. You can spin it hard and fast during high-traction action or lump it around 4000-5000rpm in technical, slippery offroad riding.
The Explorer is not too fussy about what gear you pick from the light-shifting gearbox. When you need to use the clutch a lot, the 30 per cent lighter action helps you.
The ranginess of the chassis hasn't diminished — on the open road the Explorer sails along. But more radical steering geometry has increased its responsiveness and agility.
There's a degree less rake and about 8.5mm less trail, both now at sportsbike figures of 23.1 degrees and 99.2mm, but there seems to be no hint of the twitchiness you might expect on rough roads — not even rocky ones.
The traction control system is conservative but not so much you can't break traction in a controlled way. On its minimum setting it's perfect for fast, gravelled roads where a gentle slide works wonders, while on its progressively more intrusive settings its safe and comforting.
But you need to have it off in really rough stuff like soft-bottomed river crossings and sand, because then it is capable of taking away too much drive when you need it most.
Triumph could improve its TC and other electronic aids, though. You still have to stop to do many adjustments, which isn't necessary on other brands. Also, the TC reverted to an intrusive level sometimes after a water crossing, presumably because the sensors didn't like it.
It'd be worth buying the XCA model over the XCX simply to have the extra modes available on the higher-spec bike: in addition to Road, Off Road and Rain modes, you get Sport and Rider modes.
Rider mode is whatever you set it to be. You can re-program the various standard modes, but Rider mode takes the fiddling out of it by retaining your programming when the bike is switched off and on.
Triumph's semi-active suspension is good. Best of all, Triumph has fitted WP suspension to the Explorer. As WP did for the Tiger 800XCX, the new setup brings huge improvements to handling, comfort and well-rounded ridability.
The cornering-sensitive ABS is ideally programmed for whatever mode it's in, though the control and feel you get from the Brembo brakes relegates it to an occasional backup role and that's it. In Off Road mode the rear ABS is off.
You don't feel the Explorer's above-average weight until you're trying to trials-ride it, and then when it gets off balance it's that much harder to get back up again. But even the lightest 1200s aren't much better when they've gone over a bit too far.
At low, feet-up speeds the balance is good, the suspension, brakes, clutch and throttle are all manageable.
The biggest benefits of the Explorer's upgrade are its edgier handling and its exceptional comfort, both of which only add to what was good about the original design.
The adoption of a comprehensive suite of electronics completes the new model and ensures it's in among the best of the adventure-touring genre.
More capable than ever, the new Explorer is a superb adventure-tourer with the willingness to be aggressive when the time comes.
QUICKSPECS
Model: Triumph Tiger Explorer XCX
Price: $24,200 (plus on-road charges)
Colours: Crystal White, Lucerne Blue
Warranty: 24 months, unlimited distance
Servicing intervals: 16,000km
Engine: Liquid-cooled, DOHC, 12-valve, inline triple. Variable throttle mapping, TC, CC
Bore x stroke: 85 x 71.4mm
Displacement: 1215cc
Compression: 11.0:1
Power: 102kW (139ps) @ 9300rpm
Torque: 123Nm @ 6200rpm
Transmission: Wet multiplate clutch, 6-speed gearbox, shaft drive
Frame: Tubular-steel trellis
Dimensions: Seat height 837-857mm, weight 253kg (dry), fuel capacity 20L, wheelbase 1520mm, rake 23.1º, trail 99.2mm
Suspension: Front, 48mm USD fork, 190mm travel. Rear, monoshock, semi-active damping. Electronic adjustment
Brakes: Front, 2 x 305mm discs, 4-piston calipers. Rear, 282mm disc, 2-piston caliper. Switchable ABS
Tyres:  Front, 120/70R19. Rear, 170/60R17
Fuel consumption: 5.9L/100km
Theoretical range: 340km
Verdict: All the grunt and brilliant comfort with hi-tech goodness and better agility
A full version of this review is published in ARR issue 128, on sale August 18.
For more info see the Triumph website.