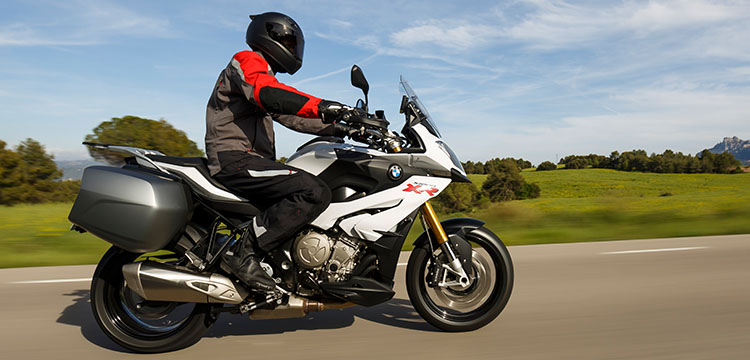 BMW's new S1000XR "adventure sport" bike is a superbike at heart with a civilised riding position and love of wild routes instead of race tracks.
Based on the superbly sporty S1000RR, the new flyer is definitely not a four-cylinder GS, and BMW has been at pains to paint it as a tarmac warrior designed to cope with the best and worst that sealed roads can throw at riders who avoid the main routes.
The German company invented the term "adventure sport" in an effort to distance their new baby from the long-established GS models and their all-road abilities.
In building the XR, they've not just given a name to this genre of high-performance road bikes, they've defined the upper reaches of the breed, because this bike is dominant.
It has arrived late in this slowly growing niche, behind bikes like the Triumph Tiger 1050 Sport and Kawasaki Versys 1000, but it comes in over their heads with power, handling, technology and roadholding that blow the others away.
Of course, it also comes at a price, and at around $25,400 plus onroad costs when 'properly' optioned up, it's proof that you pay for what you get.
I've just come back from the Australian launch of the S1000XR, which was held on the diabolical rods of north-eastern NSW and south-eastern Queensland, and it handled them like no other bike I've ridden through there.
When equipped with the options that BMW Australia fits to almost every S1000XR it brings into the country, the XR has superb traction control, throttle and power modes, ABS modes and suspension modes, all on a chassis that includes a superbike frame, sporty suspension, great brakes and class-leading balance.
The ride quality was often harsh, especially on those roads, but on the other hand the wheels maintained a tenacious grip on the roads, no matter how bumpy they became, and allowed me to ride fast with utmost confidence.
Setting the long-travel suspension into Road mode gave the ride a little more compliance, while varying the engine, traction and ABS modes gave me more lattitude to use more of the bike's 160hp than I'd have thought was feasible.
The bike's gearing is short, making it feel busy and limiting top speed to only around 230km/h but giving it incredible acceleration that makes you thankful for traction control and, sometimes, wheelie control. You quickly come to love the speed and ease of changing gears with the Quickshift Pro system that allows clutchless shifts going up and down.
The XR isn't quite as agile as the more compact S1000R, for example, but it's steering is still accurate and sharp. Most of all, it's unphased by rough roads and incredibly stable.
All the while, you sit in comfort behind a small but highly effective screen, and wide handlebars that keep you upright. You can ride this all day, unlike an RR, though I'd probably opt for the more comfortable accessory seat.
The closed rival to the XR is Ducati's Multistrada, which is not reduced by the XR's presence. Rather, it stands out as the one that offers greater touring potential and more gravel-road fitness.
Yet despite BMW's protestations, you'd never turn back if the bitument ran out on your S1000XR, for it still has more than just the basics to handle well-made gravel roads.
BMW has given us a thrilling sportsbike that answers the dilemma posed by superbikes on today's roads. It can be enjoyed at legal speeds, thrashed hard on even poorly maintained roads, and brings a huge array of electronic safety and performance features.
This one's going to be a hit.
We'll have a full test of the BMW S1000XR in a future issue of Australian Road Rider. For more info and specs, see BMW website.