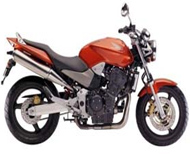 What can you do with your Hornet? Heaps…
Ah, bless the quiet years in model development! Honda hasn't had a great swag of new models recently, so the thoughts of the MPE gang in Campbellfield have turned to playing with existing bikes.
Meet one of the results, a very stylishly modded CB900 Hornet.
The bike has been worked over quite thoroughly and every aspect except for the engine and drive train has been modified. From handling to grip, riding position to hand comfort and blinking to lighting up the road there are neat and sometimes not at all obvious touches on this bike.
The handlebars have been replaced, as have the grips. A pair of billet rearset footpegs has turned the riding position a little sportier, without compromising comfort. The only slight problem is that the left peg is now almost directly above the sidestand, making it a little difficult to deploy that.
The front brakes have been upgraded with braided steel lines, as well as scoring flame rotors – more for looks than for performance. New tyres offer both better handling and a more assured way of getting the power to the road. Oh, the titanium exhaust system has probably also increased that power a little bit on top of adding a colourful touch to the rear of the bike. Pity it meant removing the pillion pegs.
Looks have been addressed by replacing a lot of fastening hardware and other small bits with black items. New rims give the wheels a distinctive appearance. The tiny LED blinkers look smart and still put out a reassuring number of lumens, while the tough twin headlight conversion looks great and doesn't seem to have hurt night vision.
The Hornet handles very well, goes more than well enough (hello, officer…) and tracks very securely on its Michelins. We enjoyed our time with it enormously, even if it coincided with a highly unusual rainy patch.
The final result is a very individual motorcycle, with many detail touches but without any changes to either the suspension or the engine. It just goes to show how much you can do to even a comprehensively equipped bike such as the Hornet, if you really want to personalise it. Keep in mind that this kind of exercise is not exactly cheap – not if you want to stick with quality parts, as Honda has done here.
But there is nothing wrong with either the stock performance or the suspension, so why would you play with them? Better to leave a mechanically most satisfactory motorcycle alone and just concentrate on personalising it.
PC