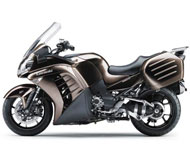 Better Blaster

Hard to believe, but it's an even …

For two decades, the Kawasaki GTR brand on the litre bike was associated with unpretentious, vanilla mile-munching. Then came the 1400, which blew the power touring game wide open. The 2010 Kawasaki 1400 GTR not only continues this tradition, it addresses just about all the criticism levelled at the first model.
Kawasaki has listened to its riders. First is the addition of heated grips as standard with a step-less switch, so you can adjust them to your liking. The windshield had been a bone of contention on the 2009 model and is now taller and 70mm wider at the top, electrically adjustable. It worked perfectly for us, no matter what position it was in. It's good for a passenger at three-quarters to full height.
Higher bars and mirrors add to the comfort, although the panniers still show up in the mirrors. Increased heat protection from the engine, including shields on the exhaust, means there is virtually no heat transfer to the rider. We tested the bike on a 35-degree day and felt less heat than on most faired bikes on cooler days.
An electromagnetic lockable storage case under the left bar interacts with the transmitter fob (don't lose it!) and gives you a nice little area for the wallet, keys, iPod and phone. There is a warning to not leave the transmitter fob on the bike; keep it in your pocket and remember that it's there!
New for 2010 is a card-type key as a back-up if you do lose the fob.
Kawasaki traction control (KTRC) works well on the slippery stuff, keeping the bike in line and controlled. The new K-ACT (Kawasaki Coactive-braking Technology) is a bit of a mixed bag. I found changing down to second gear with light front and rear application of the brakes made them ultra-sensitive, resulting in unwanted nosedive. The way around this was to use only the front brake, but this doesn't give you the same braking power on offer from what is otherwise a strong ABS package.
Panniers are standard. The bike also has tank bag hooks, KIPASS security system designed by Mitsubishi Electrics, rear luggage carrier, adjustable headlights, 70-watt/12-volt DC socket and tyre pressure sensors which adjust to the ambient temperature. All these make the 1400 GTR one of the most feature-packed bikes on the market and at a relatively good price; the competition asks up to $10,000 more for the same features, so Kawasaki has packed in a heap of value for your dollar.
And how does it go?
The bike is effortless in any conditions. I rode it in city traffic and for such a substantial machine I was surprised at how easy it is to manoeuvre. Out on the open road it's one of the best tourers to date and allows you to arrive at your destination rested.
For those who like to have fun in the twisties, the new front higher fork oil level and softer rear spring with slightly more preload (compared to the 09 model) combine to give you a bike that works well on rough or smooth bitumen — and you can push it really hard, giving you a sporty option.
Bridgestone has improved on the standard BT-021 tyres, giving them quicker turn-in and making the bike very stable at high speed. They also giving lots of feedback, even while squirming around at full tilt in what was almost an unbearable heat.
The 1352cc engine has basically been left alone, apart from a new electronically controlled ECO-mode and Fuel Economy Assistance Mode claiming up to 25 per cent reduced fuel consumption. This works by using less than 30 per cent throttle and using the ignition mapping to reduce engine power under 6000rpm to save fuel. It's turned on via the mode button on the left bar and prioritises fuel economy over driveability. There is still plenty of torque and power, but if you want to get into the zone of "chew up your licence and throw it away", this comes on at over 4200rpm with plenty of throttle, when all 118.4kW is smoothly delivered.
Our test of the 1400 GTR involved mixed use of the ECO-mode and Normal throttle. We achieved fuel consumption figures of 6.14L/100km, and comparing this with the 2009 model with around 7.8L/100km this is a good saving. Using these figures, the tank should be good for around 355km. That comes to about 27 per cent, so the claims are pretty much spot-on.
The slipper clutch assisted six-speed transmission is as smooth as you could want and shaft drive makes for super-easy maintenance while still retaining the feel of a chain-driven machine.
Ergonomics of the 1400 GTR will suit quite a few differently sized riders. I am 193cm and I have an abundance of room (something I rarely get!), while anyone down to about 170cm will still fit very easily. Even those of you with shorter legs will be able to get your feet down, and the optional gel seat (for $692) lowers the seat by a further 25mm and is 20mm narrower. I found the seat to be pretty comfortable and the gel seat would no doubt be even better.
Space around the foot pegs is excellent for large or small sizes, and the reach to the handlebars, which are more upright for this year, is very comfortably set.
I was able to take my wife for a ride on the 1400 GTR and I can report from her that the pillion seat is one of the most comfortable she has experienced and the screen works well in the three-quarters to full-up position, with next to no buffeting. With the standard suspension settings, the bike still holds the road perfectly and with some fine-tuning of the easily accessible preload adjuster, you could improve it even further.
The instrument panel looks a little dated with the analogue speedo and tacho, where a digital speedo would freshen things up. The centre LCD panel supplies mountains of info and is good fun to scroll through, to see what is going on.
Our test bike came with a couple of the accessories. The 1400 GTR-labelled tank pad three-piece set costs $64.35 and the pannier protective film comes in at $49.50. The film protects for those times you don't swing your leg high enough, which the Bear and I both did. Thanks to the film, scuff marks polished off easily. The other accessories are standard fare and, for serious two-up getaways, the top box, pannier/top box liners and GPS bracket would make life easier. Visit the Kawasaki website for the full list, but when you do, don't just look at the 2010 list — bring up the 2009 list, as they will still fit.
Two colours are available: Candy Neptune Blue and Metallic Magnesium Grey. I don't know if I'd call it grey; it's more of a coppery bronze and in the sunlight has red metallic flakes and attracts a lot of attention from bystanders.
Missing on the 1400 GTR is cruise control as standard or as an accessory. If it were available, the 1400 GTR would be even further ahead of the competition. Even now, you would be pretty hard pressed to find a better tourer.
Quickspecs
Model: Kawasaki 1400GTR
Price: $24,999 (plus on-road charges)
Warranty: Two years, unlimited distance
Power: 118.4kW @ 8,800rpm
Torque: 139Nm @ 6,200rpm
Engine: DOHC, 16 valves with variable valve timing
Bore x stroke: 84 x 61mm
Displacement: 1,352cc
Compression: 10.7:1
Transmission: Six-speed, slipper assisted wet multi-plate clutch, shaft final drive
Suspension: Front, 43 mm inverted fork with adjustable rebound damping and spring preload, travel 113mm. Rear, bottom-Link Uni-Trak with gas-charged shock, Tetra-Lever, remote adjustable preload and rebound, 136mm travel.
Dimensions: Seat height 815mm, kerb weight 304kg (with fuel), fuel capacity 22 litres, wheelbase 1,520mm
Tyres: Front, 120/70 ZR 17. Rear, 190/70 ZR 17
Frame: Monocoque, pressed-aluminium
Brakes: Front, twin 310mm discs with four-piston monobloc ABS calipers. Rear, 270mm disc, twin-piston floating ABS caliper.
Top speed: 246km/h
Acceleration:
0-100km/h: 3.2sec
60-100km/h: 5.6sec
Fuel consumption: 6.14 litres per 100km, premium unleaded
Theoretical range: 355km
Colours: Metallic Magnesium Grey, Candy Neptune Blue
Verdict: Engage hyperdrive