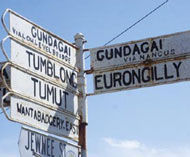 Murrumbidgee meander

A little detour from Sydney to Melbourne
Gundagai is a nice place. Once, many years ago, I narrowly escaped a head-on collision just south of the big bridge over the Murrumbidgee, by running off the road at high speed. It was nearly midnight, but at Lotts Family Hotel the publican kindly got up to give me a room where I could recover from the experience. He even gave me a stiff brandy. Thank you, mate, once again. A bear never forgets…
I've liked Gundagai ever since, and that feeling has only been strengthened by the help we had from a local bike shop (I've forgotten the name, sorry) when we got a flat tyre a couple of years ago at the Dog on the Tuckerbox, a little way up the road. Well, nine miles up the road, of course.
So, next time you're heading south along the Hume Boreway, take the first turnoff to Gundagai and have lunch there or something. A special treat awaits you.
Instead of returning to the Hume, follow West Street towards the base of the freeway bridge. Follow the Murrumbidgee along this road under the bridge, where it becomes Nangus Road. You're on your way.
From here, you have about 75km of good, sealed back road before you join the Olympic Way just north of Wagga. This is a wonderful road, climbing and dipping among the gentle hills of the Murrumbidgee valley, with lots of tempting corners, generally good sightlines and almost no traffic. This is pretty intensive farming country, so you really should watch out for local traffic – but I've never seen much of that. The ride though this open, hilly country is exhilarating.
The little towns along the way, really just Nangus and Wantabadgery (you bypass Oura), barely interrupt the run. Both of them were looking pretty run down a few years ago but seem to have got their second wind and have prosperous-looking general stores as well as their interesting little old shire halls and war memorials.
Just make sure you take the leftmost of the three roads that leave Nangus, or you'll find yourself in Junee instead of North Wagga. Likewise, ride straight through Wantabadgery and then veer south again just outside town. Signposting can be a bit erratic, at one point trying to steer you south to the Sturt Highway to get to Wagga. Trust my instructions instead!
Actually, one of these days I'm going to take the Mundarlo road – I'd like to know what the bridge there over the Murrumbidgee looks like.
Back to our road. You'll know that you've just about reached the Olympic Way when the road passes under a trestle railway bridge. From here, turn left to cross the river and ride through Wagga (there's a bypass, but the town is quite nice) before continuing south on the Olympic Way, Highway 41.
Coming the other way, look for the Oura road as you pass through North Wagga. The turnoff is not signposted to either Nangus or Gundagai.
Highway 41is a narrow but pleasant road with townships at convenient intervals. I like them all – The Rock, Yerong Creek, Henty, Culcairn and the others. Before you know it you'll find yourself rejoining the Hume on the Albury bypass, and from then on it's up to you how you go.
I'll write another little story about how I'd go on from here, some other time.
PT