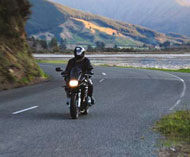 Lest darkness fall

There are so many good roads in New Zealand it's difficult to do them all in daylight
Look at the top end of the South Island. That's where all the fiordy-looking fingers of sea (or fingers of land if you prefer to look at it that way) stick into the island or, conversely, into Cook Strait.
These are not actually fiords in the proper sense, because they weren't created by the action of a glacier like the fiords of Norway. Instead they are properly rias, or flooded river valleys like Sydney Harbour. The melting ice of the Pleistocene caused the rise in the sea level and the spectacular landforms. Maybe melting ice isn't all bad.
Take another look. If you arrive in Picton by ferry from the North Island (or from anywhere else, really, except that ferries don't run to anywhere else from Picton) and want to head west, you have two choices. You can take the main road vie Blenheim, which is a bit over 140km to Nelson, or you can cut that down to about 100km by taking a back road through Linkwater. Both are marked as tarred roads.
Why would you take the longer route?
Well, if you're a motorcyclist you wouldn't. The simple reason for that is that the shorter route is Queen Charlotte Drive, one of New Zealand's best bike roads. Carole Lester from South Pacific Motorcycle Tours told me she had counted the corners and had come up with a minimum of 300. Considering that a five kilometer stretch in the middle, around Linkwater, is pretty much straight that means a lot of corners per klick!
A vertical cross-section of the "Drive" looks like a very wide letter "U" with a wiggly bottom. Why is "Drive" in inverted commas? Because it's lost on most cars; it should be called Queen Charlotte Ride instead.
You ride up one of the vertical arms of the "U" by means of a lot of hairpins and switchbacks, then down again the same way. Then you ride across, admittedly at varying heights (hence the "wiggly" comment) and do the same thing with the other arm. That makes it sound simple and gives you no idea at all of what a great ride it is and how beautiful it is as well.
We rode it west to east and unfortunately reached Havelock, where the Drive leaves State Highway 6, rather late in the afternoon. Once you leave Havelock, you cross the Mahakipawa Hill range and find yourself with glorious views of Pelorus Sound. That stays on your left until you reach the flat pasture land around Linkwater. There's a turnoff here for the highly recommended gravel detour along Kenepuru Sound to Portage and beyond.
You'll know that you've come to the end of the flats when you once again see water on your left. This is Grove Arm of Queen Charlotte Sound and the road twists, turns and wiggles along it at various heights until it's time to climb the next range before descending to Picton. The views are to kill for and would probably photograph really well in the light. Try to time your ride better than we did ours.
We were lucky in one way; by late afternoon, the trucks that use this road had all gone home and it was a pretty free and uninterrupted run. If you get caught behind a truck during the day I'd suggest you make very sure the road ahead is clear before overtaking. The corners can be highly deceptive.
There is no fuel between Picton and Havelock but as it's only 30km, that's not much of a problem. Mind you, we wouldn't want to have to push a bike over the hills at either end!