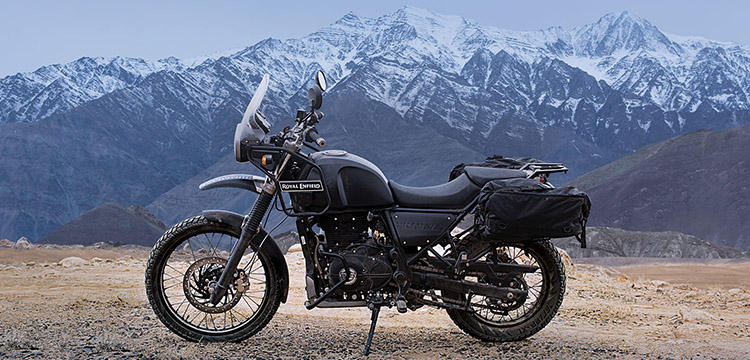 Royal Enfield's new Himalayan adventure-tourer is on its way to Australia, bringing with it a brand new engine and  a unique take on all-road exploration.
The Indian manufacturer has named its adventure-tourer for the highest mountain range in the world, which runs across the country's northern borders and has become synonymous with the spirit of adventure on the 1950s-era 500cc Bullet.
While the Bullet and its derivatives have become increasingly popular for their aged technology and style, Royal Enfield has taken a few steps up the ladder of modernity with the Himalayan, giving it a new overhead-camshaft single-cylinder engine with 10,000km service intervals, but it carries on some of the philosophy of  older designs.
Called the LS410, the engine has a long stroke, enhancing its low-rev torque and promising relaxed, long-legged performance rather than frenetic high-revving power.
Royal Enfield says the Himalayan "paves the way for a purer, non-extreme and more accessible form of adventure touring," which could be a breath of fresh air in a world were the term "extreme" is overused and overhyped.
"The best motorcycle for the Himalayas is not one that tries to dominate its landscape, but one that is able to go with its flow," claims managing director and CEO of Eicher Motors, Siddhartha Lal. Royal Enfield is a subsidiary of Eicher.
With its air-cooled 411cc engine producing 25hp at 6500rpm and 32Nm at 4000-4500rpm, and a wet weight of 182kg, the Himalayan will certainly flow rather than fly, and it is unlikely to put a dent in the market shares of bikes like the R1200GS.
However, it is expected to come in at a low price point and will have few competitors among buyers looking for something traditional, simple and endearing.
The Himalayan should be tough, too, with a steel double-cradle frame, monoshock rear suspension, 41mm forks and spoked wheels measuring 17-inches at the back and 21 up front.
The seat height is 800mm and the fuel capacity seemingly small at 15 litres, but Royal Enfield is claiming a range of up to 450km from the frugal tourer.
We'll have more information on pricing and availability soon.
Royal Enfield is imported by Urban Moto.